Hey guys, love what you're doing. My question is any news on Shane [Vereen]?
Brook Shaffer
Thanks, Brook! The news on Vereen is positive. He returned to practice a couple weeks ago with his damaged left wrist strongly wrapped. He is eligible to come off the injured reserve/designated to return list this week and could suit up as soon as Monday night against Carolina.
Erik Scalavino
Hi, here from Ecuador. Big Patriots fan for a few years from now. What do you think about Brady's situation? How many years would he have left on his career? Will we have him at least three more years? What happens when he is gone? Is there something being done for that? Johnny Football maybe?
Andres Vargas
Tom Brady
's current contract runs through the 2017 season, at which point he will be 40 years old. My hunch is that he'll play out this contract and call it a career, ending his illustrious NFL days the way he began them – as a New England Patriot. That also gives the club a few more years to find a suitable replacement for No. 12, whether that's in the draft or free agency. But I don't believe Johnny "Football" Manziel of Texas A&M falls into that category. He's an exciting college player to watch on the field, has long since become tiresome off it, and, in my estimation, will not be a viable NFL passer.
Erik Scalavino
Hello PFW! Three questions please: Why Patriots are carrying Washington on their roster, why Collins is such a non-factor, and any chance that Armstrong may play this season?
Zach Bergen
Three answers: 1)
Leon Washington
is one of the best kickoff return specialists in the league. For that reason alone, he has been employed on this team as long as he has despite his nagging injuries. I fully expect him to be thrust into that role as soon as he is physically capable once again (possibly this Monday night against Carolina). 2) Rookie
Jamie Collins
hasn't had many on-field opportunities this year, in part because of where he finds himself on the depth chart. He has seen more action of late due to injuries to others on defense, and has shown some flashes. However, he hasn't made nearly enough plays to justify keeping him on the field more. 3) There's no one named Armstrong on this Patriots team, so, I can only assume you mean first-year defensive lineman
Armond Armstead
, who remains on the non-football injury/illness list as he recovers from an unspecified infection. It's unclear when or if he'll return to the practice field. So, don't hold your breath waiting for him to suit up.
Erik Scalavino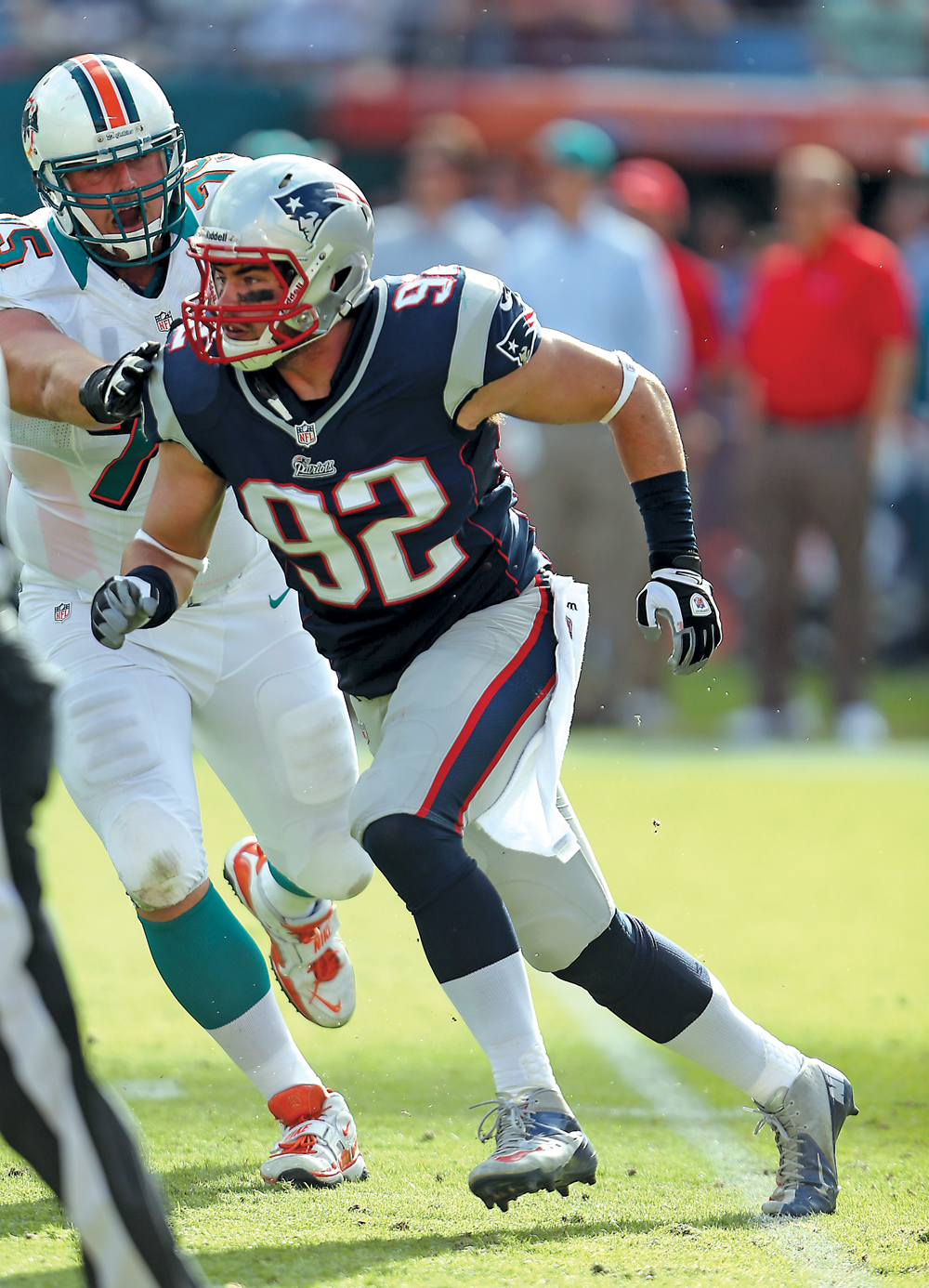 Why is Jake Bequette
not seeing more playing time? Is he not understanding the defensive scheme? Would the team consider using Josh Boyce
as a kick of return man, since he can't seem to get on the field as a receiver?
Ryan Plourde
I'm as mystified by the Bequette case as you, Ryan. I really thought that a guy like him, who was a productive pass rusher in the Southeast Conference throughout his college career, would translate nicely to the NFL. Apparently not. I have no doubt that he's picked up the New England defensive scheme – he's a smart guy. His trouble, it would seem, is not being able to make the same kinds of plays consistently at this level the way he did at Arkansas.
As for Boyce, he can't get on the field, period, let alone as simply a receiver or kickoff returner. He's a healthy scratch on game days almost every week. And as I mentioned earlier, the team appears to be waiting out the Washington situation. If Washington continues to struggle, maybe Boyce will get an opportunity, but time is quickly running out on this season.
Erik Scalavino
I've read some questions regarding who should return kickoffs. [LeGarrette] Blount seems reliable but we all know he'll never break one for 6 [points]. I'm sure most people want to see Boyce get a chance, but what about [Nate] Ebner? He's got size and speed and looked good returning kicks in the rugby highlights I watched.
Daniel Watts
Not a bad idea, Daniel. Ebner's obviously an athletic guy with experience carrying a ball and being hit, as you made reference. And he's always active on game days, but languishing on the sideline for the most part. He's out there covering kicks, but maybe you're onto something with giving him a chance to return them. I'd be in favor of experimenting with it if Washington can't go. Can't do much worse than the Patriots have without Washington.
Erik Scalavino
You guys are doing a great job! What is the difference between base defense and sub? And do you think [defensive tackle Isaac] Sopoaga will eventually be a situational player or does he have potential to be an impact in the passing game as well?
Antilles Man
"Base" defense refers to the fundamental defensive formation that a team lines up in, usually at the start of a game (though not always). In general, most football teams line their 11 defenders up in a 3-4 or 4-3 front, meaning there are three defensive lineman and four linebackers in the first case and the inverse in the second, with four defensive backs rounding out the 11.
"Sub" packages are exactly what their name implies – defenses in which players in the base are substituted for others. Examples of this would be the "nickel" or "dime" packages, where a member or members of the front 7 are replaced by an extra defensive back (in nickel) or two (in dime).
Erik Scalavino
My football IQ is low so I need you guys to school me. What exactly is a "possession" receiver and an "outside the numbers" receiver? Also, what is meant by the X, Y, and Z receiver?
Kyle L.
Possession receivers are typically considered smaller, slot receivers who pick up key first-downs over the middle and allow teams to keep possession of the football, hence their moniker. "Outside the numbers" receivers are those bigger, faster guys who line up wide – usually on the outer edge of the large yard-line numbers you see painted on the field. An X receiver is an example of an outside the numbers receiver. The Y is usually a tight end, with the Z often a flanker who lines up wide on the tight end's side of the formation.
Erik Scalavino
Hello gentlemen. Thank you for keeping us up to date on all things Patriots. In the game against the Steelers, Danny Amendola
became the 50th person to catch a touchdown pass from Tom Brady. How many quarterback have equaled or surpassed that mark? Thank you.
Mike Thomas, San Diego
Thank you for the kind words and an interesting question, Mike. I asked our PR department for some assistance here, and while they didn't have exact numbers, they told me this number isn't very significant. It wouldn't even put Brady in the top 10 all time in that category. Several other quarterbacks have thrown TDs to more than 50 different players, I was told. Sorry I couldn't get more specifics for you, but the bottom line is that while it sounds impressive (and it certainly is), it's nowhere near a record.
Erik Scalavino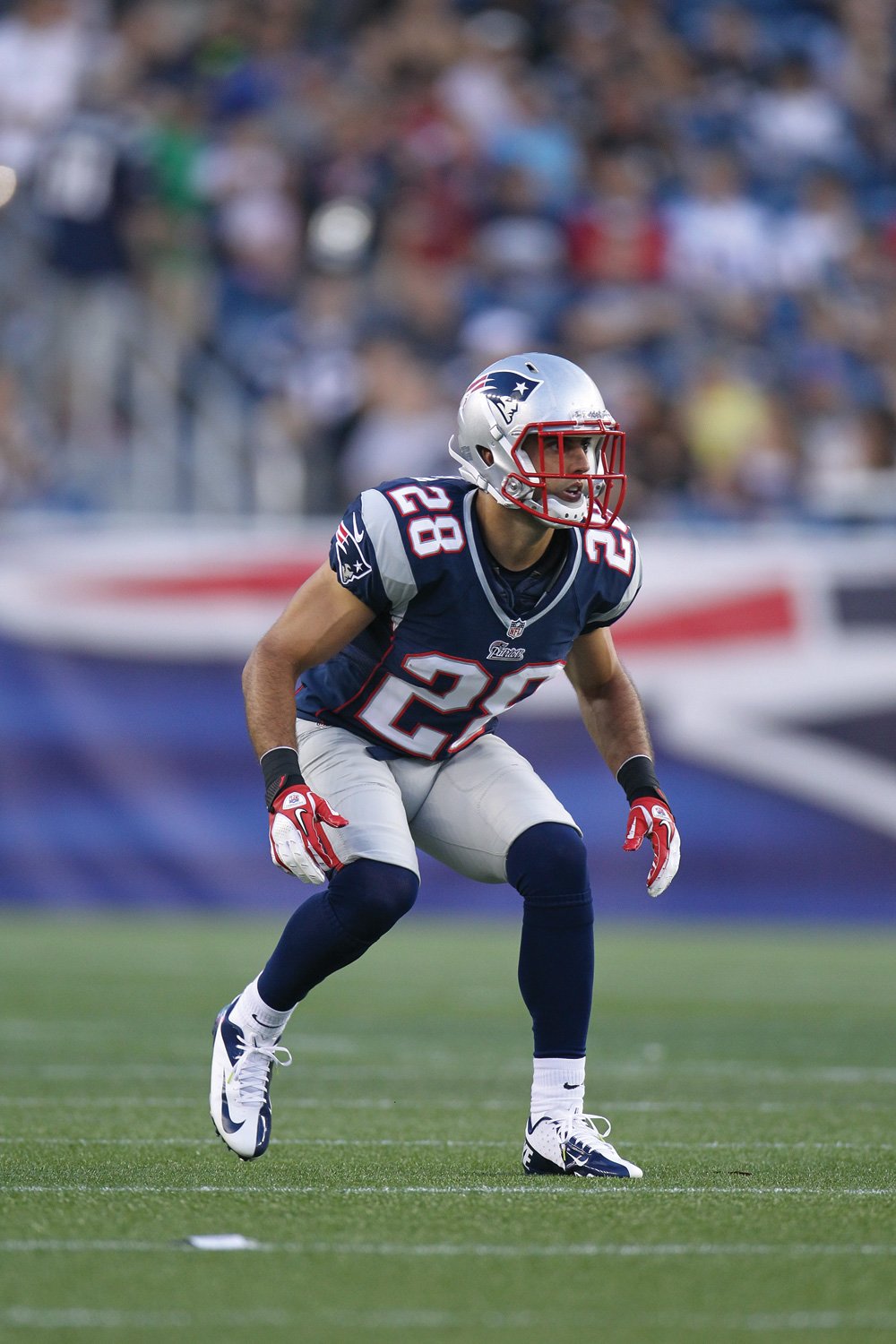 Since Steve Gregory
got hurt last Sunday, why don't the Patriots trade for Ed Reed of Houston. They are not going anywhere and he would fit in just like Rodney Harrison did awhile back. Ge would make us a better football team immediately.
Rayford C. Robinson
There are several reasons why this won't happen, primarily because the NFL trading deadline for 2013 has come and gone. Teams are no longer allowed to execute trades until the offseason. Secondly, while Reed is a tremendous safety with whom Bill Belichick has been enamored over the years, he was available to sign as a free agent this past offseason and the Patriots elected not to pursue him. Perhaps they felt his best days were behind him, but whatever the case, they had a chance to get him and passed. Thirdly, Gregory's injury was to his thumb, not exactly the kind of ailment that should sideline him for very long.
Erik Scalavino
Hey guys, with all the injuries in the secondary, what's the status on number 24, Adrian Wilson
? Wasn't he supposed to be the big free agent signee last offseason?
Martin Sylvester
Yes, Wilson was among the most high-profile names the Patriots acquired during the offseason, but the aging veteran safety had a disappointing pre-season and was placed on season-ending injured reserve at the end of it. In all likelihood, he will never suit up as a Patriot again.
Erik Scalavino
My son is travelling to the USA to marry his childhood sweetheart in Las Vegas. He lives in Central Queensland, Australia. He has been a Patriots fan always. They are flying to Boston to go to the Patriots/Broncos game. He is so excited (probably more excited about the game than the marriage)! Do you do anything or acknowledge these special occasions? Their names are Rohan Barnes and Tanya Ledwy.
Jacqueline Barnes
Congratulations to the happy couple! If you contact the team's Community Relations department, they are the ones who handle in-game video board messages. You can either try sending your request through patriots.com or calling the main switchboard (508-543-8200) and asking for a member of Community Relations. Good luck!
Erik Scalavino

Ask the Writers A Question >>