1. Rob Ninkovich's beard stole the show at ESPN
Ninko joined Shane Vereen and LeGarrette Blount at the network's Connecticut campus the week after winning the Super Bowl. While football was the main topic of conversation, Rob Ninkovich's incredibly well-groomed facial hair got quite a bit of attention too. 
**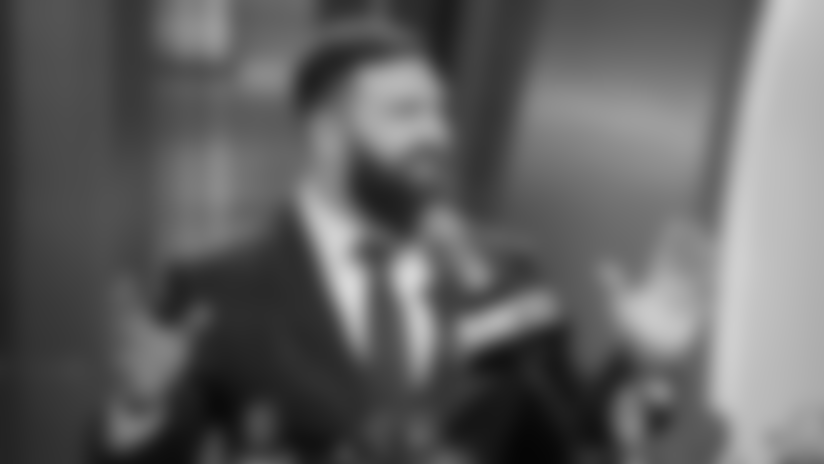 Super Bowl champ Rob Gronkowski shook what his mama gave him**
Gronk has been on a dancing spree since winning the Super Bowl and some of his most memorable moves came on morning TV. Every day, "Live with Kelly and Michael" invites someone to dance as an intro to their trivia segment, and on February 6, the role went to the one and only Gronk. With a grin on his face and a bright yellow smiley face T-shirt, the tight end made his mark as one of the show's best trivia dancers of all time.
3. Tom Brady showed fans he was back at work – in the cutest way possible
The Patriots quarterback has gotten a lot of attention for both his dedication to training and his new social media presence. Soon after the Super Bowl, the two came together in an adorable Facebook post from TB12.
https://www.facebook.com/TomBrady/posts/863725003668651:0
4. Coach Belichick did comedy on Letterman
Bill Belichick isn't exactly known for his sense of humor, but he cracked more than a few jokes when he sat down with "Late Show" host David Letterman. The Belichick smile was out in full force as he talked Super Bowl, DeflateGate and lots more.
5. Julian Edelman was deemed "just right" by Kelly Ripa
By now we've all seen the powerful video of Julian Edelman reading a scouting report that labeled him "too small" for the NFL (if you haven't, you definitely want to watch it). But after his performance at Super Bowl XLIX, lots of people took notice, including Kelly Ripa. When Julian appeared on "Live with Kelly and Michael," she was quick to point out that he looked "just right," which got a big smile from the Patriots receiver.