Not only do the Patriots make their season debut on Sunday Night Football later today, Jonathan Jones is also celebrating his birthday. To help get the party started, we are celebrating with a special Q&A with No. 31, so without further ado, here are 27 questions for Jones' 27th birthday.
1. What show did you binge and love this offseason?
JJ: "Luther."
2. Who is your favorite artist to listen to before a game?
JJ: It would definitely be Young Jeezy.
3. What's your go-to karaoke song?
JJ: "Ain't No Mountain High Enough." You've got to go with a classic.
4. You can only keep three apps on your phone. Which are you keeping?
JJ: Messages. FaceTime, and Photos.
5. What's been your proudest parenting moment
JJ: Teaching my daughter to ride her bike without using training wheels. It took her about two days.
6. What have you learned from your daughter?
JJ: Patience.
7. Who was your football role model growing up?
JJ: Marshall Faulk.
8. Who was a role model outside of football?
JJ: I'd probably say Denzel Washington.
9. Advice for your younger self
JJ: Stay focused and enjoy every opportunity. Just enjoy.
10.You started the Next Step Foundation. Why was it important for you to do something like this?
JJ: It was important to help the youth to take the next step, mentor and help them along the way. Just showing the youth and being able to someone take the next steps.
11.What's one thing you learned about yourself since last birthday?
JJ: I can wake surf. I learned how to wake surf during quarantine. It took a couple of trips out, but still not a pro.
12.What does it mean to celebrate a birthday on a Sunday Night Football game day?
JJ: I've been playing football since I was young. My birthday has always been during football season, so this is going to be fun. It's Sunday night versus a good team and your birthday. You can't beat that.
13.What's your favorite memory as a Patriot?
JJ: Going to the Super Bowls. It's kind of the ultimate goal. It's the reason that we go to work every day. To make it there, winning two, it's definitely one of the best memories.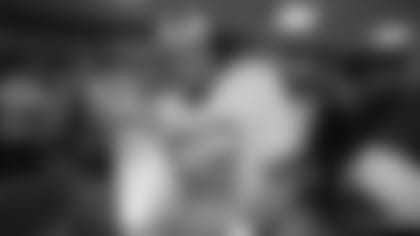 14.What is your favorite college football memory?
JJ: Probably the "Kick Six." Auburn vs. Alabama at the Iron Bowl. There was only a second left, and it was an upset victory. It was probably one of the greatest plays in college football history. Just to be there and experience history.
15.What advice do you have for undrafted free agents?
JJ: Just stay focused and pay attention to the details. Stay consistent.
16. What is one thing you want to accomplish by next birthday?
JJ: That's a good question. Well, I want to go snowboarding, but with COVID, I don't know. Hopefully, we can get back to traveling.
17. What is something fans might not know about you?
JJ: My favorite chocolate is Reese's.
18. What's the best gift you've ever given or received?
JJ: Being able to buy my mom a car for her birthday. She was extremely excited.
19. What's your birthday dessert indulgence? If calories didn't count, what are you eating?
JJ: Oh, probably chunky chocolate with some vanilla ice cream and a little hot fudge.
20. What's one movie you could watch over and over again without getting sick of it?
JJ: Either "Friday" or "Menace II Society."
21. What was your favorite cartoon as a kid?
JJ: "Tom and Jerry."
22. Well, you already said you learned how to wake surf during quarantine, but did you start any other hobbies during that time?
JJ: Nope, that was about it.
23. What's one word to describe the secondary?
JJ: Oh, man. Competitive.
24. Who is a fictional character that you would want to meet?
JJ: I'm gonna go with the obvious. I feel like everyone wants to be like Superman.
25. What's your favorite meal to cook?
JJ: I'm a steak and potatoes guy.
26. What's your favorite thing about Massachusetts?
JJ: The fall.
27. And your favorite thing about Georgia?
JJ: The Southern hospitality.
Happy birthday, Jonathan!!