Since the 2015 season started, we've been getting to know new Patriots running back Dion Lewis on the football field. But what about off the field? In honor of Dion's 25th birthday on Sunday, we caught up with him to find out more about what he's like out of the helmet.
1. He likes to cook
Dion's favorite thing to make is salmon with Cajun seasoning.
2. He's a Muggle
Favorite movie? Every single one in the Harry Potter series. Dion admitted he's a fan of the books too.  
3. He grew up playing all kinds of sports
Dion, who's original from Albany, N.Y., said he played soccer, basketball, baseball, football and did karate when he was younger. Once he got into high school, though, he focused solely on football.  
4. Rap revs him up on game day
His favorite rapper is Meek Mill, who's also the star of his pre-game playlist.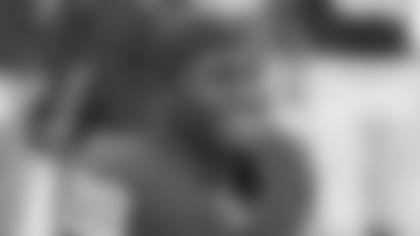 5. He's a low-key guy
"I like to watch TV, play video games and I like to sleep," Dion said of his hobbies. "I can't fall asleep anywhere, but yeah, I can sleep on a plane and I can fall asleep in a car."
6. But he likes to joke around too
Dion can be a clown and enjoys joking around with friends and teammates, especially his fellow running backs. "They fool around a lot and they're all funny guys," he said. "It's a great room to be in."
7. He found a few familiar faces in the Patriots locker room
Last spring, Dion trained in Arizona with Logan Ryan and Aaron Dobson. He also played with Jabaal Sheard in Cleveland and back in college at the University of Pittsburgh.  
8. He's very proud of his Pitt days
Speaking of college, Dion said the highest point in his football career thus far was earning a scholarship to Pitt.