Since Scott Chandler signed with the Patriots in March, we've started to get to know him, both on and off the field. We've already seen his work ethic and sense of humor, but there's a lot more to the veteran tight end than that. Here are eight fun facts about No. 88.
1. He's Super Dad
Scott has three daughters and, as his wife Alissa told us, he does just about everything with them, from days at the pool and gymnastics class to Disney World trips. The girls also help their dad stay in shape in the offseason with some creative workouts.   
2. He has a special connection to Garth Brooks
Scott supports Garth Brooks' Teammates for Kids Foundation, but that's not his only link to the country singer. The Patriots tight end once won a karaoke contest by dressing up as Garth and performing "Friends in Low Places."
3. His touchdown celebrations have style
Everybody loves a good Gronk Spike, but Scott might rival his new teammate when it comes to touchdown celebrations. Last season, with the Bills, he got creative and did some snow shoveling in the end zone (we can relate!) in honor of Buffalo's fans. We can't wait to see what moves Scott's got for us this season.    
https://vine.co/v/O1Hl7P1EeH7
4. He's a proud Texan
Scott might have spent much of his NFL career in the northeast, but he isn't afraid to wear his love for his home state on his sleeve (and shorts).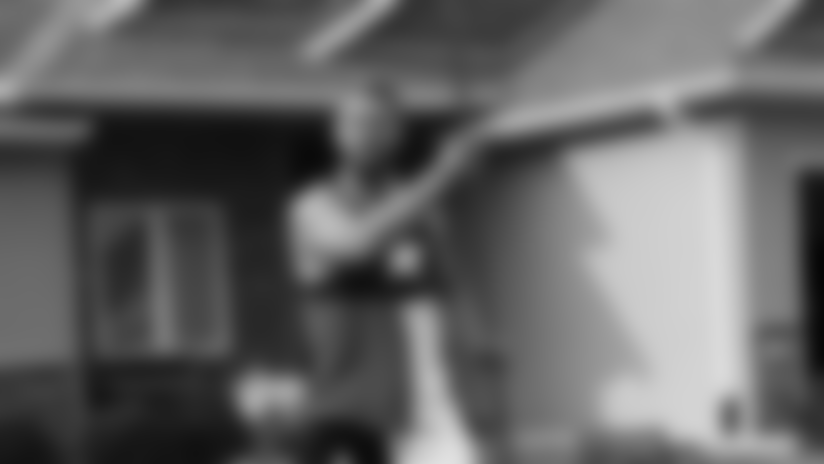 5. He (almost) scored a touchdown on his very first play in college
Scott's first play at Iowa was a one-handed touchdown catch from his brother Nathan, who was the team's quarterback. It was ruled out of bounds, but the call was debatable. 
6. He had a brief stint as a rodeo star
Well, sort of. Alissa revealed that when Scott was in fourth grade, he and his family visited the rodeo in Fort Worth, Texas. He pulled a ribbon off a calf's tail in the first round of a kids' event and advanced to the finals. He achieved the feat again and won a trip to Disney World for his entire family. 
7. His link to Coach Belichick goes way back
Scott's college coach was Kirk Ferentz, who served as the Cleveland Brown's offensive line coordinator from 1993 to 1995, under Coach Belichick. One time, Bill also shared some words of wisdom with Scott's college team before a game.
8. He's a big guy with a big heart
During his years with the Bills, Scott was a regular at the local children's hospitals and often stayed after practice to meet sick children who had been invited as special guests. This year, his charity work was recognized with the Call to Courage Award, awarded annually to a Christian NFL player who excels on and off the field.