When he first came up with the idea of launching Patriot Place at Gillette Stadium, Robert Kraftdreamed of creating a unique showcase for fans to relive the great moments and players in the franchise's storied history.
"We wanted this to be something you couldn't find anywhere else," said the team's longtime owner and CEO.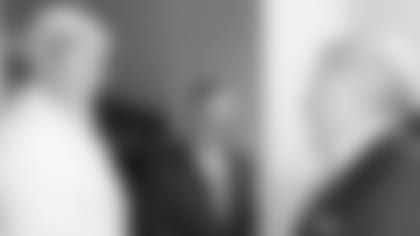 ]()Kraft's vision became a reality Thursday when the New England Patriots unveiled The Hall at Patriot Place presented by Raytheon, a two-story multimedia museum featuring dozens of interactive exhibits and countless pieces of rare memorabilia chronicling the franchise's historic rise to NFL immortality.
Only here can you try to replicate Adam Vinatieri's game-tying field goal in the infamous "Snow Bowl" playoff game from 2001 or take a shot at blocking linebacker Tedy Bruschi.
"This is not just a tribute to the greatest players in Patriots' history, but to every player who wore the Patriots' uniform and to every fan who has supported the team," Kraft said. "There was a time when Patriots' fans couldn't have imagined something like The Hall at Patriot Place. I think they'll be amazed when they see it."
Thursday's ribbon-cutting ceremony kicked off what will be a historic weekend at Gillette, culminating with Saturday's inaugural Hall of Fame induction for all 13 members, including the newest inductee, tight end Ben Coates. NFL Hall of Famers John Hannah and Andre Tippett also joined in on Thursday's festivities.
The Hall will officially open to the public on Monday morning, allowing fans to enjoy the cutting-edge technology and interactive exhibits designed over the course of the past nine months. The team also partnered with Raytheon, a defense contractor and industrial corporation founded in Cambridge, Mass., to promote math and science education through football for the thousands of schoolchildren expected to visit each year.
"We hope to have young people come here and get them interested in the math and science of football so they understand how important those factors are," Kraft said. "For us to compete globally over the next 20 years, we need more people in math and science and I hope the attraction of our brand can ignite the interest at a young age."
The journey through The Hall begins in the Raytheon Theater with a 15-minute video detailing the history of the Patriots shown on 48-foot wide high-definition panoramic screen. The short film features testimonial from fans in addition to inspirational quotes from Ralph Waldo Emerson amidst a backdrop of images from New England's legendary landscapes.
Outside each exit in the Patriots United Grand Hall, there are glass cases containing priceless artifacts, such as former general manager Bucko Kilroy's scouting report from the 1980 season and Tim Fox's defensive playbook from 1976. Another exhibit features a game-worn grey hooded sweatshirt from head coachBill Belichick, complete with the three-quarter length sleeves, and a small piece from one of the steel benches at the old Foxboro Stadium. Other showcases include game programs and memorabilia from local college programs, in addition to a display featuring the uniforms from each New England high school to win a football state championship last season.
"We want parents to take their kids here, and then 10 to 20 years from now have them come back and relive those accomplishments," Kraft said.
The real fun begins on the first floor, starting with the "Once A Patriot" exhibit, where fans can check out behind-the-scenes photos while listening to anecdotes from various Patriots' alumni.
"This room is about teamwork," Hall director Bryan Morry said. "You can't get into the Hall of Fame without your teammates, so this your gateway to the Hall of Fame."
The tour continues with the Hall of Fame room, where all 13 members are immortalized on 30-foot, double-sided video pylons featuring highlights with interactive touch screens allowing fans to glance over statistics and biographies. Each member of the Hall also has his own glass plaque on the wall.
A football from each game during the Patriots' NFL-record 21-game winning streak is encased along the wall of the adjacent hallway, which leads to another set of interactive exhibits. The snow plow from the legendary 1982 "Snow Plow" game hangs from the ceiling – just inches from the geodesic dome that allows fans to relive Vinatieri's heroics in the 2001 playoffs. Cold air blows inside the dome, creating an atmosphere similar to the conditions in Foxboro the night the Patriots beat the Oakland Raiders. Outside the dome, fans can kick a football toward the interactive screen in an attempt to match Vinatieri's feats, including the game-tying 45-yard field and the 23-yard game-winner in overtime.
Other interactive exhibits include a projection screen with a touchtone kiosk in which fans can choose a play from Belichick's playbook and watch him break it down in detail. Also, fans are encouraged to try the "Size Me Up," in which you can compare your weight to that of 325-pound nose tackle Vince Wilfork, or the "Ready … Set … Hike" display where you line up in a three-point stance and try to block Bruschi when the quarterback yells, "Hike!"
One of the main educational exhibits is the "In The Numbers" game, where you earn points – or, in this case, yards – based on your knowledge of math and science trivia. Answer enough questions and you score a touchdown. Kraft matched wits with Raytheon CEO Bill Swanson during Thursday's ceremony.
"We went to overtime and stopped there because we're partners," joked Swanson.
Added Kraft: "Bryan Morry, who was on the third machine, was behind us. He was on the 15-yard line while we were scoring."
The final "Hall of Champions" exhibit, featuring each of the team's three Vince Lombardi trophies, allows fans to relive the Super Bowl celebrations from 2001, 2003 and 2004. A highlight video plays on a high-definition while red, white and blue confetti rains down from the ceiling. Another exhibit outside the room features a life-size cutout of defensive end Richard Seymour wearing an authentic Super Bowl ring.
"I was excited because I came last year and saw all that activity that was going on around here with the new buildings," Coates said. "I also came over for the last game and saw the new stadium being built, then I came here last year and was like, 'Wow, all these buildings and movie theaters, what happened to that in the '90s?'"
Kraft watched his dream turn into reality Thursday as he toured The Hall for the first time since its completion. Not even the most die-hard fan – or perhaps even Kraft himself – could've envisioned this nearly two decades ago when the team could barely stay afloat.
"This what I've dreamt about," Kraft said. "I've always loved football and I never felt the Patriots represented what we were about and what the region was about and I had a chance to put my own stamp on it. When I bought the team, I told all the fans in New England, 'Get on my back and take the ride with me,' and we tried to have a good time and bring a championship here and create a legacy that people would be proud of and a brand people would be proud of."