N36NE has landed, loaded with respirator masks.
Most people wouldn't recognize this unique plane's individual tail number, but her unmistakable paint job draws gawking crowds wherever she goes.
Drivers pull off to the side of the road to watch her take off. Children and adults alike press up against chain link fences near runways just to get a fleeting glimpse of her and her celebrated passengers. Airport workers all across the country stop what they're doing, sometimes leaving their vehicles running on the tarmac, and whip out their phones to snap a few photos or videos of her taxiing.
Her crisp red, white, and blue color scheme, the six stars above the name on her fuselage, an equal number of silver Vince Lombardi Trophies on her tail, the Flying Elvis logo on the side of her jet engines… These distinct markings grab people's attention even from afar. Because they all know what this aircraft signifies.
Power. Prestige. Patriots.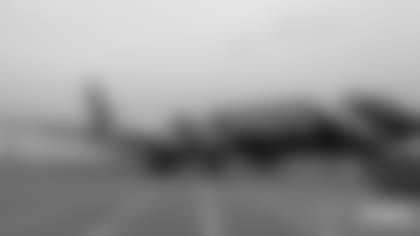 For the past three seasons, the Patriots' plane, based at Rhode Island's T.F. Green Airport, has ferried the six-time Super Bowl winners around the U.S., and even down to Mexico City for an International Series contest. But we're in April now, the NFL's offseason, so, there are no football games, nor any other sports, for that matter, as a result of the global COVID-19 pandemic.
Yet, this past week, the Patriots' plane was spotted leaving Little Rhody, landing in Ohio, then Alaska, and eventually soaring over the Pacific, bound for China. The same four pilots who normally take turns flying her were on board, along with five usual flight attendants, plus two regular maintenance workers and one pilot observer.
Aside from those 12 crew members, the plane's manifest was otherwise blank, her cabin empty – a virtual ghost ship on a heretofore low-profile, high-stakes mission to carry home some of her most precious cargo to date.
A few years back, the team's owners decided to purchase a pair of twin 767s exclusively for the Patriots, one of the world's most valuable sports franchises. The Kraft family – headed by Chairman/CEO Robert Kraft and President Jonathan Kraft – entrusted Chief Operating Officer Jim Nolan with this unprecedented endeavor in professional sports. Nolan, who's served the organization for about a quarter century, says this most recent flight proved the most complex, but fulfilling undertaking of his career.
Last month, as the coronavirus began sinking its crown of pernicious thorns more and more deeply into the United States, including here in Massachusetts, personal protective equipment (PPEs), such as respirator masks and gloves, suddenly became scarce commodities across the nation.
States quickly found themselves scrambling to provide enough of these and other materials to accommodate health care professionals overwhelmed with an abnormally high influx of patients mostly suffering from COVID-19. Bay State governor Charlie Baker searched far and wide, ultimately brokering deals to secure 1.7 million particularly coveted respirator masks from manufacturers in China – if only Baker could get them here from Shenzhen, a city in southeast China that connects the country's mainland with Hong Kong.
With viable options for commercial and cargo flights dwindling worldwide due to the coronavirus outbreak, a desperate Baker sought advice from Jonathan Kraft, the aforementioned Patriots president who also serves as Massachusetts General Hospital's chairman of the board. Kraft immediately volunteered one of his team's 767s.
For the next couple of weeks, Nolan barely slept as he and several others coordinated the monumental effort from half a world away.
Getting necessary approvals for various steps in the process would be more challenging.
"The first question," Nolan continues, "was, 'Can our plane fly to China?' My first answer was, 'Yes, we can,' because we have a rating that says it can fly anywhere in the world. Some planes, you can't fly across the ocean. I knew our plane was certified to fly anywhere in the world."
What the plane lacked, since it doesn't normally travel to Asia, was software to provide a map of the flight path and the ability to communicate with air traffic controllers in that part of the world. The plane, requiring an upgrade to her avionics, would first have to stop in Wilmington, Ohio.
Meanwhile, Nolan and others, including attorneys, set out navigating a labyrinth of paperwork and diplomacy.
"What are the approval steps that have to happen in order for us to land in China? As we started peeling back the onion," adds Nolan, "we realized there was layer after layer after layer after layer of things… to get permission to land specifically in Shenzhen."
Initially, this required an immense amount of legal work and several official letters, from the U.S. State Department, as well as the Governor's Offices of Massachusetts and Rhode Island, explaining why this flight would be critical to needs of U.S. health care workers.
Nolan received vital support in this regard from Washington D.C. law firm Hogan Lovells and Ryan Winmill of The Winmill Group.
"We're learning this as we go. There wasn't a road map that said, 'Hey, go do all this,'" Nolan emphasizes. "Amy Roma of Hogan Lovells quarterbacked the legal team's effort."
Another person who proved indispensable to Nolan and the Patriots: Huang Ping, China's consul general, based in New York City.
Ambassador Huang collected all the necessary documentation from the Patriots and helped facilitate their timely submission to and eventual approval by his colleagues in various departments and ministries of the Chinese government. The Patriots now had clearance to fly to China, but, as the ambassador revealed, the 12-person flight crew still needed visas.
Since those folks were already in Ohio awaiting the plane's software upgrade, Nolan dispatched a Commonwealth of Massachusetts representative on charter flights to Ohio, then New York, then back to Ohio to retrieve the flight crew's passports, headshot photos, and other documents to complete the visa application. Approval could only be granted by none other than Ambassador Huang's office, which graciously offered to open last weekend, when they're normally closed, to expedite the visas.
"He was VERY helpful in the process," Nolan gushes.
At last equipped with all the required resources and very favorable weather conditions, the plane flew from Ohio to Anchorage, Alaska this past Monday. At this convenient geographic location, the flight crew briefly rested before a marathon 24-hour period.
As part of the agreement with China, the Patriots' plane could land and remain in Shenzhen for only a certain period of time, in this case no more than three hours.
"That's no different than when we fly the Patriots team from here to the Meadowlands. We have to file a flight plan," Nolan reveals.
Unlike other passengers flying into China nowadays, however, the crew would not be forced to quarantine for 14 days because they would never leave the confines of the plane. They'd fly some 12 hours from Anchorage to Shenzhen, wait a maximum of three hours while the respirator masks were loaded into the cargo hold, then immediately fly back to Anchorage. The Patriots insisted on this quarantine waiver because of the urgency to get the masks back to New England and into the hands of health care workers.
Chinese officials granted the request, but for this plan to work with maximum efficiency, the Patriots needed people on the ground in Shenzhen who could make sure all the respirator masks would be waiting at the airport, having been securely passed through customs and safely guarded prior to the plane's arrival.
Nolan and the Patriots eventually found enthusiastic partners from technology giant Tencent, which provided its own 12-member team to complement the operation. Nolan lauded the leaders of Tencent, who had no prior relationship with the Patriots, for their teamwork, generosity, and commitment to the cause.
"Both their CEO [Pony Ma] and president [Martin Lau] are great humanitarians. They're passionate about the medical industry. There are relationships between Tencent, Jiahui International Hospital in Shanghai, and Mass General that made the link easy and they were just ready to help and do the right thing."
Around midday Eastern time this past Tuesday, the plane took off from Anchorage and touched down in Shenzhen shortly after midnight Eastern on Wednesday, April 1. Two hours, 57 minutes later – with just three minutes to spare in the permitted window – 1.2 million units were safely stored under the Patriots' plane, allowing it to depart for Anchorage as scheduled.
The crew's total time on the plane from Anchorage to Shenzhen and back to Anchorage: 24 hours, three minutes.
After serving in Operation Desert Storm, Massachusetts native Gary Skellett left the military and became a vice president at financial giant J.P. Morgan. The attacks of Sept. 11, 2001, though, prompted Skellett to reenlist in the National Guard. He left banking behind, plunked his savings into buying a restaurant on Sebago Lake in Maine, and later placed his name on the Patriots' lengthy waiting list for season ticket members.
In total, Platoon Sergeant Skellett has served 19 years and counting in the National Guard, while spending the past 16 on the Patriots' waiting list.
Late last season, Skellett received a call from the team informing him that seats had finally opened up for him in the Putnam Club section. He lunged at the opportunity and was able to see his first official game as a season ticket member this past January, during New England's Wild Card Playoff against the Tennessee Titans.
Wednesday, Skellett received another phone call which took him equally by surprise, and to his relief, it was no April Fool's gag. His battalion, activated by Gov. Baker last month amid the COVID-19 crisis, would be responsible for unloading the respirator masks from the Patriots' plane the following night and transporting them to the Massachusetts Emergency Management Agency (MEMA) strategic stockpile in Marlborough.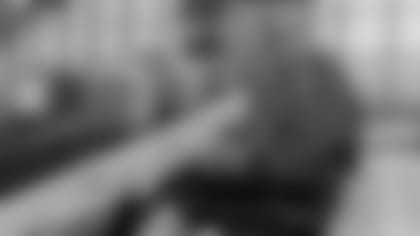 "Working at J.P. Morgan, I've sat at tables with CEOs and millionaires, but… I get satisfaction just being a part, being one of these guys [in the National Guard]," Skellett maintains. "Anything that pertains to transportation comes to our battalion. This happened to be one of the missions… by far the biggest mission we've been tasked to do."
At Logan Thursday evening, Skellett had a chance to meet Jonathan Kraft during a brief ceremony welcoming the team plane back from Alaska. Skellett and his battalion mates then loaded most of the respirator masks onto their military vehicles for a convoy to MEMA.
In a show of solidarity with nearby New York, which has become the epicenter of the coronavirus pandemic in the United States, Robert Kraft, with the blessing of Gov. Baker, offered to provide the Empire State with 300,000 masks. They were loaded onto an 18-wheeler painted in similar style to the Patriots' plane, which first stopped off at Gillette Stadium. Friday morning, that tractor trailer set off for the Big Apple. Baker indicated Thursday that a number of masks would also be earmarked for hospitals in Rhode Island, Massachusetts' neighbor to the south.
The remaining 500,000 masks needed to complete Gov. Baker's order for 1.7 million are scheduled to arrive in Massachusetts in the coming days. In addition to the flight costs, the Kraft family will pick up half of the approximately $4 million tab for the masks.
Meantime, the team plane returns to its secure hangar at T.F. Green, where it will continue to undergo routine care and maintenance to ensure that it is ready for takeoff again whenever the Patriots embark on their next road trip.
During a video conference with reporters Thursday, Patriots running back and 2019 co-captain James White expressed pride in his organization and its ownership for spearheading this selfless effort.
"It starts from the top, as soon as you step in the building you see how much community work the Kraft family does and it's very infectious. Each and every person who steps in the building tries to do as much as they can to help others out. It's really cool to see and I hope all of us can do whatever we can to help others in this trying time."