A Target toy aisle in the month of December is guaranteed to be a joyous combination of chaos and excitement, and as Adrian Clayborn walked between carts, checking out Barbies, Hot Wheels and everything in between, the happiness of 15 fathers and their children was contagious.
Adrian invited these families to Target in Braintree on Dec. 11 for a holiday shopping spree -- on him. Each dad received a $200 gift card for each of their kids to help them shop for the holidays. The fathers were selected from InnerCity Weightlifting, a program that uses weightlifting to build community for men at-risk or trying to get back on their feet.
This is an event that Adrian started hosting back in Tampa Bay. He brought it with him to Atlanta, and now members of the New England community are impacted by Adrian's generosity.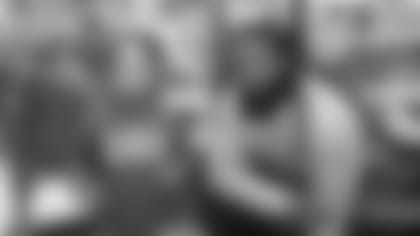 Norman Evans, who was shopping with his son Jayden said the night was meaningful to them both.
"It means a lot really. It shows that he noticed," Norman said. "He noticed the community, you know what I mean. He noticed what's going on outside of just football, and he's giving back and actually he cares."
Jayden said he was excited to be "shopping with his favorite team," and he was able to cross items off of his list -- including a Seth Rollins and Dean Ambrose wrestling action figure pack.
As the kids roamed the aisles with their dads, tossing items in their shopping carts, Adrian stopped to chat and help them shop. He said with the holidays being a tough time for many, he was happy to support these families.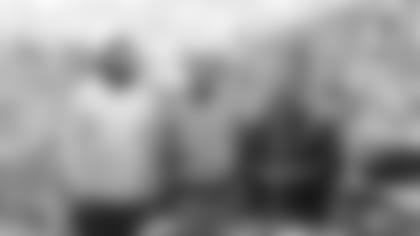 "I know some of the dads aren't able to get their kids gifts, so we're here for the kids ... They just really appreciative and really grateful for the little I can do for them," Adrian said. "It's awesome just to hear their stories and hear the kids' stories, see the kids buy toys for their other siblings. It's cool. I'm just glad we were able to pull it together."
As the families cashed out Adrian and his teammates Danny Shelton and Derek Rivers handed out Patriots teddy bears from Build-A-Bear, giving one final gift before they headed home.
Norman said the night of shopping with his son made for a great time together.
"This is my best friend, so this is great for us," he said. "And I know he loves the Patriots. This is real."