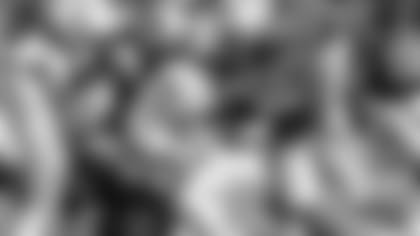 ](/node/46721)Despite more injuries to key players and inconsistency on both sides of the ball, the Patriots found another way to pull out a win when hope seemed irretrievably lost.
Here's what stood out from our vantage point in the Gillette Stadium press box Sunday afternoon:
…Rookie DT Chris Jones, the unfortunate victim of last week's call that cost New England the game, came up big on the first playoff the game, shooting a gap and dropping the Dolphins for a loss on a running play. That put them in 2nd-and-long and ultimately forced a three-and-out. The rush defense has been an area of vulnerability for the Patriots with Jones and fellow rookie Joe Vellano at d-tackle in place of Vince Wilfork and Tommy Kelly.
…Overall, New England did a fine job against the run in the 1st quarter, surrendering just 26 yards. That quickly deteriorated in the 2nd, however, when Miami began piling up yardage on the ground. The Dolphins finished the game with 156 total yards rushing.
…LB Dane Fletcher saw action on nickel packages, replacing Dont'a Hightower, the new defensive signal-caller for New England with Jerod Mayo on IR. Hightower was not wearing the green dot on his helmet, though, which signifies the use of communications equipment in his helmet to talk with coaches on the sideline. That was being worn by safety Steve Gregory. Fletcher later registered a 4th-quarter sack of Dolphins QB Ryan Tannehill.
…Interesting how Kyle Arrington went from benched third corner last week in New York to replacing Aqib Talib as the number-one corner covering Mike Wallace. Arrington was replaced in that game by Marquice Cole, who surrendered the first touchdown of the day against Miami. Cole struggled at times with Wallace.
…QB Tom Brady went to great lengths to hide any camera shots of his reportedly injured right (throwing) hand. Pre-game warm-up footage clearly showed a swollen backhand, but no tape on the finger or fingers he supposedly hurt against the Jets last week. Each time Brady came off the field, however, he immediately inserted that hand into the hand warmer around his waist. Brady was listed only with a right shoulder problem on the injury report. When he came to the sidelines, Brady donned some sort of black wrapping on the hand.
… Right tackle Sebastian Vollmer, midway through the second quarter, went down in obvious pain after being rolled upon from behind by d-tackle Randy Starks. The medical staff immediately came out on the field and secured Vollmer's right lower leg with an air cast, the typical sign of a broken bone. Marcus Cannon took over for Vollmer at right tackle.
…The Dolphins had considerable success throwing the ball to tight end Charles Clay, who was matched up 1-on-1 with safety Devin McCourty in the first half.
…The inexplicable benching of Stevan Ridley continued against Miami. As has been the case the past few weeks, Ridley did not start the game and came in sparingly, but when he did, he ran well, averaging more than 5-and-a-half yards per carry on 14 touches. He also wound up with the most carries for the Patriots on the afternoon, but it is odd that he started the season as the starter, with Bolden and LeGarrette Blount spelling him, to becoming the guy subbing for those two.
…Rookie WR Aaron Dobson ran a great route on his touchdown reception from Brady in the 3rd quarter. He was lucky, though, that the ball made it to him at all, as Brady was hit by a Dolphins defender just as he released the ball.
…For the second straight week, rookie corner Logan Ryan made a momentum-changing play. His 3rd-quarter strip-sack of Miami's Ryan Tannehill led to Brandon Bolden's tying touchdown run three plays later. He was victimized on a 20-yard completion on the very next series, however, but then nearly had another pick-six while breaking up a 3rd-down pass in the same quarter. Ryan also contributed to a 4th-quarter sack of Tannehill. He is showing nice progress each week.
…Even though it was nullified by left tackle Nate Solder's holding penalty, Rob Gronkowski's touchdown catch from Brady was a great play by both players.
…Arrington left the game in the third quarter with what appeared to be an aggravated left groin injury. He'd been a full participant in practice all week with the same ailment. Cole replaced him once again for the remainder of the contest.
…Cole and McCourty teamed up shortly thereafter for what looked like the defensive play of the year thus far. Tannehill threw a deep pass in the direction of Wallace, with Cole trailing. The ball was underthrown and McCourty came over from his safety spot to defend the pass. McCourty was falling out of bounds, so, he tipped the ball inbounds to Cole, who made a tremendous athletic effort to keep both feet inbounds as he secured the ball in his hands and fell to the ground out of bounds himself.
...Veteran Andre Carter, signed this past Tuesday, was active and included in the DE. That speaks volumes not so much about Carter's abilities, which are no doubt considerable, but more about how the team feels about former third-round draft choice Jake Bequette, who was a healthy scratch for the umpteenth time in his brief pro career.
…There were several big plays in the game for New England, particularly in the second half, that helped them win, but perhaps the biggest one got very little attention. With Miami up 17-3 and driving in Patriots territory, the Dolphins faced a 3rd-and-2 from the New England 19. Hightower dropped Tannehill for a 9-yard loss and Dolphins kicker Caleb Sturgis doinked his field goal attempt from 46 yards off the right upright. Momentum shifted dramatically in New England's favor from that point on.