MIAMI GARDENS, Fla. – "Finishing" is a word you hear often in the Patriots locker room.
They've talked about it after wins as well as losses this season, and in the days leading up to nearly each game.
Good teams know how to do it. Championship teams know how to do it even when they aren't at their best.
Such was the case with New England Sunday in South Florida.
No, it wasn't their best effort, on either side of the ball. They freely admitted that afterward. Quarterback Tom Brady was uncharacteristically off-target most of the day. The running game was anemic compared to what it has been able to do all season. The defense continued its recent struggles stopping the run – something they did quite well to start the season.
However, clinging to a slim lead, with the AFC East crown on the line once again, Brady and the Patriots finished the job.
With about 8-and-a-half minutes to go in the game, the hiccupping offense finally caught its breath. They gave the ball mostly to Stevan Ridley, their second-year workhorse running back, and once to fellow sophomore Shane Vereen, to gobble up both yardage and clock against a stout Dolphins d-line that had done a decent job of keeping them in check most of the afternoon.
Ridley and Vereen delivered, as did the banged up Patriots offensive line, which nearly had to resort to duct tape and glue to stay intact. By the time that final scoring drive was over, barely more than a minute of game clock was left.
The 4-minute drill we often hear about, to close out games when you have the lead? New England basically doubled it against the Dolphins.
"We just had to wait till the right time, lock in, and move the ball on the ground. Our offensive line, they battled hard all day," Ridley remarked. "At first, it was kind of slow up front, but they just kept fighting. That's all you can ask out of an offensive line – just keep fighting till the end. You see how football goes: that last drive, it finally opened up for us. We'd been trying to pound away on a great run defense. Finally, they broke toward the end.
The way the Dolphins were playing – and beginning to feel confident after pulling to within seven points midway through the fourth quarter – the Patriots felt they needed to run out the clock on offense, even with so much time left.
"Absolutely," Ridley continued. "Fourth quarter, clock's winding down, we've got a lead, we've got to close out the game. That's the time you have to go out there and make sure you hold onto the football, run the ball well, make sure you're getting positive yardage. That's what we did. My offensive line, offensive coordinator, even the receivers – everybody was blocking, zoned in, and we made it happen."
"We came through in the end. Ridley, he's a tough back running well," observed tight end Aaron Hernandez. "We just kept fighting. We finished the game how we're supposed to."
Historically, winning in Miami is rarely easy for the Patriots.
But New England knew it could wrap up yet another AFC East crown by beating the Dolphins in South Florida, and thereby guarantee themselves a spot in the postseason.
"It never gets old, going against a great group of teams," linebacker/co-captain Jerod Mayo said of the division-clinching victory. "It feels good. We're going to enjoy this one, but at the same time, it's time to turn the page… we have other goals for this season."
This is now the 10th time in the Bill Belichick era that his Patriots have sewn up the AFC East, and the fourth consecutive division title. Players were given the customary hats and t-shirts to mark the occasion, but there was very little revelry in the visitors locker room afterward.
"It means something. I guess you get kind of spoiled at times," admitted wide receiver Wes Welker. "It's kind of 'just another hat and t-shirt,' but they're definitely not easy to come by."
Nor is it the last such piece of clothing Welker and his teammates want this season.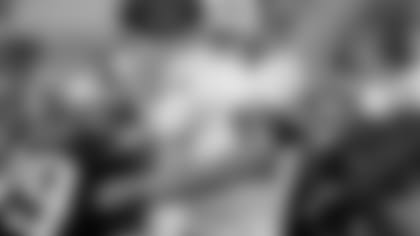 "We've been talking about it all week," defensive end Trevor Scott acknowledged. "We had a good, hard week of practice. The fact that we got them today, it's huge for us. It's a right start in the direction we want to go."
"It feels good. Still got a long way to go. We'll keep pushing, but it's good to enjoy this one right now," added Hernandez. "We have a bigger goal than this. This is a start. We have to keep going."
Or to be more precise, they have to finish.
By winning today in Miami, they earned the right to be among the few teams fighting once more to win a Super Bowl.