Between the two of them, Hannah Storm and Andrea Kremer have covered Super Bowls, Olympics, Thanksgiving Day Parades, All Star Games and more. They are two of the most familiar faces in the world of sports journalism, seasoned veterans of the industry, unshakable and proven.
Yet, on Sept. 27, nerves were all around.
Kremer and Storm called the Vikings-Rams Thursday Night Football game on Amazon Prime Video, making history in the process as the first all-female team to broadcast an NFL game.
And on Thursday night, they will call their second game -- the Patriots vs. the Colts.
Despite the nerves, Storm and Kremer settled into their first broadcast, likening it to the first play jitters of a Super Bowl. Once you get the first play out of the way, everything calms down, and that's exactly what happened.
"Once you get into that rhythm and you figure out what's going on, you're paying attention and you know the stories you want to be able to tell, then the objective becomes, 'Let's be informative, let's be right and let's have fun,'" Kremer said. "I think that's what our objective was and hopefully after one game we began to accomplish that."
For the broadcast, Kremer serves as the analyst while Storm takes on play-by-play duties. The roles are new to them, but with more than 30-years experience in the industry, they are up to the challenge of something new, including working with each other for the first time. Though they've known each other for years, this is the first time their paths have intersected professionally.
"There is nobody, no person, that I would want to be doing this with more than Hannah. She is absolutely a brilliant broadcaster. I found someone who completely matches my work ethic," Kremer said. "We've been doing interviews all [Tuesday] afternoon with the two teams, and a player will say something and we both jump and we're asking the same follow-up. We're laughing because we're thinking the exact same thing. I know for me to be in my role, it's so amazing that she gets us in and out of breaks, she handles everything so flawlessly from all her decades of experience as a host. There's nothing she hasn't seen in live television. For me, she's an incredible security blanket."
When it comes to the broadcast itself, storytelling is key. Kremer said she and Storm are not setting out to be Joe Buck and Troy Aikman or Cris Collinsworth and Al Michaels. They're using their unique voices and telling the stories of the game.
"That would be insane for us and really insulting for them, and that's not what we're trying to do," she said. "We have both covered the league for more than 30 years. We have a different perspective and a degree of institutional knowledge. We're going to be telling you the story of the game and the story of the people who play the game, and my experience has been if you tell people stories, that's what really resonates with them. That's what really is meaningful to them."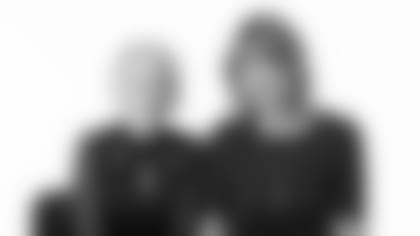 These stories will be even more meaningful given the significance of the storytellers. Kremer and Storm have paved the way for women throughout their careers, and this step furthers the cause.
"When the announcement was made two days before our first broadcast, we heard from anybody and everybody. People we knew, people we didn't know, people in the industry. This is an email that I got from somebody. I don't know who the person is, but this is what he wrote: 'Good luck to you two fine broadcasters. It's about time. We are better for having you pave the way. I imagine there will be countless young girls who will wake up on Friday morning with an entirely new dream. You are making it possible,'" Kremer said. "I immediately forward it to Hannah. That's really important to hear from somebody, to hear from a dad, and it's a responsibility that we have. We're not going to tell you. We're going to show you with our actions."
Their decision to take this on also speaks volumes to taking on challenges, no matter where you are in your career.
"Let people see that you can be decades into your career and you can still really step out of your comfort zone," Kremer said. "That's really important for people to see as well."
Though the significance is not lost on either, right now, they're focusing on the next game. Putting in hours of preparation for each match up, Kremer said she could easily "add 10 more hours to her day." With a match up rich in history, there is no shortage of storylines to zero in on, and over the years, Kremer said, she has seen the Patriots-Colts rivalry up close and at every stage.
"I harken back to when I was covering the NBA, and the Chicago Bulls were always on the precipice only to be knocked down by the Pistons. Then when they finally made it, they beat the Pistons, and that's how it was for the Colts," Kremer said. "They always come to the precipice only to be knocked down by Tom Brady ... The rivalry is not still Tom Brady and Peyton Manning, the two greatest quarterbacks of our generation. They are the pinnacle."
No matter how the game shapes up, Storm will be there to tell viewers what's happening, snap by snap, and Kremer will be there to provide insight to the game and the people who play it. They, ultimately, are just doing their jobs and are hoping to have some fun along the way.
"We're just trying to have fun with each other. My experience has been if the audience thinks you're having fun, they're going to enjoy it right along with you," Kremer said. "If they sense it is just brutal or difficult, who wants to be a part of that? We're having fun. Come and watch along with us."