A producer snaps a clapperboard shut and there is silence on the set – or as much silence as there can be on a Tuesday afternoon in Southie. Kyle Van Noy is dressed in an Army green bomber jacket and black jeans, and even out of his Patriots uniform at over 6-feet tall, he doesn't exactly blend in. Add a full camera crew, and he downright stands out.
It's just a few days after the Patriots beat the Jets in a commanding victory, so Patriots fans are pumped to see Van Noy out and about. Some cars slow down as they drive by. A few beep. One man stops on the sidewalk to watch. Whatever errand he is running can wait.
Van Noy gives a nod and a wave for now, trying to maintain his focus. Outside of Fat Baby, a trendy neighborhood restaurant, Van Noy is trying to nail his lines and introduce his guest, teammate Damien Harris, before the two can go inside.
Despite needing a few takes, Van Noy's enthusiasm and charisma are consistent – even after standing outside on a windy, chilly day.
"What's up everybody? This is Kyle Van Noy back again with another episode of Elite Eatz," Van Noy repeats, making sure the cameras get multiple options that are up to standard. "Let's go."
Elite Eatz is Van Noy's passion project outside of football. It started back in 2019 with a simple concept. Van Noy would take his teammates to some of his favorite local restaurants. They would have open and easy conversations that only teammates can have while spotlighting small businesses.
"I'm a foodie. I love food, but more importantly I wanted to give a voice to chefs, owners, and mom-and-pop shops in Boston," Van Noy says after wrapping for the day. "I feel they are like football players, where people can write a bad review. People can talk trash, and they can never really say anything. That's kind of like an athlete in a way … I wanted to give them a platform to showcase their talents and skills. It's a fun thing."
After skipping the 2020 season for Elite Eatz because of the pandemic while he was playing in Miami , Van Noy is back with a new season in New England. So far on the second season, Van Noy has invited Harris, Kendrick Bourne, Matthew Judon, Jonnu Smith and Hunter Henry to some of his favorite spots in the Greater Boston area.
In the wake of COVID, the restaurant industry took a huge hit. Many struggled to stay afloat. They were forced to adapt in a socially distant world. With this in mind, Van Noy hopes putting a spotlight on local establishments will encourage people to visit and grab a meal from a neighborhood business.
"The real, true roots of the city are mom-and-pop shops. They're still open, still resilient, still happy and giving a warm welcome to me when I come in and show them off," Van Noy says. "It makes me happy because [fans] are not only watching the show, but they're also going into places that I like. That's just cool."
While episodes focus on restaurants and the spread the chefs lay out, the real draw, like any meal out with friends, is the conversations between Patriots players. As the media landscape has shifted, athletes are able to speak directly to their own audiences. It is one thing – and a valuable thing – to hear athletes speaking with professional reporters, but as technology has evolved, so has the way we all consume and create media.
On video series or podcasts, athletes can serve as both host and subject, giving insight while asking questions of people they oftentimes share personal relationships with. It might not be objective journalism in a traditional sense, but the comfort level of an athlete like Van Noy talking to his teammates means he gets stories others might not.
In his first season, Van Noy brought former teammate Stephon Gilmore on for an episode. The famously soft-spoken Gilmore made news by confirming he thought he was the best cornerback in the NFL. It's a perfect example of how Van Noy gets his teammates to open up.
"I think it's a comfortability thing. Players are more comfortable talking with other players because they get it," Van Noy says. "This is just for fun. I just want them to be able to express [themselves], say what they want to say and keep it moving. It was kind of cool to hear Steph say he was the best corner in the league and then have networks pick it up."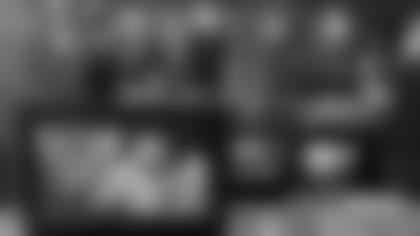 On this particular episode at Fat Baby, Van Noy's job of making his guest comfortable is made easy by the charismatic Harris. Chef Michael Sanchez brings out plates of sushi, dumplings, fried rice cakes topped with tuna, chicken Bao buns and more, and the guys dig in.
"I've never had a dumpling before in my life. Never," Harris says. "Cheers. Wouldn't rather have it nowhere else than Elite Eatz."
Before they get into the heart of the shoot – the taste-testing and fan-submitted Q&A – Van Noy and Harris are chopping it up off camera, talking about how they met their significant others, the NBA, and the latest season of "The Bachelorette," a franchise for which Harris has no shortage of opinions.
As entertaining as an under-the-helmet series like this might be for a Patriots fan, it's also a chance for Van Noy to have different conversations with teammates than he might in the locker room.
When Van Noy reads Harris a question solicited from Twitter about how he stays positive after mistakes earlier in the season, like his fourth-quarter, red zone fumble against Miami, it yields an answer that resonates with Van Noy.
"When I was in college, our running back coach Burton Burns, who is still like a father figure to me to this day, he used to tell us every day, no matter whether it was a good play, a bad play, whatever you want to say: 'So what? Now what? Play the next play,'" Harris says. "Something that simple. After the play in Miami happened, I felt like the world was ending. That was just another reminder that obviously in life good stuff is going to happen, bad stuff is going to happen."
"That gave me chills, bro," Van Noy says.
Van Noy says he keeps a notebook to jot down quotes he hears that hit him, and this one from Harris makes the cut.
"That was awesome, not only getting to know him better, but him keeping it real and personable and teaching you life lessons. He had a miscue earlier in the year, and here I am writing a quote he said in my book that I'm going to have forever," Van Noy says. "I think it's valuable to everybody. That was so good to hear."
Ultimately, that's why Van Noy set out to do something like Elite Eatz to begin with. It's a chance to get to know his teammates outside of the locker room, and what better way to do that than over a great meal?
"This is a way to get to know them better, for them to get to know me a little bit better and just enjoy food," Van Noy says. "I usually tell everybody it's just a lunch date with me. We're just in front of a camera."
Elite Eatz drops every Tuesday before a Patriots home game on the Vibin' with the Van Noys YouTube channel. You can watch the episode featuring Harris below.