Opening Night at the Super Bowl is always insanity. Media members flock from all over the country to talk to the two competing teams, and it's pandemonium. The antics of "Media Night" years ago have slowed down with less and less media dressing up and asking crazy questions, but some of this tradition remains.
The are silly questions, and the players on both teams have fun with it.
Whether it is a late night show's sidekick or local media having fun on the beat, Opening Night is a sight to see.
We're taking a look back at some of the standout moments from Monday night.
Before the Patriots came out onto the floor, both teams' captains met on stage, and when asked if he had any advice for Jared Goff, Tom Brady had a simple reply.
Jared Goff wasn't the only Ram on stage.Tom and former Patriot and vibrant personality Aqib Talib told a story about his first day with the Patriots, and it didn't disappoint.
Tom said on the first day Aqib was with the team, Coach Bill Belichick brought the cornerback over after practice to run routes with Tom and try him out as a receiver.
"He got me all excited," Aqib said. "I thought I was going to have a receiver package. Tom was throwing me passes, so I can really say I caught passes from Tom Brady though."
Aqib's incredible quotes didn't stop there. During the Rams portion of availability, he was asked what he learned with the Patriots, Aqib answered honestly. He learned to be a pro, he said, which includes creating new habits.
"The study habits I picked up, set more alarms [to keep from being late]," he said.
The Patriots took the floor in the second half of opening night, and it kicked off with Gronk being Gronk.
And then there was this moment. No comment needed.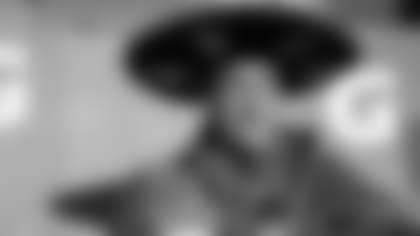 Long before Devin McCourty was a Patriots player, he was home watching the team play in Super Bowl XXXVI, and he owned up to who he cheered for that day.
"I remember rooting for the Rams, and I think I lost $2 or $3 from my mom," he said.
With this being Jason McCourty's first Opening Night experience, the twins of course had some fun.
When Deion Sanders stepped up to Devin's podium, Jason made sure he got some of the limelight.
Tom had a nice moment with a young reporter asking how to deal with negativity from people aka the haters. Tom had a great response.
"What do we do about the haters? We love them. We love them. We love them back because we don't hate back," he said.
Running backs coach Ivan Fears had a good time reading his daughter's hilarious tweets about him, like his love for "The Greatest Showman" and how he greets his cat. It's a fun watch.
You can catch more from Opening Night in the gallery below.
Team photographers David Silverman and Eric J. Adler present their favorite photos from the Patriots Super Bowl media night in Atlanta on Monday, Jan. 28, 2019.