BB:I think pretty much the same comments I had last night: heck of a football game, the Saints are a good team, [they] did a lot of things well. We made, obviously, enough plays to win but certainly a game that could have gone either way. A lot of close plays, a lot of good plays on both sides. Like I said, I'm really proud of our team for hanging in there, battling all the way through, playing 60 minutes. I thought we played good situational football there in the last couple drives. Our players stepped up and made a lot of big plays, that was the key thing, we got them from a lot of different people so I don't think there's any one guy you could really single out without a lot of guys coming through and doing what they did, at the times they did it, it wouldn't have been possible for any individual to do it by himself, we needed everybody. Good day for our team, good win for our team yesterday; still a lot of things we can improve on, a lot of things we can learn from but it's good to learn from after a win.
Q:Can you recount that last drive you guys had and how it broke down and obviously you had a couple misfires on second and third down?
BB:We had the ball with a little over a minute and no timeouts. We needed to go 70 yards, we had to get the ball down the field. The first play, I think we ran four receivers and hit [Julian] Edelman down the seam and that got us into New Orleans territory. At least at that point, you felt like you may have a shot to throw for the end zone. We felt like we had a little bit of time to execute a couple plays, especially if we could get out of bounds. I think Tom [Brady] hit [Austin] Collie over the middle on an in cut. Between the seam and the in cut, that gave us a decent chunk of yardage. I think they were playing off the receivers a little bit, after we completed that second pass to Collie. Tom threw out to [Aaron] Dobson, really trying to stop the clock and Aaron did a good job of getting out of bounds. We were kind of fortunate to get out of bounds there. It certainly wouldn't have been worth it to pick up five yards and get tackled in bounds so getting out of bounds was really the key play there. However much time there was left, like 30-some seconds, we again tried to hit Edelman down the seam, similar to the first play of the drive which was close and then we tried to hit him, we were running vertical routes and Edelman came clean a little bit on the second one there over the middle, sort of across the field, sort of a crossing route when Tom stepped up in the pocket. We didn't quite get that that one so then it was fourth down and there was still a decent amount of time left, somewhere around 30 seconds or something like that and then we had a play that we wanted to get the first down on, which that was the option route there to Collie. Then I think we spiked it, after we picked up the first down. Then with 10 seconds left, we felt like we had two plays to get the ball in the end zone. We had, I think, Julian came out after the second incompletion down there around the one-yard line when he got hit on the goal line and then he came out for a play or two. Then we were able to get him back in there again, to try to get a little more speed on the field to try to get into the end zone. We had some matchups, it looked like they played quarters coverage across the board, they were kind of singled up on our four wide receivers with some underneath help from the linebackers. KT [Kenbrell Thompkins] got outside of [Jabari] Greer, Tom put the ball over Greer and outside of him and KT made a good catch there. Really, I thought it was a closer play than it was in the game but looking at it on film, he was well in bounds. He left enough space there, Tom got the ball there up over the top of Greer and that was it.
Q:Chris Jones played every snap defensively yesterday. How would you assess his performance?
BB:Chris, as you mentioned, he got a lot of playing time yesterday. I think he was in there for every play, that's right. Chris is a smart kid. He came in and picked things up pretty quickly. His play time has increased a little bit each week. I think he's athletic, he runs well, he has good playing strength, he has a little bit of quickness in the pass rush and overall, he's got I think decent skills in there. Look, it's not perfect, there are certainly a lot of things that he can improve on. But I thought he and Joe [Vellano] both have given us, given their amount of experience and all the things they've had to deal with, in terms of the types of offenses that we've played and so forth, some of the payers in there, like Jahri Evans, pretty good player there and [Ben] Grubbs, that they've done a good job of hanging in there and being relatively productive. Again, a lot of things we need to work on, but the play that Chris made on the screen pass, it was sort of an angle screen there on [Darren] Sproles, I think it was in the second quarter, could have been a big play but Chris made the play from behind, just short of the first down, I think it was like third-and-6 or something like that, and he made the tackle for a four-yard gain. It was close to being a big play, as well as a third-down conversion. He's active, he runs well, he's been a factor in both the running game and the passing game. He still has a long way to go, but works hard, plays hard; tough kid. He's smart and he's done a good job picking things up.
Q:Can you shed some insight on what the process is from a football standpoint, as it coincides with the medical evaluation – in other words, what are you looking for and how do you approach any player in trying to get back and trying to gauge the process as you move along?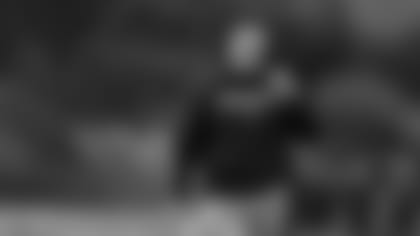 ](/node/46661)BB: **I would say there are a lot of things that go into it, a combination obviously of medical clearance and making up the active roster for the 46 guys. Each week, we go through the process with all the players and do what we feel like is best for the team. Obviously medical considerations are a big part of it, so we'll do that with every player.
Q:Is there anything you want to practice or test Rob Gronkowski on from a football standpoint to gauge the process?
BB:Yeah, sure, that's what practice is for, part of it. But ultimately the players have to be cleared medically before we can put them in the game. There are a lot of players that practice that aren't ready to play yet, but they're ready to participate in practice. That's pretty common.
Q:Has it been particularly frustrating because it's day-to-day and it seems like Rob Gronkowski's close to coming back but it doesn't happen? How does that impact your game planning as you go through the week?
BB:We have 53 players on the team. There's some element of that every week.
Q:Are you chasing Don Shula? You've moved up another notch on the coaching victory list.
BB:Well, I don't think it really is a big thing right now. Right now, our focus is on the team and trying to beat the Saints and now trying to get ready to go down and play a division game against the Jets. It's flattering but right now, there's another time maybe to reflect back on things like that, but this isn't it.
Q:Congratulations anyway, Coach.
Q:In re-watching your defensive performance, what are some of the things you liked about not just the performance against Jimmy Graham, but the work against Darren Sproles and Pierre Thomas in the pass game on check downs and screens?
BB:Obviously, we had trouble with the screens early but then we did a better job on that. [Joe] Vellano recognized one and made a play on that. I talked about the play that Chris Jones made on the third-down screen. I think maybe stopping those plays slowed that down a little bit, but of course, look, they have a very challenging group of skill players. They use all of them – their tight ends, their backs, their receivers – so you have to account for everybody. They used everybody in the game plan and I think they all got attempts and most of them touched the ball. They're a tough group to defend. Everybody has to do their job and definitely one of the key points of their game plan was to try to use the backs out of the backfield and in the backfield in the passing game. They got some matchups on us and we got some and they got a couple but it's definitely challenging. You usually don't see this quality of back, as you said, two of them, because Thomas is, when you look at productivity over the last couple years by running backs, he's right behind Sproles which is even more remarkable because they're on the same team. But it's a big challenge for our linebackers and our safeties who happen to be on them at times. Even some of the defensive linemen that are, again at times, either involved with trying to hit them or at times they have to cover them too so it's definitely a big challenge. It's tough to play against that group.
Q:Against Cincinnati, Jerod Mayo was, it seemed, really deployed a lot in the running game and having to be at the line of scrimmage. Yesterday he seemed to be dedicated to Darren Sproles on a fair chunk of plays. Has he been playing at a real high level and showing his versatility over the last weeks?
BB:Yeah, absolutely. I think Jerod has great versatility. That's what makes him such a good linebacker. He's good in the running game and very instinctive. He's a good tackler and he can run. He's athletic and can play in pass coverage. He's a very good pass defender as well. Again, I think what this game, with a team like the Saints, there are so many receivers in the game, you have to count [Jimmy] Graham as a receiver, I mean he is a receiver, a lot of times they're really in four receivers and almost always in three receivers and rarely are they only in two. So, a lot of sub defense, a lot of that type of matchup, somebody has to take the back and you already have three, sometimes four receivers in the game, so unless you start playing six defensive backs, which we did some in the second half, you just run out of guys to cover a back with. That was the issue and I think they only ran the ball five or six times in the first half, whatever it was. That didn't seem to be a big part of their attack. We kind of anticipated that they would try to balance that up a little bit in the second half because they do a good job of balancing the offense and they were kind of pass heavy and so we thought they would run the ball a little bit more in the second half and they did and they ran it effectively, which presented another problem for us. So then we had to kind of adjust our thinking in terms of how heavy we were trying to play the passing game versus some of the success they were having running the ball. By the time that finally leveled out a little bit, the last few series, the last 10 plays or so, were really situational plays that we had our best run defenders and run calls in there and we saw mostly runs in those situations. They tried a boot, that Chandler [Jones] got them on and they tried to throw a ball down the sideline on Zo [Alfonzo Dennard] on a fade, which he made the play on but it kind of became a running game there at the end so I think the numbers got skewed a little bit because of the situation they were in. but in the first half, it was obviously a big throwing game and Jerod has been a very good pass defender for us on backs and a good tackler. Even if they catch it on screen plays and things like that, he does a good job of tackling them.