It's Super Bowl Week. That means Patriots fans will be descending upon Atlanta to cheer on the team. Whether you've planned on staying in the city for all of the week leading up to the game or just the weekend, the Patriots who have called Atlanta home have some recommendations for you.
Patriots Lifestyle took some time to chat with David Andrews, Shaq Mason and Adrian Clayborn to learn their must-visit restaurants and sites.
David grew up just outside of Atlanta in John's Creek, and judging by the Braves hat David wears on a regular basis, he is a proud Georgia native. He didn't hold back when it came to restaurant recommendations.
First up is Little Alley Steak located in Atlanta's Buckhead neighborhood. The restaurant was ranked as one of America's 100 best steakhouses in Forbes.
"It's probably one of my favorite restaurants," David said.
Mellow Mushroom Pizza – This franchise, headquartered in Atlanta, will knock your socks off when it comes to a good slice. If you're looking to grab one right before the game, there is one located 10 minutes from the home of Super Bowl LIII, and even though it's a chain, David said it holds up.
Taqueria del Sol – If you're craving tacos, head to this local spot that has served Atlanta for almost 20 years. You'll get fresh ingredients Mexican inspired flavors with a few Southern twists, like the fried chicken taco or the Memphis, which is "chopped smoked pork with a spicy jalapeño coleslaw and tequila BBQ sauce."
He recommends adding a few well-known Southern staples like Waffle House to your list.
"[There's a lot] of places I won't eat for [few] more weeks 'til the seasons over, but yeah, any restaurant you're going to try is going to be great," he said.
On David's list of sites to visit?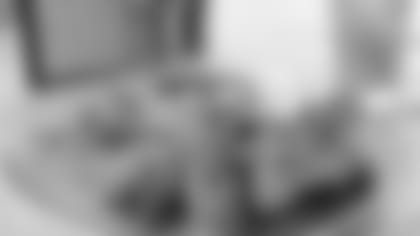 Shaq spent his college days at Georgia Tech, so he's a little biased when it comes down to Atlanta's hot spots.
Mary Mac's Tea Room – This restaurant is a nearly 70-year old staple and is close to Shaq's alma mater, Georgia Tech. Mary Mac's serves all of the southern staples. You can expect fried green tomatoes, hush puppies, fried chicken, peach cobbler and more, but Shaq has got some insider tips.
"The first thing you tell them is you've never been there so they give you the collard green juice with the crackling bread," he said. "That's a go-to. Then the country fried steak and the mashed potatoes and broccoli. That's my go-to."
Pappadeaux Seafood Kitchen – If you don't mind venturing into some Atlanta's surrounding suburbs, check out this southern seafood chain. You'll get your fix of southern seafood.
On Shaq's list of sites to visit?
Adrian spent a couple of seasons with the Falcons, and because of that time, he has simple advice for anyone traveling for Super Bowl LIII.
"Definitely try the food. The food down there is good, southern style food," Adrian said.
Fox Brothers BBQ – Located in Atlanta's Candler Park neighborhood, this restaurant comes with not only Adrian's recommendation, but also David's. You can expect BBQ's main events like ribs and brisket, but you can also add Jalapeno Cheddar Sausage Sandwich to your list of things to try.
King + Duke – If you're looking for another place to grab a good steak, Adrian recommends King + Duke. Order The "King" and you'll get a 40 oz. steak that can feed two to four people. If 40 oz. seems like a lot, try The "Duke." This mouthwatering burger is ground in house. Plus, Adrian says it's really good.
On Adrian's list of sites to visit?
Patriots fans who are making the trip to Atlanta for Super Bowl LIII, be sure to check out these player favorites.