Though the game in Miami ended in a way no Patriots fan cares to relive, for a group of more than 120, despite the outcome, the trip to the game was something special.
Employees at Klaviyo, an email marketing company focused on e-commerce, were surprised with a trip of a lifetime -- a chartered plane, a day trip to Miami and tickets to the Patriots game -- as a way to celebrate the hard work they put in this year.
With Black Friday and Cyber Monday being their "Super Bowl," according to CEO Andrew Bialecki, they look for ways to celebrate the work done. As a proudly Boston company, last year, the team flew to Buffalo for a game, and so they decided to up this year's trip by a few degrees.
"Similar to any sports team like the Patriots, we don't celebrate until we're done, so as the month was kind of creeping along, people were saying, 'Once we're done, what's it going to be this year?,'" he said. "I said, 'I don't know. I don't want to talk about it until we're all the way and finished all of our prep work.' It turned out that the timing worked out, and the team was going to be in Miami."
Convinced the trip to Buffalo was a one-time deal, employees like Colleen Farrell were shocked to learn about the plans.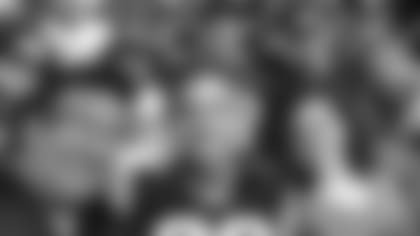 "They said you know we thought about this, 'We thought about that. Maybe we'll do a cruise ship, maybe we'll do paintball.' But they said, 'You know what, we're a Boston company we want to do something Boston. We took a look at Gillette Stadium. Obviously Sunday's game [against the Vikings] was sold out, but then we took a look at their schedule again...'" Colleen said. "Then they had a map that they zoned in on the Miami Dolphins, everyone was screaming before they even announced it."
Armed with shorts, Patriots gear and excitement, the group of 125 boarded a flight at 6:30 a.m. Larry Lodge, one week into the job and a die-Patriots fan, said the energy was unbelievable.
"We basically had a tailgate in the sky," he said. "It was something that everybody could get behind. We're at the airport at like 5:30 in the morning and people were just super excited. They didn't even have coffee yet and they were ready to run through walls."
Colleen echoed this and said she was excited to break out warm-weather Patriots gear.
"Everybody looked like they were ready for the Miami weather. It was really exciting. Bloody Mary's started right when got on the plane. It was a vibe of this one day huge party. It was only about a 20-minute drive which was cool. To see Hard Rock Stadium, it was chills that this was all real."
Despite the outcome, Andrew said celebrating his team of employees by watching their favorite football team was a perfect fit.