For Patriots Cheerleader Michelle, tonight's game is deeply personal – but it has nothing to do with the opponent or final score.
She and the rest of the squad will play a big role in the NFL's 'A Crucial Catch' campaign for breast cancer awareness by trading in their traditional red, white and blue uniforms for bright pink gear. They will also take part in a pregame ceremony to honor victims, survivors and others touched by breast cancer just like Michelle.
"My grandmother Ann was fighting breast cancer when my mom was pregnant with me," Michelle explained. "She said she was going to survive to see me be born and she did. She's still here."
In recent years, though, Michelle has watched two of her aunts, Geanine and Helene, battle the disease, with latter succumbing to it in 2012 at the age of 39. These experiences have inspired her to devote much time and energy to a number of breast cancer-related initiatives over the years, in particular those focused on educating and supporting younger women.
"I always think about my family members during the breast cancer awareness game, especially my aunt Helene," she said. "She always loved that we wore pink and had me send her photos from all the games."
While Helene won't be able to see her niece take the field in pink this evening, Geanine will join Michelle during the pregame tribute, an experience that "is going to be really special" for the veteran cheerleader.
Still, Michelle is not the only woman on the squad to be affected by breast cancer. A number of her fellow cheerleaders have also watched loved ones fight the disease and will have guests with them on the field tonight.
For LisaMarie it's a chance to do something special for her cousin Craig and his girlfriend Liz, who was recently diagnosed and is now undergoing treatment.
"I'm looking forward to being able to share that experience with them," said LisaMarie, who, like Michelle, has a family history of breast cancer. "They're going through a hard time right now, being in the middle of chemotherapy. They don't have a lot of time to enjoy special things like coming to see the Patriots play.
"The game is special for all the cheerleaders, even if they don't have family [affected by cancer], just to be able to connect with these people and try to uplift their spirits, smile together and enjoy the experience."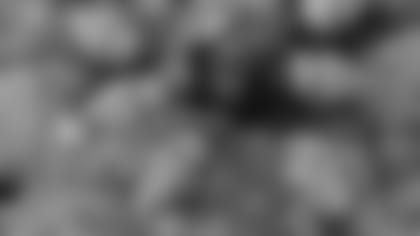 Still, the breast cancer awareness campaign goes beyond honoring those affected by cancer; it also aims to encourage women and men to get screened for breast cancer and do their own self-exams. This aspect of 'A Crucial Catch' is something that first-year cheerleader Britt B. is particularly passionate about. As she explained, the experience of discovering two lumps on her breast earlier this year was "frightening," especially given that her grandmother died after being diagnosed with breast cancer.
"If I had not done my self-exams starting at a young age, I would have never known that there was something wrong," she said. "That awareness is so important. Luckily everything was OK, but it could not have been. I think spreading the word for people to do breast exams even at a young age is very important, because you never know.
"It's not fun," she added, laughing. "It's just one of those things you have to do.
After her own health scare, Britt said she is happy to help spread the message of 'A Crucial Catch' and believes it's important to use the NFL's platform to support causes like breast cancer awareness.
Michelle agreed wholeheartedly.
"I know we're inundated with pink stuff all month but even if that one random pink thing makes a woman remember to do a breast self-exam or get a mammogram, it's worth it," she said. "That's what it's all about – being a little piece of that big puzzle."