Over the years, Patriots players have been recognized by the Hockomock YMCA for their work with the Integration Initiative, a program that provides unique and immersive opportunities for people with special needs.
When Brian Flores was recognized as the newest "Legend" at the annual Legends Ball on Nov. 6, it meant even more than usual. Coach Flores' younger brother Christopher is part of the Integration Initiative and has seen firsthand how it can make a difference in people's lives.
Coach Flores said having a team to lean on has helped him grapple with the tough things life can throw your way, and he has seen the same "team" mentality build within the Integration Initiative.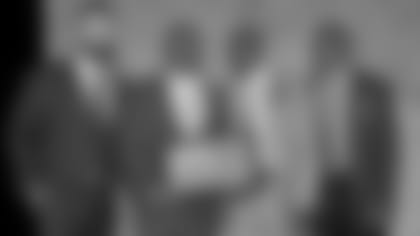 "That's what I love about this Integration Initiative is you see families come together and that becomes their team. That's what I've seen from Christopher and all of his buddies at the YMCA," Coach Flores said. "It's incredible to watch. As a coach, I put my fears on [Rob Ninkovich]. I put my fears on [Devin McCourty]. I put my fears on [Matthew Slater], and with the initiative, you see families put it on each other. They kind of help each other get through that fear, that doubt, that worry. You realize that you're not alone, and there's people out here who support you. There's a whole room of people who support you. That's a beautiful thing."
Coach Flores is 11 years older than Christopher and was a teenager when his family learned that his brother was diagnosed with autism. He remembers reading anything and everything he could find on autism to understand the diagnosis.
"I remember looking at Christopher, taking a deep breath and saying, 'This is the cards we've been dealt, and I'm going to take care of him for the rest of my life.' It was for me the first experience I had with true unconditional love," Coach Flores said. "Anyone who has a family member, son, daughter, brother, cousin who has special needs you understand what I mean about unconditional love. You're going to have some tough times. You're going to have a lot of great times, but you're going to have some tough times, some tough days. It's not easy. From that standpoint, he taught me what unconditional love was."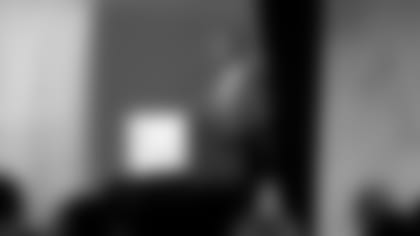 Coach Flores spoke to a crowd of 500 at the annual Legends Ball, which is the Integration Initiative's biggest fundraiser. The money raised goes to providing experiences for the participants and their families, like taking batting practice at Fenway Park or flag football.
Devin McCourty, Matthew Slater and Rob Ninkovich all received the Legends Award in the past for their work with the YMCA, and the trio of Patriots introduced Coach Flores, painting a picture of a caring coach and an even better man.
"I think any man who's played for you and anyone who knows you certainly feels like they're a better person having been around you," Matthew said. "Everyone in here, I just want you to know that this man is such a genuine human being, and it's more about the man tonight."