After public practices during training camp, it's customary for players and coaches to head over to the stands to say hello to fans and sign autographs. But when Sunday's work concluded, Brian Tyms did something that was far from ordinary – at least for those on the other side of the rope.
The 26-year-old walked to the edge of the practice field and quietly said hello to a group of about 35 people. Ranging from kids in foster care to those who've been adopted and the adults who care for them, all were with the not-for-profit Adoption Rhode Island. They were invited as special guests of the New England Patriots Charitable Foundation for the day.
Brian, who was placed into foster care at age 12 and once lived in his car, went down the line, greeting everybody one-by-one. As the adults in the group informed the children of the receiver's background, they looked at him in his New England Patriots jersey and, with wide eyes, asked, "Really?"
Brian told them it was true and the group gathered around to listen attentively to what he had to say. It was a sincere statement of support, understanding and encouragement for those in the foster care system, who Adoption Rhode Island Executive Director Darlene Allen said are "at an extreme disadvantage" in life.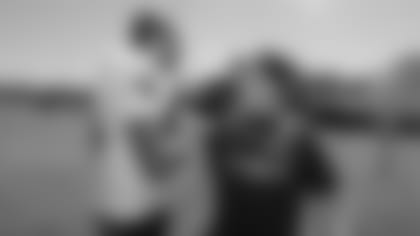 "I really appreciate ya'll having me come over here," Brian started. "I appreciate ya'll just pushing in life, because not many people know what it's like to be in our shoes."
He went on to share some of his own experience, explaining that for a long time, the void his parents left in his life was filled with anger. He advised the kids not to take such emotions out on the people who care about them.
"Put that to something useful: school, sports if you play, whatever it is," he told them. "Keep focused and don't let – excuse my language – the BS bother you and affect your present or your future."
After patiently answering questions – on everything from Bill Belichick's coaching style to his thoughts on the final play call of Super Bowl XLIX – Brian got a big applause and many thanks. It was the first time the kids were boisterous since he had walked over to the tent and captured their attention.
The visit, although brief, was a powerful ending to a day that had already been quite special for the group.
"Everyone was just treated in such a warm and beautiful way," Darlene said. "They had a ball and then obviously at the end, Brian took so much time with them. Watching the kids watch him while he was talking was really inspiring. We couldn't have scripted it better."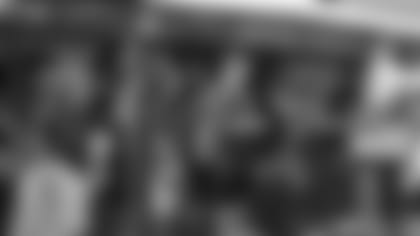 Foster kids, Darlene explained, not only have low rates of high school graduation, but they also often lack the positive role models and big dreams that children in other situations grow up with. So, the experience of meeting a professional athlete from the same background has the potential to make a real difference.
"Knowing that foster care does not have to define you forever and knowing that in spite of being in foster care for years, you can work hard and you can go to college and you can become a Super Bowl champion, that is way better than anything you or I could say to them," Darlene commented. "It is the real deal."
That positive example is exactly what Brian, now a married dad of two, hoped to provide when he arranged to meet the group after practice.
"If I can go over and give them a short speech of wisdom for them to remember for the rest of their lives," he explained, "for anytime they get in an argument with their guardian and they're looking for somebody to talk to and they don't have nobody, they can be like, 'Well, Brian Tyms just told me to keep grindin'. He was in the same situation, and if he can make it, I can make it.'
"That's what I want," Brian added. "That's exactly what I want."