As the voice of the Patriots, John Rooke spends a lot of his time at Gillette Stadium. When he's not announcing games or breaking down the action for Patriots.com, though, you can often find him at home in Berkley, Mass., where he and girlfriend Robin Arruda live right on the edge of three big cranberry bogs.
After moving to Berkley in 2013, John and Robin became curious about the cranberry harvest taking place in their backyard and ended up learning all about it from the bogs' owner and long-time farmer, William Couto. This year's harvest was a whopping 200,000 pounds, and as always, William invited neighbors to help themselves to all the cranberries they could eat. For John and Robin, that generous invitation has become a sort of seasonal culinary challenge.
"Robin and I started coming up with ways to use all of the cranberries – which are delicious, by the way," John said, explaing that Robin is an avid baker.
Thus far, their experiments have included jelly, pancakes and martinis. One treat, though, has developed quite a following around Gillette Stadium (or at least at PFW HQ): Miss Robin's homemade cranberry bread.
A bit more like cake than bread, the snack is easy to make (there are only three steps!) and captures one of the flavors of the fall season with a good helping of cranberries, fresh or frozen.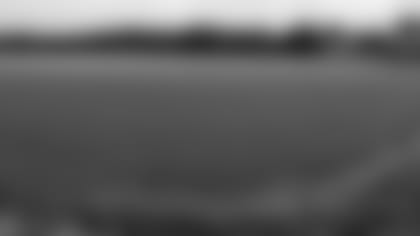 ROBIN ARRUDA'S BERKLEY CRANBERRY BREAD RECIPE
Ingredients
1 1/2 tsp baking powder
2 cups flour
1/2 tsp baking soda
1 1/4 cups sugar
1 1/2 cup cranberries (fresh or frozen)
1 egg
1 cup orange juice
5 Tbsp melted shortening
Preheat oven to 350 degrees.
Stir together baking powder, flour, baking soda and sugar. Add cranberries to the dry ingredients.
Mix in egg, orange juice and shortening.
Grease and flour loaf pan. Bake for 1 hour.