For three Dana-Farber Cancer Institute pediatric patients, the afternoon of Oct. 9 was a chance to have some fun by learning the art of decorating cakes alongside the head pastry chef at the Foxborough Stop and Shop. Little did they know, they would have reinforcements to help spread sprinkles and frosting.
Rob Gronkowski surprised the group and even donned an apron, grabbed a frosting piping bag and got to work alongside his new friends.
They practiced on cupcakes and smaller baked goods before tackling the main event: a cake that will be on display at this Sunday's Patriots game.
Shaped like a field, complete with uprights and a football, the team put their final artistic touches on the cake. Gronk even went so far as to give his skills an "A+."
"I even got frosting, flour, all over me," Gronk said. "That's when you know it's a good day."
Once the cake was complete, Gronk had another surprise for the kids and their families -- tickets to Sunday's game against the Chiefs.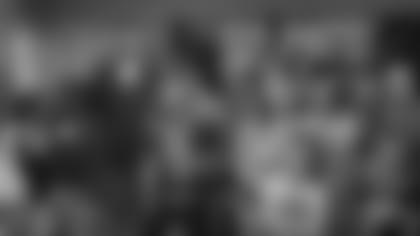 The kids laughed and smiled as they learned the ropes, even if that meant getting frosting on their hands and faces.Their families, meanwhile, simply enjoyed the moment. Michael Adams and the rest of his family, accompanied his daughter Carly and said it was a day that will stay with them.
"It's just a great memory and something we can look back on in the tough times," he said. "It's stuff we can talk about, laugh about and reflect upon. It's something very special."