"From an injury standpoint we had a couple guys go out. Clayton Geathers went out. We'll have an update on him tomorrow. Mike Adams went out with a hamstring. Other than that we had a few other guys here and there but I think we're decent in that regard. As far as the game goes, like I told the guys, it's one game, it's a long season. We were going to be aggressive. We wanted to attack this football team. Credit them, they played well. Out-executed us and had seven more than we had at the end of the day. Our guys fought and played to the end. Did a lot of good things. Offensively, we came out, started fast, put points on the board right away. Got a pick-six, gave up some things in the first half, third-down defense was rough at times but they got things calmed down at halftime and then kind of sputtered there in the third quarter and couldn't get anything going. Again, we were going to be aggressive, going for it on fourth down. It was great execution by Andrew (Luck) throwing the ball and a great play by (Donte) Moncrief on the touchdown catch, the fade ball. The onside kick, we challenged that play. Clearly on the replay we thought from that we saw a clean recovery. When I saw it on the jumbotron and then when our people upstairs saw it. And then when the kid came out of the pile with the ball we felt like there was no way possible that we could lose that but obviously that was a huge deal in the game. That would've been a great way to steal another possession. The punt play, again I take responsibility there. The whole idea there was on a fourth-and-3 or less, shift to an alignment to where you either catch them misaligned, they try to sub some people in. Try to catch them with more men on the field, twelve men on the field and if you get a certain look you got three yards, two yards, you can make a play. Again, we shifted over and I didn't do a good enough job coaching it during the week, alignment-wise we weren't lined up correctly and then a communication breakdown between the quarterback and snapper and that's all on me. I take full responsibility on that and I didn't do a good enough job of getting that communicated to the guys. Obviously, it played a huge factor in this loss. Give them the field position in the game and the touchdown that resulted from that. But again we gave ourselves a chance at the end. Score a touchdown and recover an onside (kick) you never know. We need to make the extra point afterwards but the kid did a great job leaped over every body and got the block. We'll have to clean that up. Again it's one game, we've got a lot of football left. We control our own destiny, we're .500. We can't have a hangover, we've got to move on. We've got a good football team coming to town next week and we've got to get over this one. We'll bring them in tomorrow, clean up the mistakes and move on. Credit again to New England, they played a fine football game."
Who called for the ball to be snapped on the punt?
"Again, it was a communication breakdown. If they lined up and gave a certain alignment where we didn't have too many men on the field and everything was basically covered then we were just going to take a delay in that situation. But again it's on me. It was a communication breakdown, it's not on those players."
Did you try to call a timeout on that play before the snap?
"It never got, obviously, to that point."
During the week your players didn't acknowledge the Patriots by name. Do you know something about that lack of respect?
"It had nothing to do with a lack of respect. It had nothing to do with a lack of respect. It had to do with us focusing on us and preparing and practicing and meeting and preparing to try to play a good game and give ourselves a good chance of winning. It had nothing to do with a lack of respect."
What did Griff Whalen say to you when he got back to the sidelines?
"We had a conversation and that's between Griff and I. Asked what the communication breakdown was and I said I got to do a better job to make sure that doesn't happened."
Is that a play you've practiced for a number of weeks?
"Yeah, we're not just going to throw something out there that we hadn't practiced. Again, I didn't do a good enough job of getting the communication part of it, the alignment part of it, the shift part of it. All that stuff, that's on me."
You said you were making a lot of aggressive moves, going for it on fourth down, making the onside kick. Did you feel that was the best way that you had a chance to beat New England today, taking that approach?
"We didn't want to leave any bullets in the gun. We wanted to be aggressive in all three phases. It wasn't desperation, it was stuff that was practiced and worked on for a long time and some of it worked out well and some of it we got to execute and some of it they defended, so you got to give them credit."
On the onside recovery are you saying the refs blew that call?
"No, I'm not. No, absolutely not. The rule says when they make their decision in a pile up like that it's got to be a clear recovery. So when they ruled it was New England's ball and then we saw the replay and we saw the ball on the ground on the side, we felt like it was worth the challenge because we thought it was a clear recovery. On the replay we saw 10 (Donte Moncrief), the ball sitting there, Donte fall on the ball and then come out of the pile with the ball and that's why we challenged it. Tony (Corrente) did a great job of coming over, Corrente, and said, 'Hey coach, now before you do this you know it has to be a clear recovery?' I said, 'I absolutely know that,' and it was worth it to me. So they did not, no they did not, blow the call."
To the best of your knowledge were they looking at the same replay you were looking at?
"I believe we all see the same shots."
Ten months later, from a coaching standpoint and a competitive point, do you wish the whole Deflategate business had never happened?
"I don't even know what you're talking about."
The whole inflated football situation?
"It had nothing to do with this football game or anything else. That was a long time ago."
No it didn't have anything to do with this game but considering the furor it has created over nine months really all over the country in retrospect.
"And I thought our guys did a nice job focusing on what they needed to focus on this week and that was preparing for this game and nothing else."
Offensively, you guys are starting to make progress on offense but you got a lot of penalties which seemed like it killed a lot of good opportunities.
"Yeah, 11 penalties for 100-plus yards, you can't have them. You've got to get it cleaned up."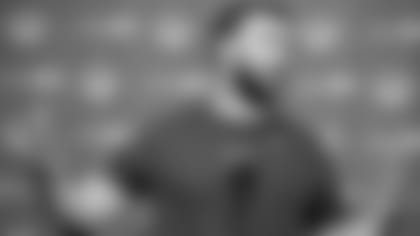 Quarterback Andrew Luck
How's your shoulder feeling?
You're not in this for moral victories I assume?
Did they just take stuff away in the second half or was it not being able to execute?
"Yeah, a combination of both. They obviously out-executed us. That's for sure. We missed opportunities. In part, they force you to miss opportunities. Disappointing, disappointing start of that half, even really the meat of that half."
How tough is it when you're faced with a 13-point deficit after going for it on fourth down, not getting it and giving them good field position?
"It's obviously not ideal. At the same time, a couple three-and-outs that don't help the cause and other things. There's a lot of stuff that we can all clean up and need to clean up in the fourth."
You overthrew a receiver down field when it looked like you could run. Were your eyes totally locked on the receiver down field?
"To be honest, I can't remember the play. I think in that moment if there had been a lane to scramble I'm sure I would have taken it. I can't remember it though. I'm sorry."
It was the play when you over shot Donte Moncrief down the middle of the field.
"Okay, yes. I did not think I could have scrambled for the first down."
"No, no, I think you get right back in the rhythm. Practiced all week and get right back in the rhythm. By no means was I perfect. I missed some throws that I need to hit. That has nothing to do with my well-being or health. That's stuff I've got to clean up."
Was the opening drive how you would script this offense to look?
"Yeah, it was productive. It was efficient. Got seven and we needed a couple more of those drives."
Do you feel like you have to do things creatively to beat the Patriots?
"With all due respect to the team, I think there's creative things every week versus every team that you do. I think it takes us playing better football at the end of the day and less mistakes. I don't think anything beyond that. It's a darn good football team, and this is taking nothing away from that squad. They're very, very good."
Will this loss be a lot harder to let go than the others?
"Every loss is hard and every loss stinks. It's Week 6. Moving on to next weekend. We have to. As a team, we've got to pick ourselves back up and go get a win. Find a way to get a win."
Safety Mike Adams
Things certainly changed in the third quarter, didn't they?
"Yeah. We came in halftime, got some adjustments done and we made a couple good stops. At the end of the day, we didn't get the job done. We needed to get the job done and we didn't. It all doesn't even matter."
What was your take on the special teams play that really seemed to change momentum?
"I have no take on it. I'll let the coach talk to you about that one but we practiced it. We did what we were supposed to do but you got to talk to the coach about that one."
I know you are not in it for moral victories but it is a measuring stick game. What do you take away from this team after going 60 minutes with these guys?
"No, we lost. What are you going to say? We did this well and we did that well. Yeah we did a lot of things well. We did a lot of things that we can fix that we didn't do well. At the end of the day it's that left hand column that matters and we didn't get it, that win. We need that win and I am pretty sure we will see them again and we should be fine."
Tackle Anthony Castonzo
The last few meetings have not been close, this one was, does that mean anything?
"There are real no moral victories in football. It was a hard fought game, that's a National Football League game, you come out of it and I think everybody's pretty tired. It does hurt coming up short, but it was a very competitive game."
All loses hurt, but especially one like this with so many should've, could've, would've, does that make it worse?
"Yeah, when you get an opportunity to win a big game like that, which we did in the second half, get going in the second half, we kind of let it slip out of our fingers. Yes, it definitely hurts."
Inside Linebacker Jerrell Freeman
How do you feel about the defensive performance overall?
"We can do better, absolutely. It's the little things, with a team like that you can't donate, you can't give them anything because they will take everything, everything you give them. A great team will capitalize on any little mistakes so we got to be sharp."
They were handed very short field in the third quarter on the special teams play that really changed the game. What did that do from a defensive standpoint you being put on the field after a fake punt?
"We don't care where we are put on the field. They can put us on the one-yard line and we feel we are supposed to be able to stop them. We are a defense that is what we do."
Momentum changer for sure.
"We don't look at the scoreboard. We just go out there on the field and try to do our job."
Overall the grade you assess on playing against the Patriots offense.
"We can do better, absolutely."
Wide Receiver T.Y. Hilton
I know a loss is just a loss but do you take any confidence knowing you went toe-to-toe with these guys for 60 minutes?
"No, not at all. We have to get better. Work on some things and look at the film. We did some really good things tonight. A couple possessions we could have done more, but that's a good football team and they were the better team again."
You had Andrew Luck back, what did the balls look like coming out of that arm?
"He looked good. He looked better. He progressed really well during the week and it showed today."
You seemed down after a win earlier this year, you don't seem nearly that way. Why is that way even though it was loss?
"We are just getting better. You can see the way we are playing, the way guys are getting confident. We continue to make plays. A couple possessions here and there and we could have had the game but that is a great football team."
What were the adjustments you saw them make in the second half and in particular in the third quarter coming out of the locker room?
"They just started switching up coverages. Every series I saw new dudes, but they had another guy over the top so they did some real good things but we made plays. We just didn't make enough."
Punter Pat McAfee
Walk us through the play, fourth down, the fake punt and is this a play you all have practiced?
"We started working on it last year and then we put it back in this week. It's a play where you try to take advantage of numbers. You try to confuse the defense and hopefully get an edge numbers wise. The look was not there that we normally have in practice where it's a go. There must have been some miscommunication between the snapper and Colt (Anderson) and it turned out to be one of the most failed fakes probably of all time. It's one of those things where you work, you hope you get the numbers, we didn't get the numbers, it was just miscommunication and as you said it was just not good."
It seemed like from the start this play was destined to fail, you all did not have enough men on the line of scrimmage?
"In practice, we got it cleared by all the refs and everything that the formation is supposed to be good. All it takes is one guy to get off the line and everybody else lines up with him so really that's only one person's mistake at the end so it was just a complete cluster. We were trying to take advantage of the defensive numbers and it didn't work out that way."
Wide Receiver Donte Moncrief
What can you say about Andrew Luck coming back out there, looked like he was on point, not a whole lot of rust, what was your take from that on the other end on the passes?
"He's Andrew, he can do incredible things. He can make incredible things happen so I knew when he got on the field what was going to happen. He was going to make great plays and good decisions."
We often hear you all say four to five plays determine the game. You all were right there with the Patriots, then a couple plays specifically on special teams. What did that do from a momentum standpoint to kind of put the game out of reach for you?
"It didn't put the game out of reach. We still had many chances to score. Defense held them out a few times. We should've out points on the board. That's the thing about the Patriots – defense gets a stop, you got to score some. We just got to fix that and come in practice and work on those things."
Is that the take away from this, not just the Patriots, but in general you have to put points up in the National Football League?
"Yeah, you got to. That's the point of the offense. You got to put points on the board."
Wide Receiver Griff Whalen
What was that fake punt play designed to do?
"There are a couple options there. We can try and draw them offsides or snap it and run a fake."
Is there a situation where you have to make a decision in that moment?
"It's not really up to me. Colt (Anderson) has a couple of decisions to make. We'll take a look at the film tomorrow and get it figured out. It was just a miscommunication I think between us and the coaches and everything."
There was miscommunication or confusion in that situation?
"Yeah, I'm just not sure if we got exactly the look we thought we would. We'll take a look at it tomorrow and get it figured out."
Were you not supposed to snap the ball under any circumstances or were there different options?
"There were different options."
You had a lot of positives in this game. Is it hard not to dwell on the mistake?
"Individually I don't really feel any positives from this. The goal is to win football games, and we didn't do that. That's really all that I'm worried about."