INDIANAPOLIS – Given a clear need at the position, the Patriots are likely closely studying the top tight end prospects in this year's draft.
Somewhat interestingly, one of those very top prospects has also spent plenty of time studying New England.
Texas Tech pass-catching playmaker Jace Amaro (6-5, 265) is expected be one of the top three tight ends to be selected in May's draft, probably in the first round. He caught more than 100 balls for 1,300-plus yards last year for the Red Raiders.
His coach at Tech was one-time Patriots draft pick at quarterback Kliff Kingsbury. Though Kingsbury spent limited time in New England working behind Tom Brady, the rising star coach still used the team as one of his teaching tools working with his young tight end.
"My coaches did a great job at Texas Tech breaking down Rob Gronkowski's film, Jimmy Graham, players like that," Amaro said this week at the Combine at Lucas Oil Stadium. "Kingsbury played with the Patriots so he knows their system, he knows what they're doing. He helped me become a much-more polished receiver and a better receiving tight end too."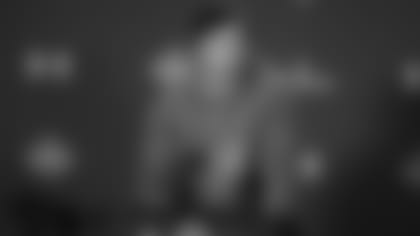 The athletic aerial threat certainly wouldn't mind beginning his career in New England, a possibility that's been posed by many mock drafts at this early point in the process.
"I think that starting with maybe one of the greatest quarterbacks to ever play the game would be a great start for me especially in a system like that," Amaro said. "Yeah, I've taken notice of teams like that. I think that would be an ideal place for me."
And apparently the Patriots have taken quite a bit of notice in Amaro. The tight end revealed that he met with the team on his first night in Indy and that it seemed to go quite well.
"I had an interview or a meeting with them [Wednesday] night. It was good. They broke my tape down," Amaro said. "They look like they like me a lot. They said I fit their system very well so I guess we'll see how it goes."