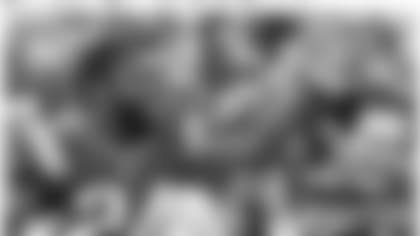 ](http://www.nydailynews.com/sports/football/jets/myers-jets-don-stand-pat-revis-article-1.1276718)The New York Daily News brings up the idea of Darrelle Revis landing in New England if he were to hit free agency next spring. The tabloid goes so far as to show us a photo of what Revis – who hails from Aliquippa, Pa., just like his mentor and future Patriots Hall of Famer Ty Law – would look like in Law's old No. 24 Patriots uniform.
The Daily News says that Bill Belichick signing Revis – a true shutdown cornerback who would obviously cure a lot of what ails the Patriots defense – would be "the ultimate nightmare for the Jets." It would be a Curtis Martin-like move in the other direction.
The paper even cites a source that says it could actually happen, if the Jets don't end up trading Revis this year before his current contract runs out. Under terms of Revis' deal, New York cannot franchise tag the All-Pro cornerback.
"It's not that far-fetched," the NFL source told the Daily News. "It would not shock me if he's in a Patriots uniform next year."
"Why wouldn't Revis want to play for the Patriots?" the source added.
A potential dream scenario for Patriots fans and a potential nightmare for the Jets.
So Patriots fans, do you think there is any chance Revis could end up in a New England uniform? Is it safe to assume you'd want him, even considering his Gang Green background? Let us know with a comment below!