When Jason and Devin McCourty left Rutgers University for the last time as student-athletes in 2009 and 2010 respectively, they knew they would be back often. They grew up about an hour from the New Brunswick campus. The stories of their own families begin on this campus, where they met their wives, Michelle and Melissa. They've shared NFL locker rooms – and even won Super Bowls – with fellow Scarlet Knights.
Their bond to Rutgers and their pride run deep, but the most recent visit back to their alma mater was different in ways neither could have ever predicted. Instead of standing on the field, on May 19, the McCourty brothers found themselves on a stage, sandwiched between university President Robert Barchi, Governor Phil Murphy and the granddaughter of a storied activist Paul Robeson.
If you ask Devin and Jason if they thought they would ever be back at their alma mater giving a commencement address in front of about 6,000 students and their families and friends, the answer is a resounding, "No."
But here they were, yet again modifying their definition of success, moving their finish line further and further forward as they grow as men, husbands, fathers, football players, philanthropists and activists.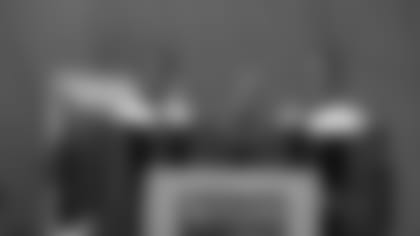 Hours before they took the stage, received honorary doctorate degrees in humane letters and shared their journeys with the soon-to-be-graduates, Devin and Jason are eating breakfast at a table in the Brown Recruiting Building, overlooking the stadium.
"Big day for the McCourty family," Rutgers Athletic Director Patrick Hobbs says, walking up to their table. He isn't the first to greet the brothers and their family this morning and he won't be the last. Throughout the morning, staff, administrators and students tap Devin and Jason on the shoulder, asking for photos and thanking them for spending their Sunday sharing their stories and wisdom.
Just on the other side of the walls, families file into the venue, scrambling to find seats with a good view. The class of 2019 snaps pictures in their decorated graduation caps before lining up, and as the graduates prepare to enter the next phase of their lives, one with Rutgers behind them, Devin and Jason reflect on the place that helped get them to the NFL.
Their Rutgers journey started when Jason was offered a scholarship and was invited to visit while they were still in high school. Devin came along for the visit that ended with him getting a scholarship offer as well.
"I did what any smart sibling would do. I rode Jay's coattails right onto the banks of the old Raritan [River]," Devin jokes in their speech.
Attending Rutgers together allowed them to continue playing the game they loved side by side, something they wouldn't do again until 2018 as Patriots, and we know how that turned out.
Still, getting the invitation to speak was a shock, Jason said.
"Man, it's hard to think about while you're doing things and you're still young and on your quest to do as much as possible," Jason said. "I don't think we thought our names would be brought up in any type of conversation like this."
No matter how surprising it is to be doing this in the first place, the McCourtys look the part. Doctoral caps? Check. ("I just hope we're wearing it right," Devin said, as he fidgets with his. "When you're bald, you get used to wearing hats, so it's not that bad," Jason said.)
Robes? Check. ("You can't do anything with those things," Jason said, watching Devin struggle with his Super Bowl rings as he puts on his robe.)
Matching "Mama, we made it!" shirts? Check. They aren't sacrificing personality and style today.
Graduation speeches, when done well, can go viral. They'll be quoted in papers, articles and maybe even an Instagram caption. It is among the last moments for thousands of students in a place they made home.
In short, it's a lot of pressure.
The speech writing process was intimidating, they said, but with the help of Michelle and Melissa, they nailed down the ideas they wanted to share, including their journey from childhood, raised by a single mother, to the NFL.
If they're breaking a sweat, it's only because it's a warm day. By the time Devin, Jason and the rest of the staff and guests line up backstage, what was left of the previous night's rain is gone, and the students, who are lining up by school and taking their seats, are giddy.
"Look! There are the commencement speakers! They're Super Bowl champions! Can I get a pic with them?" one graduate yells as she walks by. There is a steady stream of "Go Pats!" as the seats fill in and a handful of selfies.
"Devin, I love you!" another graduate says.
Jason doesn't let that one pass by without saying something. "Why just Devin?" he yells back. Then he busts out laughing. '
Yup. Calm, cool and collected.
Though they are used to playing in front of countless fans on a weekly basis, standing behind a podium is a different kind of performance, but it doesn't take long for their playful style of delivery to get the crowd on their side.They divvy up sections of the speech, interrupting each other on occasion with a joke or insight in a way only brothers – maybe only twins – could pull off. "I think one of the things we do more naturally than anything is talk with each other," Devin said beforehand.
This comfort, along with their references to Jay Z and Cardi B, make the speech fun, but also relatable and real. So, when they talk about failure and how your loved ones might project their fear of failure onto you, the hard truths feel manageable.
"If we accept those fears from others, we can never unlock our true purpose on this Earth. I say to you, Class of 2019, failure is a feeling long before it becomes an actual result," Devin said. "The power of positive thinking can change your life.
"Do you think we would be here celebrating the 100th year of Paul Robeson graduating if he was too scared to step out there and be great? Would the Patriots have six Super Bowls if Bill [Belichick] listened to other people and put Tom Brady back on the bench?"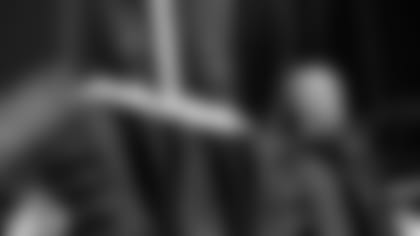 "I thought you were going to say if Bill didn't trade for me," Jason said, jumping in.
"Let all your moments of self-doubt, fear, or disappointment fuel your drive to be great," Devin finished.
Along with their wives, Devin and Jason's mother, Phyllis Harrell, sits in the stands, just as she has so many times before. Though Michelle and Melissa were part of the speechwriting process, Phyllis had no idea what her sons would talk about when they stepped behind the podium.
"They're going to do a fabulous job," she said before they went on stage.
During the speech, Phyllis appears on the big screens in the stadium a couple of times, and as she realizes her sons are talking about her, their hero, she wipes away tears. Yes, they tell their stories, but they also tell Phyllis's, whose journey of strength, perseverance and positivity is engrained in who they are.
When Devin and Jason were just three, Phyllis was in a car accident that changed the trajectory of her life. In the same year, she her husband passed away, and yet she found a way to get through and to be an example for her sons.
"With a lot of sacrifice and determination she raised her boys to be men, with no male figure in sight. Men that she could be proud of, men that have served their country and their communities to improve the lives around them," Jason said. "As a mother, she overcame every obstacle placed in front of her and believed in her faith and herself. My two brothers and myself never had to look outside of our house in search of a hero. We got to witness one up close every day."
Throughout their speech, the twins make one thing clear: as you grow, your definition of success will change. It is inevitable. They advise students to always be willing to redefine what success means.
For them, success once meant making it to the NFL. Then it meant making the team. It has continued to evolve to excelling off the field, as well.
"We thought playing in the Super Bowl was nerve-racking until we went to the Massachusetts State House to testify for an education bill. People often speak of legacy," Devin said. "And I sure hope when they mention my football years, they include fighting for those without a voice, raising awareness for sickle cell, leading youth football camps, and being a part of criminal justice [reform]. When chasing success, you never know where it will take you."
This legacy isn't something they just talk about. Devin and Jason walk the walk too. When the ceremony is done, the brothers walk off the stage and swap their graduation garb for "Tackle Sickle Cell" t-shirts. They don't bask in the success of their speech. Instead, they get right back to work.
When they were asked to speak at Rutgers, the first thing they noticed was that it fell on the same day as their annual Tackle Sickle Cell 5K in Jersey City. Devin and Jason have been hosting this event for seven years to raise money for sickle cell disease research.
"We thought, maybe we can get there for the end of the 5K. Since we started this thing, man, we come here early. We take every picture and sign anything that anybody wants," Jason said. "I think it's important for us to continue to do that, to be here for this entire event, to be accessible to people."
In the same vein, Devin and Jason go extreme lengths to ensure they are there for the start of the event. Instead of navigating traffic on the Jersey Turnpike, the brothers and their wives get a lift in a helicopter from New Brunswick to Jersey City.
With the New York City skyline in the distance, hundreds of people fill the green space at Liberty State Park, waiting for the run to begin. They hold signs and wear custom t-shirts in support of or in memory of family and friends.
As they cross the start, Devin and Jason are there to give high fives, take selfies and talk to those who came out on a beautiful Sunday to share in their fight. Tackle Sickle Cell began because of Devin and Jason's Aunt Winnie. She passed away earlier this year, and her nephews aren't done working in her name yet. Not even close.
"It's one thing to put your name behind the cause, but this started with our aunt," Jason said. "We lost her this past year. I want to continue to honor her and the things we do around sickle cell."
After welcoming the participants, the McCourtys start on the course themselves, but not before stopping for another photo.
"I've taken a picture with you two every year," the participant says with a smile. Devin and Jason smile too.
When the event is done, Devin and Jason will head back to Foxborough with their wives and kids. Like anyone else, they're hoping to make it back home in time for the "Game of Thrones" finale. It's back to business as usual, and the next day, that means back to work preparing for the 2019 season, where, undoubtedly, their definition of success will again be redefined.
You can check out the entire commencement speech in the video below.