For Devin McCourty, Monday night was all about fun and games and giving back. The Patriots captain hosted his second annual Tackle Sickle Cell Casino Night in Boston, to benefit sickle cell programs at Children's Hospital.
Devin was joined by his mother, fiancée and several of his teammates, including Logan Ryan and Darius Fleming. Attendees got to meet the Patriots players, pose for photos with the Lombardi Trophy and play casino games using funny money.
For Devin, the highlight of the evening was meeting his special guests: children who, like his Aunt Winnie, have sickle cell.
"The best part is seeing the kids, who get a chance to get some pictures and autographs with the guys," he remarked.
"It's been great, being able to go up to Children's Hospital and getting a chance to be around the kids," he said. "When I wanted to do an event [in Boston], it was kind of a no brainer to work with them. We've been able to do some pretty special things."
Devin and twin brother Jason hosted their firstCasino Nightfundraiser back home in New Jersey before bringing the event to their respective football cities last year. Additionally, the pair organizes blood drives and a summer 5K as part of their Tackle Sickle Cell campaign.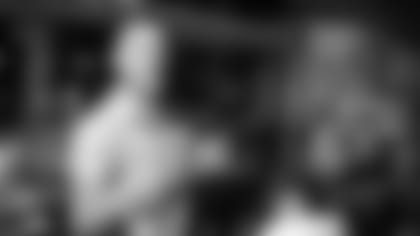 Devin wasn't the only Patriot to spend Monday giving back, though. Across town, Danny Amendola was busy at his own event, Flights and Bites, which raised money for his Catches for Kids Foundation.
Danny and his teammates, including Brandon LaFell, Matthew Slater and Dane Fletcher, got behind the bar at Loretta's Last Call to serve drinks, while there was also food, music and a live auction.