Devin McCourty has joined an elite club.
On May 3, the Patriots safety and brother Jason were among six people inducted into the hall of fame of their alma mater, St. Joseph Regional (SJR) High School in Montvale, N.J. The two, who attended the ceremony with family, were selected not only for their excellence on the football field but also because of their commitment to giving back, to SJR and other organizations.
Tracey Taylor, the school's director of development, explained, "They are both tremendous athletes; however, they are incredible role models for our young men here at SJR. They can often be seen on campus, welcoming a new freshman class, sitting with a senior and sharing words of wisdom or, recently, helping us organize an event to raise funds to resurface our football field to ensure the safety of our student athletes."
She continued, "At SJR we are so proud of them for all they've accomplished as athletes, but even more proud of the men they have become."
And while Devin was on the receiving end of the SJR Hall of Fame accolade, Coach Belichick was the one celebrating others last weekend, when he and girlfriend Linda Holliday hosted a luncheon with the Bill Belichick Foundation.
The two were able to meet and congratulate those to whom the foundation awarded scholarships last year; the Bill Belichick Foundation, of which Linda is the executive director, gave out more than $100,000 to individuals and athletic organizations in 2014.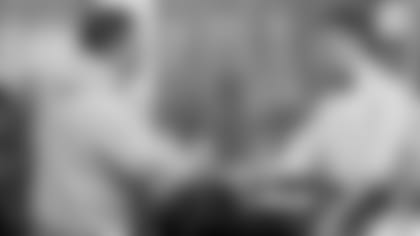 Bill also shared information about the foundation's new initiatives, including a partnership with the Boston Cannons. During each home game this season, the foundation has sponsored "Belichick's Huddle," a section of 75 seats dedicated to youth lacrosse organizations in New England. 
Thanks to their work off the field, Coach Belichick and Devin as well as Patriots safety Patrick Chung are each nominated for All Sports United's Humanitarian of the Year award, which was given to Matt Light in 2014. The winner will receive about $100,000 in services and products to support his or her work in the community. You can vote for Devin and Jason McCourty, Bill Belichick and Patrick Chung by visiting http://bit.ly/1L09guf.