In September, Duron Harmon, Devin McCourty, Rob Ninkovich and Troy Brown hit the runway for the Verma Foundation's inaugural CapWalk fundraiser, which raises money to provide comfortable baseball cap wigs for cancer patients. The night made a profound impact on Duron, and when he had the chance to pick someone to participate in a once-in-a-lifetime experience, he knew exactly where to go.
Duron was given the chance to pick someone to attempt the Ocean Spray kick before Sunday's game against the Chiefs, which was also New England's Crucial Catch game.
With the Verma Foundation in mind, Duron selected Kelly Cassier, who is currently battling breast cancer. Kelly connected with Duron at the CapWalk, and he knew she would make the most of the experience.
"When they asked me if I knew anybody, the Verma Foundation came up because I saw how excited they were to interact [at the CapWalk]," Duron said. "What better way to give a person that type of access to a game, to kick, than to one of those ladies who are battling cancer. I'm just excited that she had a great time, and we were able to get a win for her."
Kelly practiced before taking the field, using her daughter's stuffed animal as a football, but she was more focused on using this as a chance to shine a light on breast cancer awareness. Ahead of the Patriots Crucial Catch game, early detection and awareness were at the forefront.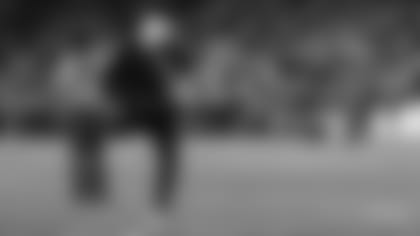 "I love to talk to people and I love to speak about my journey with breast cancer. I hate to call it a journey because it's really not a journey. There's nothing fun about it, but when they called me, I said, 'Oh my God. I love it,'" Kelly said. "It's really important because there's not enough awareness for it."
Though Breast Cancer Awareness Month always held significance as Kelly watched family members battle, it took on a whole new meaning when she was diagnosed herself.
Nothing can prepare you for a breast cancer diagnosis, Kelly said, but forming immediate bonds with people who inherently understand the "scary stuff" has helped.
"I have six really close friends now. We've become such great friends. Your doctors tell you, your friends tell you, your social workers tell you, when you get breast cancer, you're going to lose friends. It's something that's going to happen, so get ready for it," Kelly said. "People don't understand it. They don't want to understand it. I didn't think it would be true, but it is. Then you find the most amazing people that are dealing with exactly what you're dealing with, and it's the most amazing bond. You immediately love each other and support each other."
Some of those friends were even part of the Patriots pregame ceremony honoring cancer patients and survivors. So when Kelly, her brother and her nephew lined up for their chance at a field goal, they were there cheering her on.
Though Kelly's field goal fell short of the goal posts, it didn't matter. She was all smiles.
You can learn more about the Verma Foundation here. During the month of October, Ocean Spray is "Picking Pink Cranberries for a Purpose," and Ocean Spray will be donating up to $250,000 to the National Breast Cancer Foundation from pink cranberry juice sales.