FOXBOROUGH, Mass. –Plymouth resident Craig Shea let out a big smile as he watched his sons, Ryan, 7, and Dylan, 6, line up to kick field goals through an inflatable goal post at the Patriots Fan Zone, located adjacent to the practice fields behind Gillette Stadium where Patriots players and coaches recently returned to work for the start of training camp.
The proud father cheered on his boys as they approached the ball and high-fived each for their efforts before he jumped in line to attempt a field goal of his own.
"What I like about this is everything my boys are doing, I'm doing too," said Shea.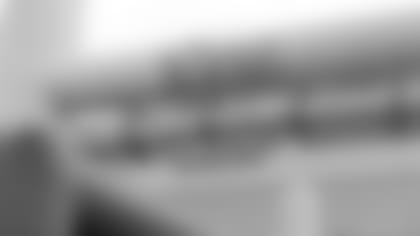 The Shea family was joined at Fan Zone by Eric Beaton, Sr., 40, of Plymouth, and his 4-year-old son, Eric Beaton, Jr. The group was attending day three of Patriots training camp on Saturday, Aug. 1, when they came across the Fan Zone and opted to check it out.
"This is absolutely amazing," Beaton, Sr., said of Fan Zone. "We are long-time Patriots fans, so what better way to get the kids out of the house on a nice summer day than to bring them to Patriots training camp and have some fun at the Fan Zone? The kids are really starting to get into football, so this is great."
The Shea boys, each dressed for the occasion in their red Tom Brady jerseys, said their favorite part about Fan Zone is the bounce houses and obstacle courses. Shea and Beaton, Sr. liked how they could keep their boys entertained while keeping an eye on the activities taking place at training camp.
"It's great seeing Brady out there and the boys getting back to work," Shea said.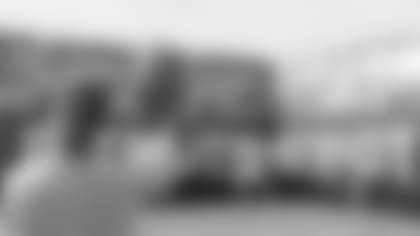 "The best part of summer is when the helmets are put back on and the Pats take the field," Beaton, Sr. said. "We're really looking forward to this season."
For Chris Johnson, 39, of Worcester, Patriots training camp has long been on his list of things to do for many years, but he has never had time to make it to Foxborough. With his twin boys, Marcus and Micah, now six and showing an interest in football, he made sure there was time this summer, which is why he and his boys were at Gillette Stadium for the first training camp practice on July 30.
"We got in the car early in the morning after planning the trip all week," Johnson said. "I'm a big Pats fans and Brady is my guy, so I had to come to see him and the team. It was awesome being a part of the first crowd to cheer on Brady as he stepped onto the practice field."
After checking out the start of practice, Johnson brought his boys over to the Fan Zone, where the numerous bounce houses were the main attraction.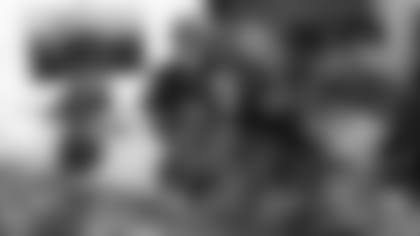 "I love everything about this," Johnson said. "We were at practice earlier this morning and I got some cool pictures of Tom Brady, Bill Belichick, Julian Edelman and Gronk [Rob Gronkowski]. Then we came over here to the Fan Zone and are having a blast, it's a good time. My boys definitely love all the bounce houses – they've been to every single one."
In addition to bounce houses, the Fan Zone, which is free and open to fans of all ages during most training camp practices, features games, music, concessions, informational areas and appearances by Patriots mascot, Pat Patriot, Patriots Alumni and Patriots Cheerleaders. Inside the Patriots United tent, fans can find exhibits from The Hall at Patriot Place presented by Raytheon like Chandler Jones' rookie jersey, cleats worn by Danny Amendola in Super Bowl XLIX and Brady's game-worn glove from the 2013 season. For more information, including the Fan Zone's hours of operation, please visit http://www.patriots.com/trainingcamp.
 "I think this Fan Zone is a great thing for families, especially when it's a hot day," Johnson said. "You can bring your kids to the practice, like we did this morning, but you can keep everyone entertained with the activities around here like the bounce houses and obstacle courses. It's definitely easy to make a day of it here."
Johnson said his first visit to training camp has convinced him to make the event an annual occurrence with his boys.
"This is definitely great and can be a boys and dad bonding thing for us going forward," Johnson said. "This is a great thing for parents and kids. They're having fun, which is important to me."
Alyssa Sylvia of North Attleboro decided this was the year to take her 4-year-old son, A.J., to his first Patriots training camp because he loves watching the team play on TV.
"A.J. loves the Patriots, so we watched a little bit of practice and now we are here loving all the activities at the Fan Zone, especially the bounce houses," Sylvia said. "This is definitely a fun way for him to get out there and be active, so it's a good event and a nice summer day for it."
Sylvia said she liked that the Fan Zone gives families an opportunity to break up watching practice with other football-related activities that are geared toward the team's younger fans.
"What kid doesn't love activities like these and being able to run around and explore? A.J. has loved the bounce houses with the slide and the obstacle courses, and I have loved seeing all the Patriots gear. It's great to have the Patriots back!"
Elsewhere inside the Fan Zone were the Coutts and Mendoza families posing for photos with Pat Patriot.
"This is our first time visiting training camp and we are having a blast," said Courtney Coutts of Hanover. "We came to see practice and get some autographs, but wanted to stop at Fan Zone first – it's awesome to meet Pat Patriot."
All fans participating in the Patriots Fan Zone's interactive activities must sign a waiver form provided upon entry.