Like many fans, Julie Heyde's love for the Patriots goes way back. As a young girl, she watched games with her dad, and she and her brother often pretended to be football stars while playing out in the backyard. Now, she's sharing her game day traditions with the world in the September issue of Marie Claire.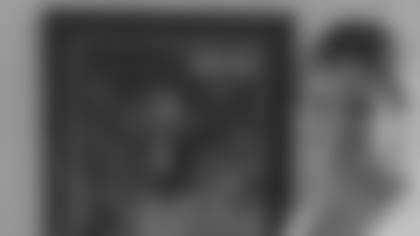 So how did the track and field coach find herself in the pages of a national fashion magazine? It came down to a photo of former Patriots kicker Adam Vinatieri.
"I was a sophomore in college the first year that the Patriots won the Super Bowl, and the next day there was a full-page picture of him in the Boston Herald," recalls Julie, now 32. "I looked for it on campus but all the newspapers were gone."
One friend had better luck finding the paper, though, and the coveted picture ended up getting a permanent place on his wall. Julie was a little bit jealous. "I just kept wanting to take it," she says, laughing. "I asked for it every day."
After two years of a running joke, she received the photo – framed, no less – as a gift on graduation day. It's been hanging on her wall ever since.
When Marie Claire's editors heard Julie's story, they decided she was the perfect woman to represent Patriots Nation in the magazine. They got in touch and interviewed her all about being a football fan, from why she loves the sport to what she eats on game day (you can find the recipe for her Mexican seven-layer dip here).
"I was really excited about it," Julie says. "The editor was great. She was fun to talk to and I like the way the article came out. It was pretty cool that they took real fans and did a different take on football."
You can read more about Patriots fan Julie Heyde in the September issue of Marie Claire.