Josh Slovadon's sneaker room just got some Super Bowl champion style.  
The Salem, Mass. native, who owns more than 300 pairs of sneakers, waited in line two days in a row to get his hands on Nike's new Patriots Lunar Force 1. The limited-edition shoe, which was designed in collaboration with team owner Robert Kraft, launched Thursday at Nike Boston before its release at the Patriots ProShop on Friday morning. It sold out immediately at both locations.
"I took today off from work so I didn't miss out," Josh said. "Yesterday I went in late."
The Patriots fan and avid collector was one of many who came out to purchase the shoe. By the time Nike Boston opened its doors at 9 a.m., 100 people were lined up down the block. The Patriots ProShop attracted about 150. Some, like friends Nick Shelton and Dan Nelson, who were visiting from Las Vegas for the Patriots home opener, even camped out overnight outside the Nike store.
"We're on vacation, so no excuses," Dan said. "I was able to get a few hours of sleep but mostly we were up. The camaraderie between all of us fans helped keep us awake and made it fun."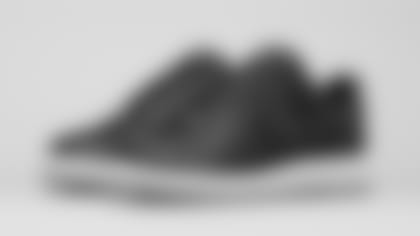 Although Josh didn't spend quite as many hours in line – as is customary in the world of sneaker collecting, he bought a place at the front on Thursday and then arrived about three hours early on Friday – he was determined to get two pairs of the coveted shoe: one to wear on game day and another to display in a glass case in his dedicated sneaker room.
"[Mr. Kraft] had a lot to do with designing them and it's an Air Force 1, which is my favorite sneaker,"* *he said, explaining his motivation.
The pair designated for Josh's display case is autographed by Mr. Kraft, who surprised fans on both days, posing for photos and signing for the first few people in line.
"It's great," Josh said of meeting the Patriots owner. "He's an awesome guy. It was really cool and I'm glad for the opportunity."
Like Josh and many of the others who purchased the shoes, Mr. Kraft has been a big Air Force 1 fan for years.
"I wear them everywhere – when I go to black tie events in London, New York, L.A., Beantown," he told WBZ reporter Christina Hager in an interview on Thursday. "[Nike] has been kind enough to make me a number of different styles and I just love them, so I wear them every day."
For Mr. Kraft, though, the sneaker collaboration is about more than sharing his signature style with New England football fans; it's also a "fun and creative" way to give back to the local community, with all proceeds going to Boys & Girls Clubs of Boston.
"This year, we're hoping to raise a quarter of a million dollars," he said. "We [the Patriots and Nike] both recognize that the Boys & Girls Club is a wonderful return on investment and is so important in the way it serves the community."
Last year, with the release of the first-ever Patriots Lunar Force 1, $100,000 was donated to the organization. The money has helped support sports and fitness programs at the five main Boston-area clubs of Dorchester, Charlestown, Chelsea, Roxbury and South Boston.