Training camp is an exciting time for Patriots players. It is a chance to make a name for themselves, to forge a spot on the 53-man roster and to lay the foundation for the upcoming season.
The excitement for Training Camp isn't reserved for Patriots players, though. After a long offseason without football, Patriots fans look forward to the first days of camp. After a year that brought another Lombardi trophy to Foxborough, Patriots Nation eagerly awaits the 2019 season, and that fact showed through on the first day of practice open to the public.
It was a full house for Thursday's morning practice, and to be first in line for when gates opened at 8 a.m., fans had to be committed to getting to Gillette Stadium early. Or, well, late depending on how you look at it.
The first fans in line for training camp arrived at Gillette Stadium armed with blankets, chips, cookies and soda at 10:30 p.m. Wednesday night. Yes, you read that right.
Nick Devlin, 14, Matt Conte, 13, and Joe Gannon, 13, lined up outside of Gillette Stadium on Wednesday night, waiting patiently for the start of training camp and hoping to get a glimpse of their favorite players.
"It's our team," Nick said. "We have to represent."
Though it was Matt's first time at training camp, it was the sixth and fourth time on the practice fields for Nick and Joe respectively, and Joe's mom said that even though it was a long night with very little sleep, it was worth it for the boys to experience it.
"They wanted to be the first in line," Beth Gannon said. "They're getting older, and we thought there's not going to be too many more days they're going to even want us to be with them. We just thought we'd cherish this time and get them here early."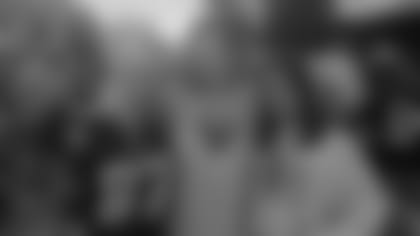 Though they weren't the first in line this year, Kathryn Crawford, Kristen Falso and Lauren Kolonusz, arrived at Gillette Stadium at 2 a.m. for what has been a tradition in recent years. Kristen and Kathryn first met each other standing in line for training camp five years ago.
"We met each other in line, and we were talking about how much we love the Patriots and how we do this year," Kristen said. "Every year, we ran into each other, and now we meet up here."
Kathryn even cemented her dedication to the team three days ago with a flying Elvis tattoo just above her ankle.
"I've wanted it since I was 16, so I finally just ended up going and getting it spontaneously right before camp," she said, showing off the fresh ink.
For the trio, the 2 a.m. arrival was well worth it, even if it meant little to no sleep. It's a small price to pay to see their team practice up close. They packed comforters and blankets and did their best to get some shut eye before the big day. Next year, however, they're going to be even more prepared. They're bringing an air mattress.
You can check out more photos from the first day of training camp in the gallery below.
Check out the best photos from Patriots Training Camp at Gillette Stadium on Thursday, July 25, 2019.