Newlyweds Jerry and Amy Pajotte kicked off their life as a married couple the best way they could imagine: watching the Patriots defeat the Bears at Sunday's game.
The two, who describe themselves as "diehard" fans, tied the knot on Friday night. Less than two days later, they were back in their wedding attire to continue the celebration at the game before heading off to St. Lucia on their honeymoon early Monday morning.
"We planned where we wanted to go, but we didn't book it until the Patriots schedule came out," Amy explained. "If it was a home game, we knew we were coming to the game and then leaving after."
"We kept our fingers crossed hoping the Pats would be home," Jerry added.
The couple, who live down the street from Gillette Stadium, got their wish when the schedule was released and soon after they solidified their plans.
For good measure, Jerry decided to reach out to the Patriots organization to share the happy news, but never could have anticipated the response he received. Owner Robert Kraft gave the newlyweds tickets to Sunday's game and invited them on the field to watch pre-game warmups with him. As if that weren't enough, Mr. Kraft made a surprise house call on his way to the stadium, stopping to congratulate the couple, who were in their driveway getting ready to leave.
"That's how I ripped my dress," Amy explained. "I ran so fast to greet him. It was amazing."
"We obviously didn't expect all of this, but we are very thankful for it and this is exactly why we love Mr. Kraft and the Patriots so much," Jerry revealed.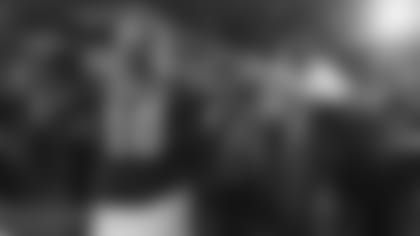 After the special visit, Jerry and Amy walked their usual route to the stadium. Unlike an ordinary game day, though, they were dressed in their formalwear from Friday night and received plenty of cheers from fellow fans along the way.
"When we walked to our first game I just remember thinking it was awesome to live this close to our favorite team," Jerry remarked. "And being able to do this two days after we got married was even more exciting."
The game day experience was just the icing on the cake of a wedding celebration that included lots of tributes to the team, from Amy's custom shoes and Jerry's Patriots bowtie to a huddle-like entrance to the reception. At the end of their ceremony, after the 'I dos' were spoken, the officiant even declared, "And that's good for a Patriots first kiss!"
Like every bride and groom, the couple will not soon forget their wedding, but thanks to Jerry's letter to his neighbors at Gillette Stadium and Mr. Kraft's generosity, day three as husband and wife will stand out in their memories as well.
"This is an experience we are going to remember for the rest of our lives," he said. "To be able to do this after our wedding, with Amy in her dress and around the people that we love and the crowd and fans that we love, there's nothing better than this."