Chicago Bears linebacker Lance Briggs. AP Photo.


Age (Tedy Bruschi, Junior Seau), inexperience (Eric Alexander, Pierre Woods), and large cap numbers (Rosevelt Colvin) are the major issues facing New England's linebacker corps this offseason.
While Colvin has already become a casualty, it's possible he could be back under a renegotiated deal, though the likelihood of that appears remote at this point.
There's also no guarantee that Bruschi (who'd be entering his 13th NFL season) or Seau (heading into his 19th) will return either. And from what little we've seen of Alexander and Woods in game action, it's unclear if they're capable of assuming starting roles for the Pats.
That means New England could pursue some younger veteran options in the free agent market, both at Bruschi's and Seau's inside spots, or at Colvin's former spot on the outside.
The Pats may have a more immediate need at inside LB, but there's not a lot from which to choose in free agency this year.
(players listed alphabetically)
Teddy Lehman, Detroit
Lehman appeared in all 16 games for the Lions last season, the first time he's done so since his rookie campaign, when he had 102 total tackles. Injuries are a concern with him, but if he can stay healthy, Lehman could be a good fit in the Pats' system. In college, Lehman played at Oklahoma, where head coach Bob Stoops mixes in the 3-4 with his base 4-3, so Lehman does have some experience in New England's favored defensive formation.
Mark Simoneau, New Orleans
A productive player, if not always a starter, everywhere he's been (Atlanta, Philly, New Orleans), the 31-year-old Simoneau had his best season since 2003 last season, registering 70 total tackles and starting all 16 games for the Saints. Having never been on a Super Bowl-winning team, Simoneau could be one of those hungry veterans that head coach Bill Belichick likes to bring in each season.
Dontarrious Thomas, Minnesota
While he hasn't started many games for the Vikings in the past four years, he has appeared in nearly all of them. Thomas has seen diminishing returns in his stats since his impressive rookie season, but at 6-2, 241, he could have the size and experience necessary to compete for an inside job here in New England.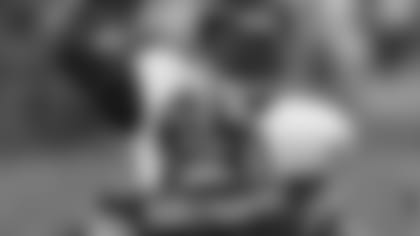 More options might be available at the outside LB spot, but the Pats may need to find a player who came move freely inside and out to add depth overall to the position.
Boss Bailey, Detroit
Bailey hasn't quite lived up to the expectations that accompanied him as a second-round pick in 2003. But there's still talent in Bailey (the brother of cornerback Champ Bailey). Perhaps a change of scenery and a taste of Belichick-style defense is what he needs.
Lance Briggs, Chicago
Last offseason, Briggs vowed never to play again for Chicago. Well, of course, he did, but this time around, it could be a different story. Plenty of teams will be vying for his services, and even though he's said he doesn't fit in the 3-4, Briggs' abilities may be worth enough for the Pats to see if he's interested in coming to New England.
Clark Haggans, Pittsburgh
With his size (6-4, 243) and experience in Pittsburgh's 3-4, Haggans might have exactly what the Pats are looking for, in terms of versatility, as well. Much like Adalius Thomas did this past year, Haggans might be a guy who could work either inside or out in the Pats' 3-4.
Victor Hobson, New York Jets
Like Haggans, Hobson played in a defense similar to New England's, so his fit in the Pats' system could be fairly seamless.
Kawika Mitchell/Reggie Torbor, New York Giants
Mitchell and Torbor were phenomenal against New England in Week 17 and in the Super Bowl. And according to a report in today's New York Newsday, a source close to the Giants front office is quoted as saying it's "doubtful" either player would return to New York. Given their productivity against New England, they could be on the Pats' radar, much like WR Wes Welker (a player who gave the Patriots fits as an opponent) was last season.