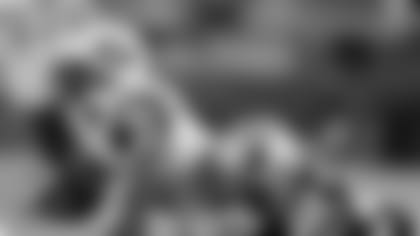 Well, really, what is there to say? At this point, all the half-hearted reasons for optimism have been trotted out - the upward trajectory of 14-2, the nucleus of young players, the (basically) THREE 1st round draft picks - but those silver linings have done nothing much to wave away the dark cloud of an upcoming AFC championship game with no one left to root for. Honestly, this is the choice? A bunch of loud-mouthed, Swaggerlicious trash-talkers versus a similarly loud-mouthed group in Black and Gold, whose team leader corners co-eds in tavern bathrooms all around the greater Pittsburgh area?
It's hard not to sound like whiny little losers, (and sore ones, at that), but we figure a lot of folks are feeling this way so why not stagger up onto that soapbox and preach a little to the wilting Masses? It seems somehow "wrong" for the team that prepared with some semblance of class and respect - for the game, for the opponent, for their own teammates - to lose to the team that talks and talks and talks, profane, juvenile bluster everywhere you look, and that does so without ever backing it up. Yes, wrong, it seems awfully wrong. But, then, God, they go and back it up. So, what, we ask again, is there to say?
Setting aside all the nonsense, the off-field barbs, the bluster, the nine kids by eight women and the coach, the foot and a million views and counting - the Jets simply played better. And, therefore, they absolutely deserved to win. Because, as is constantly preached around these parts, that's truly all that matters. A one-word rebuke they have every right to offer, full-throatedly: "Scoreboard." There really is nothing to say to that.
And perhaps that's the lesson of last weekend. The thing Patriots Nation takes out of this. That renewed sense of class and respect that pushes past the disappointment, the frustration, the desperate need to cry out, "Oh come ON, are you F-ing SERIOUS?!" The willingness to admit that the Jets talked the talk, then finally walked the walk. Belichick, Brady, et al, talk the talk all the time about controlling what you can control, about speaking for yourself, doing your job and playing the game - win or lose - with respect.
"When you win, say little. When you lose, say less." Faced with the angst and shock of a bitter playoff loss to a bunch of louts from Jersey seems like an ideal opportunity to show that Patriots Nation means it. That, when it comes to respect and class, they're not all talk. Time to walk the walk.
Oh, and one more thing. Let's. Go. Packers.
is Gonna Have to Insist**
We realize the following has only a bit to do with the NFL, and nothing to do with the Patriots, but ever since Sunday, we've felt we could use a break from anything that reminds us of "The Game That Shall Not Be Named, Part Deux." So here goes:
Out-Takes has pushed ESPN's 30 for 30 Documentary Series more than once on this page, but consider this less a recommendation than a demand. The Two Escobars, superbly directed by JEFF & MICHAEL ZIMBALIST (related, as in brothers), centers on golden boy defender ANDRES ESCOBAR and the Colombian national soccer team's run for the 1994 World Cup, then juxtaposes that story with the impact drug-trafficker PABLO ESCOBAR (not related, not brothers) and the culture of "Narco Soccer" had on the nation of Colombia, the team and its wildly effusive fan-base.
Sure, it aired months ago, and, yes, it may not be a football story - it's a fútbol story - but it's worth seeking out via DVR or Amazon. I mean, the thing got into Cannes and the Tribeca Film Festival. Seriously - it's art.
And speaking of 30 for 30, if there's anything more humiliating than HOWIE LONG rapping during the credits of "Straight Outta L.A." (ICE CUBE's documentary on AL DAVIS & the LA RAIDERS), we're pretty sure it involves one of the many BRETT FAVRE-related masseuses.
Continuing in the spirit of burying one's head in the sand...we spotted a headline over at Pro Football Talk last week, a headline positively stuffed to the gills with the sentiment, "Boy, and we thought Patriots fans had it bad!"
Ernest Wilford arrested, Tasered in Jacksonville
Think about that. First, you're NFL journeyman über-bust ERNEST WILFORD. You've been arrested, you've been tased (bro), and you're in freakin' Jacksonville. And you thought PATRICK CHUNG felt crappy.
Blooper Reel: Conference Championship Round Predictions Edition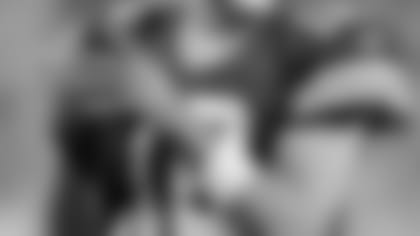 ~ "Deuces Wild!" is the theme of our post-season predictions so far, as Out-Takes is in a holding pattern at .500, having gone 2-2 on Wild Card Weekend, and again last week. A clean sweep this Sunday guarantees a winning record for the playoffs so...fingers crossed.
~ Game One, Sunday 3 PM: Out-Takes has been on the PACKERS for literally months. ("Spoiler" Alert: They were our Super Bowl pick.) Sure, during the regular season we experienced moments of concern, but once these guys qualified for the tournament we latched onto them like a late 90s CHAD LOWE did to his million-dollar baby, HILARY SWANK. (Tough break on the end-result, kid. Damn that Oscar Curse!)
While we remain a bit wary of Green Bay's ability to put points up on the Chicago D, given their struggles in Week 17, Saturday's freeze-out of not-so-cool MATTY ICE and the gang has made us believers once more. AARON RODGERS throws three TDs, JAMES STARKS keeps making PFW's ANDY HART look smart and the Pack heads for Dallas and the dainty-faced JERRY JONES. As always, though, post-game drinks are on Cutler, so it's win-win. (But not really. 31-17, Cheeseheads.)
~ Game Two, Sunday 6:30 PM: First...a message from everyone's favorite new OUT-TAKES character, fresh off last week's winning appearance, friend and mentor "Even Up" BARRY, the Jet fan in plain sight across the hall, who found himself five dollars richer on "Monday," and fired off the following e-mail yesterday:
"Wondering if you're blogging on the championship games. If so, I beg you to please pick the Steelers by at least a touchdown."
Barry, your wish is (almost-but-not-quite) our command. STEELERS exact revenge on BART SCOTT and the various mouthy baby-daddies who play in New Giants Stadium. But after seeing REX RYAN's "foot-soldiers" (© pint-size, pine-riding wideout WES WELKER) shut down the two Quarterbacks of this era, even Out-Takes can't give Big Ben that big a cushion.
Pittsburgh grounds the Jets and their rushing attack enough to put MARK "Body Language" SANCHEZ in the center of the storm. That eye of the Tiger fades and Pittsburgh punches its ticket to Valley Ranch. Steelers 24, Jets 20.
John Cockrell is a writer for USA Network's "In Plain Sight," and a screenwriter, whose other work has run the gamut from "Sesame Street Parents Magazine" to Playboy TV's "The Weekend Flash." (He figures everything else is pretty much in-between.)