Much like Thursday's session, weather reports threatened rain and potential storms that never came to fruition in Foxborough.
There wasn't a lot of big news coming out of camp on Friday as attendance was nearly identical to the first day of workouts – although the media did set eyes on tight end Daniel Fells for the first time since spring workouts. Fells worked out on the step machine early in the practice, watched the workout from the sidelines and then ran some pass routes after conditioning work during the opportunity portion of the session. He looked to be moving pretty well working his way back from a reported shoulder injury.
Friday's practice seemed to be a little less intense than the opening session, at least early on. Players were in helmets, shells and shorts/sweats. No players were in football pants, as had been the case on Friday. Many players who generally wear knee braces were also working without them today, including rookie Chandler Jones. Beyond that the session built toward a pretty high tempo, to the degree where offensive linemen were actually pushed into Brian Hoyer at one point, sending the quarterback to the ground.
Beyond that, here are one man's observations from the media tent on the hill:
Those players not taking part in the practice included: Nate Ebner, Nick McDonald (PUP), Mark Zusevics (NFI), Logan Mankins (PUP), Sebastian Vollmer (PUP), Jeremy Ebert (PUP), Fells (PUP), Jake Ballard (PUP) and Myron Pryor (PUP).
Brian Waters (reserve/did not report) was also absent. Ballard and Pryor were not seen on the field at all.
Matthew Slater and James Ihedigbo continue to practice in red, non-contact jerseys. * The team signed rookie free agent tackle Darrion Weems. The former Oregon player had been with the Vikings previously. Weems was on the field wearing No.74. He looked to be struggling with his conditioning a bit late in practice when the offense had to run a penalty lap around both fields and he was well behind the pack.
With Waters on reserve/did not report, the Patriots still techincally have one open roster spot. * Brandon Spikes is technically practicing, but he didn't do much of anything on Friday. The linebacker was then with the rest of the injured/rehabbing players doing AB work while the rest of the team did continuing runs late in practice. * Rob Ninkovich practiced some long snapping with the specialists early on before the session got underway. * Donald Thomas joined the usual suspects of Dan Koppen, Dan Connolly and Ryan Wendell working on center-QB exchanges in pre-practice work. As is generally the case, Tom Brady had his hands under Koppen's backside. * Logan Mankins seems to be progressing. The Pro Bowl guard had a noticeable limp while running during mini-camp rehab work. He was doing some karaoke running (sideways running, alternating feet in front and behind), without much of a noticeable limp.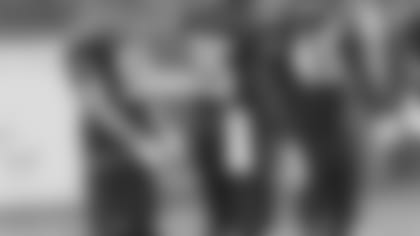 In some early base 4-3 sets, Gerard Warren took reps at defensive tackle next to Vince Wilfork, a spot usually filled by Kyle Love. In the same group Jones was at left defensive end with Ninkovich on the right. The linebackers were Jerod Mayo, Dane Fletcher and Dont'a Hightower.
Hightower drew some praise from Bill Belichick for his versatility, awareness and instincts in the coach's morning press conference. Hightower is slowly getting worked into the LB mix. After practice Hightower took the praise humbly in stride and said he's looking to do whatever he can to help the team, including special teams. As far as getting acclimated to the scheme? "Defense is defense."
It's always fun to watch the wide receivers do position drills early in practice. Position coach Chad O'Shea does various drills to work on cutting, concentration and hands. One had the coach throwing a towel at the receivers to distract them right before the catch. Another – a tradition each summer – had a ball boy using a taped over tennis racket to try to screen the wideouts as they made the catch. Donte Stallworth struggled at one point in the work, dropping two in a row, one of which bounced right off his chest. He looked like a screened hockey goalie who never saw the puck until it was too late.
Steve Belichick – a coaching assistant – appears to be spending the bulk of his time working with the defense through the first couple days of training camp.
Alfonzo Dennard showed his physical style in a drill that pitted the corners against the wide receivers, the latter trying to get off the line in press coverage. Later in practice Dennard appeared to pull up with a right leg injury after covering Spencer Larsen on a short throw and banging into the fullback. Dennard did not practice the rest of the way and did not do the conditioning running with the rest of the team.
Kyle Hix – a second-year offensive lineman – also remained with the rehabbing players doing AB work rather than taking part in conditioning to close out the session.
Patriots owner Robert Kraft watched much of the practice from between the two fields, chatting with a variety of players at various points in the afternoon.
Aaron Hernandez had a notable day for a number of reasons. First, he was all over the field catching passes and showing his run-after-catch abilities. I stand by my prediction that if he's healthy he's going to catch more than 100 passes this season. He also took some reps working as the punt returner for the scout punt return team. Late in practice he called for a fair-catch on one punt that he then had to run up about 10 yards to catch on the move. The act drew some criticism from running backs coach Ivan Fears, who also works with the team's returners.
After practice Hernandez said he's a playmaker just looking to get more chances to make plays. He admitted he probably hasn't had a return since high school. He also said he clearly miss-judged the fair catch attempt.
Hernandez drew a huge crowd of media after practice. He answered a lot of questions about the "Summer of Gronk," responding to them with his usual humorous style. * On a side note, Fears has worked with the Patriots returners for both kickoffs and punts for years, a role for which he doesn't get enough credit. He's usually the one coaching them up on technique and scheme issues. Not much has been made of his contributions in that role over the years when New England has developed a number of very good returners on a regular basis.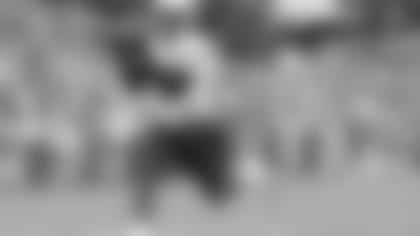 Other more traditional options working on punt returns included Julian Edelman, Wes Welker and Deion Branch.
On the other side of the ball – with the punt team the primary focus of the special teams action on Friday – the gunners covering the punts included Slater, Josh Barrett, Marquice Cole, Malcolm Williams and Sergio Brown.
Zoltan Mesko boomed a number of high bombs during his reps and looks to be picking up where he left off on last fall's very impressive sophomore season. The lefty is looking very good. * There has been a lot of what I'll call half-field seven-on-seven early in camp, which generally has the offense going against a corner, safety, outside linebacker and middle linebacker on only one half of the field. * Brown had a real poor attempt at what should have been an interception when he seemed to lose track of the ball in the deep middle of the field and then seemingly jumped into Brandon Lloyd to create contact and take himself out of the play for the ball. He almost looked like an NBA scorer heading to the rim who was far more worried about creating contact to draw the foul than actually making the play. Weird. * Dennard made a nice pass defense down the right sideline on an underthrown Brady ball intended for Jabar Gaffney. Brady seemed to struggle a bit with his accuracy at various points on the day. He later threw an interception to Bobby Carpenter over the middle of the field, trying to get the ball over the linebacker's head for Wes Welker down the hash. The ball was drastically underthrown and never really had a chance to get to No. 83. * Lloyd continues to catch the ball well. He caught a couple different deep balls from Brady on the day, one in which he beat Devin McCourty for the big play. The pair also completed another big play past Kyle Arrington. There were a couple times that Brady and Lloyd weren't on the same page, but despite those miscommunications the aerial duo seems to be working well together. Lloyd certainly shows nice hands and snags the ball out of the air. He also apparently likes to show off his legs, as he wears long black spandex pants to practice. Unlike some other players, he doesn't wear shorts over them.
Lloyd also seemingly has another idiosyncrasy, as he walked off the field with no shoes or socks on Friday. Haven't seen much of that in my decade covering the team. * Undrafted rookie running back Brandon Bolden has had a nice couple days to open camp. The former Ole Miss playmaker has shown a nice burst with the ball in his hands. He's also done a good job catching the ball, displaying a seemingly natural ability as a receiver despite one really bad drop in team action late in the day on Friday. With the limited backs on the roster, Bolden bears watching and certainly could have a future on the practice squad. * Slater is wearing a compression sleeve on his left calf/lower leg. * As was the case in the spring, there is an alarming and remarkably clear drop off with the offense from when Brady is running the show as compared to the two backups. Both Hoyer and Ryan Mallett continue to seem to struggle with their reads and timing. Mallett's short accuracy also continues to be an issue. * With a number of guys obviously out of action, the primary offensive line consisted of Nate Solder at left tackle, Connolly at left guard, Koppen at center, Robert Gallery at right guard and Marcus Cannon at right tackle. * The offense/special teams worked on a situation late in practice where the clock is running out and the field goal team had to run on for the attempt. Though the Stephen Gostkowski kick was good, the entire offense had to run a penalty lap around both fields. Not sure if they didn't get on the field in time or if there may have been a penalty on the attempt. Regardless, it wasn't what Belichick was looking for. * Fashion update of the day: Matt Patricia broke out a new color sock that he wore pulled up to his knees. After previously wearing black or white, Friday he had on gray socks. This came a day after he was made aware of PFW's fascination with his lower leg attire. Coincidence? I think not. * Speaking of Patricia, the first-year coordinator walked off the field chatting with Belichick.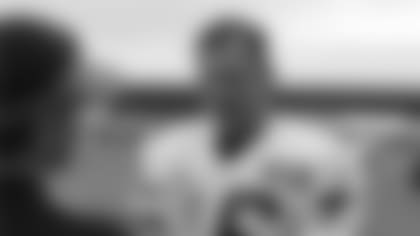 Many players and coaches spent time on the field with their families after practice. This is a regular occurrence in training camp and it's always a cool sight to see with all the young children running all over the field with their proud fathers.
The tight ends were among those signing autographs for fans in attendance. Rob Gronkowski in particular went out of his way to make a lot of fans very happy.
Those players talking to the media after practice included Gronk, Hernandez, Visanthe Shiancoe, Spencer Larsen, Mallett, Stallworth, Tony Fiammetta and a few others.
The Patriots return to the practice fields again on Saturday at 1:30 pm. The session is open to the public and given the first two days, there could be record crowds for the weekend. As always be sure to check Patriots.com for any last minute schedule changes or weather-related information.