BILL BELICHICK MOVES PAST BILL PARCELLS ON NFL CAREER COACHING VICTORY LIST
Bill Belichick won his 184th career regular season game as a head coach with the win against Kansas City. Belichick moved past Bill Parcells into sole possession of ninth place on the NFL's all-time list. Chuck Knox is eighth with 193 career wins.
BRADY PASSES CHILDHOOD IDOL JOE MONTANA WITH 118 WINS
Tom Brady earned his 118th win as a starting quarterback to move past Joe Montana for seventh place on the all-time list for regular-season victories by a starting quarterback. Johnny Unitas is in sixth place with 119 wins.
PATRIOTS ARE TIED FOR AFC'S BEST RECORD
With today's win, the Patriots improved to 7-3, and are tied with Baltimore, Houston, and Pittsburgh for the best record in the AFC. New England also claimed a two-game lead in the AFC East, leading Buffalo and the New York Jets (both 5-5).
SOLID DEFENSIVE EFFORT
The Patriots defense held the Chiefs to just three points, setting a new season-best for fewest points allowed. The last time the Patriots held a team to three points or fewer was in a 34-3 victory at Buffalo on Dec. 26, 2010. In terms of yards allowed, the Chiefs gained 334 total net yards, which is the second lowest allowed by the Patriots this season, trailing only the 255 total net yards allowed to the New York Jets on Oct. 9.
PATRIOTS RECORD HIGHEST MARGIN OF VICTORY OF THE SEASON
The Patriots' 31-point win over Kansas City (34-3) was New England's largest margin of victory this season, topping the 21-point win over the Jets last week. New England's 31-point win tonight was its largest since a 31-point win over Miami in the 2010 regular season finale on Jan. 2, 2011 (38-7).
TOM BRADY MOVES PAST BOOMER ESIASON INTO 15th ON THE NFL PASSING YARDS LIST.
Brady (38,010) entered the Kansas City game with 37,776 yards and needed 145 yards to move past Boomer Esiason (37,920) into 15th place on the NFL's all-time passing yards list. He moved past Esiason on a 25-yard pass to RB BenJarvus Green-Ellis in the third quarter. Dave Krieg is in 14th place with 38,147 yards.
TOM BRADY HAS SECOND MOST PASSING YARDS IN NFL HISTORY THROUGH TEN GAMES
Tom Brady finished this week's game with 3,266 yards passing, a total that is the second highest in NFL history through a season's first 10 games, trailing only Drew Brees's 2011 total of 3,326 yards.
TOM BRADY REACHES 25 TOUCHDOWNS FOR THE SEVENTH TIME
Tom Brady's 19-yard touchdown pass to TE Rob Gronkowski was Brady's 25th scoring toss of the season. It is the seventh time in his career that he has passed for 25 or more touchdowns, tying Dan Marino for third on the NFL all-time list for most seasons with 25 or more touchdowns.
KYLE ARRINGTON PICKS OFF TWO PASSES; LEADS NFL WITH 7 INTERCEPTIONS
Kyle Arrington had two interceptions tonight and leads the NFL with seven interceptions. Arrington picked off a QB Tyler Palko pass at the New England 18 yard line and returned it 28 yards to the New England 46-yard line late in the first half. He also picked off a Palko pass in the third quarter to increase his 2011 totals to seven interceptions and is leading the NFL. The last Patriots player to lead the league in interceptions was Asante Samuel with 10 in 2006. It is the second time in his career that Arrington has had two picks in a game. He had his first 2-interception game at Buffalo on Sept. 25, 2011.
PATRIOTS TIGHT ENDS ARE TOUCHDOWN MACHINES
Rob Gronkowski has 10 touchdowns in 2011, while Aaron Hernandez has five. The tandem has totaled 15 touchdown receptions through ten games this season, comprising more than half of Tom Brady's total of 25 scoring tosses. Gronkowski set the Patriots record for most touchdowns by a tight end with 10 as a rookie in 2010 and matched it in his second season in 2011. The NFL record for most touchdowns in a season by a tight end is 13 by Vernon Davis (SF in 2009) and Antonio Gates (SD in 2004).
GRONKOWSKI REACHES 20 TDS IN FEWEST GAMES AMONG TIGHT ENDS IN NFL HISTORY
With his two touchdowns, Rob Gronkowski now has 20 career touchdowns. He reached the 20 mark in just 26 career games, the fewest games among tight ends in NFL history.
GRONKOWSKI HAS SIXTH NFL TWO-TOUCHDOWN GAME
Gronkowski scored two touchdowns against the Kansas City. It is his sixth career game with two or more touchdowns and his fourth two-touchdown game of the 2011 season. He had two touchdowns vs. San Diego (9/12/11), at Buffalo (12/26/11), at the Jets (11/13). He had a career-high three touchdowns as a rookie at Pittsburgh on Nov. 14, 2010.
GRONKOWSKI SCORES ON A 52-YARD RECEPTION
Rob Gronkowski scored on a 52-yard touchdown in the second quarter. It is the longest reception of his career. His previous best was a 30-yard reception vs. San Diego on Sept. 18, 2011. His previous longest touchdown reception was a 26-yarder at Buffalo on Sept. 25, 2011.
GRONKOWSKI LEADS ALL TIGHT ENDS IN TOUCHDOWNS SINCE 2010
Rob Gronkowski has 20 touchdowns since the start of the 2010 season, the most among all NFL tight ends during that time.
GRONKOWSKI HAS BACK-TO-BACK 10-TOUCHDOWN SEASONS
With back-to-back 10 touchdown seasons, Rob Gronkowski is the second Patriots player to have back-to-back seasons with 10 or more touchdown reception seasons. Randy Moss had three straight from 2007-09. It is the fourth time in team history a player has had back-to-back 10-plus touchdown seasons overall, including Curtis Martin who had back-to-back seasons with 10-plus rushing touchdowns and Corey Dillon, who had three straight 10-plus touchdown rushing seasons.
GRONKOWSKI ON PACE TO SET PATRIOTS TIGHT END RECEIVING YARD RECORD
Rob Gronkowski has 805 receiving yards on 56 receptions and is on pace to finish with 90 receptions for 1,288 yards. The Patriots record for most receiving yards by a tight end is Ben Coates with 1,174 in 1994. The Patriots record for most receptions by a tight end is 96 by Coates in 1994. The NFL record for most yards by a tight end is 1,290 by Kellen Winslow in 1980 with San Diego. Gronkowski's pace would be second all-time by a tight end.
CONSECUTIVE GAMES WITH AT LEAST ONE TOUCHDOWN PASS CONTINUES FOR BRADY
Tom Brady has now thrown at least one touchdown pass in 26 straight regular season games, extending his team mark. Brady's current streak started when he threw a touchdown pass in all 16 games in 2010 and he has now achieved the feat in all 10 games in 2011. The old team record was 19 games, also set by Brady. The NFL record is 47 set by Johnny Unitas (1956-7), followed by Drew Brees with 37 and Brett Favre with 36.
BRADY ON PACE TO SET ALL-TIME PASSING NUMBERS
After throwing for 234 yards against the Chiefs and 3,266 yards through nine games this year, Tom Brady is on pace to finish the season with 5,226 passing yards. Only two NFL players have thrown for 5,000 or more yards in a season with Dan Marino's NFL record 5,084 in 1984 and Drew Brees' 5,069 in 2008. The most yards Brady has ever thrown in a season is 4,806 in 2007.
BRADY ON PACE FOR SECOND CAREER 40 TOUCHDOWN SEASON
Brady has 25 touchdown passes through 10 games and is on pace for 40 touchdown passes. If Brady reaches 40 touchdowns he will be just the second player in NFL history to have two seasons with 40 or more touchdown throws. Dan Marino had 48 touchdowns in 1984 and 44 in 1986.
WELKER IS STREAKING
Wes Welker extended his streak to 71 straight regular-season games with at least one reception as a member of the Patriots to extend his franchise record. Welker has an overall streak of 88 straight regular-season games with at least one reception, including his time with the Miami Dolphins. Welker has caught at least one pass in each of his 75 games with the Patriots, including four postseason games. The last time that Welker did not catch a pass in a game was December 24, 2005 when he was with Miami.
FIFTH ROUND DRAFT PICK MARCUS CANNON MAKES HIS NFL DEBUT
Fifth-round draft pick OL Marcus Cannon made his NFL debut during the extra point attempt in the second quarter. Cannon began the season on the reserve/NFI list. He entered the game at right tackle late in the fourth quarter.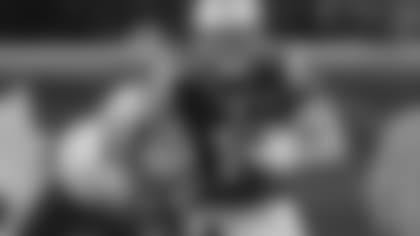 JULIAN EDELMAN RETURNS A THIRD QUARTER POUNT 72 YARDS FOR A TOUCHDOWN
Julian Edelman returned a third quarter punt 72 yards for a touchdown. It is his second punt return for a touchdown. He set the franchise record with a 94-yard return in the 2010 regular season finale vs. Miami on Jan. 2, 2011. He is the fourth Patriots player with two or more punt returns for a touchdown.
**
Most Punt Return Touchdowns / Patriots Career
3 Troy Brown
2 Julian Edelman
2 Irving Fryar
2 Mike Haynes
EDELMAN HAS HIGHEST PUNT RETURN AVERAGE IN TEAM HISTORY
Edelman has returned 44 punts for 603 yards during his Patriots' career and leads the franchise with a 13.7-yard average.
PHILLIP ADAMS REGISTERS FIRST NFL INTERCEPTION
Phillip Adams intercepted Tyler Palko in the end zone in the fourth quarter for his first career interception.
SHANE VEREEN SCORES FIRST CAREER TOUCHDOWN
Rookie running back Shane Vereen scored his first career touchdown on a 4-yard run in the fourth quarter that gave the Patriots a 34-3 lead. Vereen was selected by the Patriots in the second round (56th overall) of the 2011 NFL Draft.
Jerod Mayo and Andre Carter stopped Kansas City's Jackie Battle for no gain on third-and-one at the Patriots' 36-yard line in the first quarter, forcing a Kansas City punt on the next play.
Andre Carter stopped Tyler Palko for a 6-yard loss on a running play on second-and-goal in the first quarter, helping to force Kansas City to settle for a field goal two plays later.
Patriots sack leaders Andre Carter and Mark Anderson combined to sack Tyler Palko for an 8-yard loss on second-and-six at the Patriots' 37-yard line in the second quarter, forcing a Kansas City punt two plays later. The half-sack gave Carter a team-high 9.0 sacks for the season.
Mark Anderson had an 8-yard sack of Tyler Palko in the third quarter, giving him 1.5 sacks for the game. Anderson has 7.0 sacks for the season, a total good for second on the team.
Andre Carter and James Ihedigbo teamed up to stop Chiefs running back Jackie Battle for a 1-yard loss on first-and-10 from the Patriots' 44-yard line in the second quarter, starting off a three-and-out for the Patriots defense.
Rob Ninkovich sacked Tyler Palko for a 5-yard loss on second down in the fourth quarter. The sack raised Ninkovich's 2011 sack total to 2.5 sacks.