Foxborough, Mass. - One Patriots rookie who has certainly exceeded expectations this season is cornerback Randall Gay. The undrafted rookie free agent out of Louisiana State, who made the team out of training camp and has seen his playing time increase during the season, is turning into a consistent playmaker for the Patriots.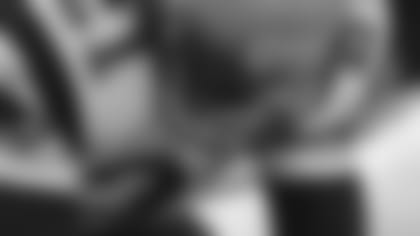 ]()On Thursday, head coach Bill Belichick noted Gay's consistency this season, saying the rookie has had good production considering his opportunities and has established a sustained level of play since starting the season as the team's fourth cornerback.
"I think Randall is one of those guys that has had really a pretty consistent year," Belichick said. "He started maybe in the back of the pack, relative to draft position and so forth. But by the time rookie mini-camps were over and the spring mini-camps were over, I think that the opportunities that he had, he was pretty productive with them."
Gay has played in all 12 games this season, starting the last six at right cornerback, collecting 24 tackles and two interceptions. In addition to being able to play both cornerback and safety, Gay has several factors working in his favor - especially his mental approach to the game.
"He's a smart kid, he picks things up very well," Belichick said. "He's had experience playing corner or safety at LSU and a little bit here, so he mentally understands, from a football standpoint, what's going on in the secondary whether as a perimeter player or an inside player."
Gay has gone from a player used in spot duty to one seeing significant action mostly because of injuries to Ty Law, Tyrone Poole and Asante Samuel. But his consistency, and his willingness to fit within the game plan, may mean that Gay will continue to stay there when others return from injury. Several veterans have taken note of Gay's willingness to listen and his propensity to pull even the smallest details from game film.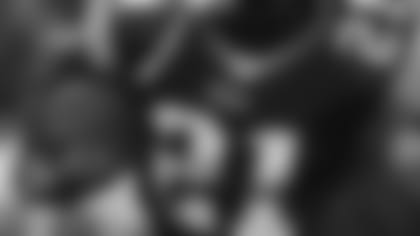 ]()"He understands he wasn't one of those first-round [picks]," Law said. "I think he understood that fact that his chances of making the team were slim in the beginning, but he just continued to work at it and work and was consistent all through training camp. When he got his opportunity to get in there and play, he showed up."
In addition to solid coverage skills, Gay has display veteran savvy and a knack for big plays on several occassions. He scored his first career touchdown in last week's win over Cleveland on a 41-yard fumble return. During the Patriots 24-3 win over Baltimore on Nov. 28, his first quarter interception of Kyle Boller came on a play where he was caught between two receivers on the sideline but correctly interpreted the read of the quarterback.
According to Law, the play was very similar to his own interception against the Indianapolis Colts in the season opener. Gay pinpointed the play during film work and learned from it.
"You can see every game he's getting more comfortable," he said. "He's been out there playing well and holding his end of the bargain. We're so happy for him. I think when we all get back, we're going to still be looking for Blue to come in there and contribute the same way he's always done."
The fact that Gay has progressed steadily and hasn't had an "up-and-down" season, according to Belichick, could be an aspect separating Gay from other young players - or even the player he was earlier this season. Certainly, his production and consistency as a first-year player make him dependable in the eyes of the coaching staff. Belichick pointed to that consistency as an important factor for rookie defensive backs.
"I think when you're a rookie defensive back, you're going to be around the ball one way or another," Belichick said. "They're going to find you. That's the NFL. If you're a rookie defensive back, someone is going to be throwing on you. He expects that, we expect it, and it's just the way it is."