They say good guys finish last, but the Patriots "Good Guy" earned one of the most special honors: The Ron Burton Community Service Award.
Lawrence Guy was named the 2021 recipient at the Patriots Foundation's annual Premiere gala, the foundation's largest fundraiser.
Since joining the Patriots in 2017, Guy and his family have been one of the most consistent presences in the New England community. They hit the ground running, wasting no time to bring traditions established in Guy's hometown to Boston and beyond.
"I've never been a person that's donated to one person, one organization and left. I wanted to stay around for every single year," Guy said Tuesday night. "They understand that this is going to continue to happen and it's not a one and done."
That goal is now a reality with several annual events and countless relationships throughout New England.
Every year, Guy and his family host a Thanksgiving dinner for families at a Boston Boys and Girls Club. He rallies his teammates as they serve up a full meal, raffle off prizes and actively foster a sense of community. In addition to feeding families in a block party atmosphere, each attendee leaves with everything they'll need for a Thanksgiving dinner at home.
It's an event they started in Las Vegas and brought with them.
With their annual back to school backpack giveaway, Guy and his family have provided hundreds of kids in Massachusetts and Rhode Island with everything they'll need for the school year. While this helps ease the burden of families who work with organizations like Crossroads and The Key Program, Guy also makes sure to connect with those who come to the event.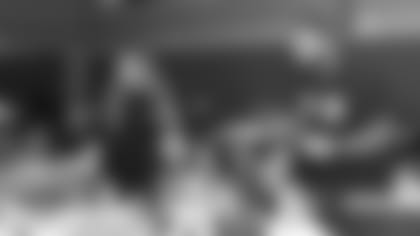 At the 2021 backpack giveaway, Guy spoke with the kids and offered a key piece of advice: never be afraid to ask for help.
"The only way you can succeed at being a better you is to ask for help. There's nobody that can tell you that you're less than or different," Lawrence said. "Go ask the teacher, supervisor or somebody for a little bit of help with schoolwork and the issues that you're having. People that look out for the best interest for you are the people that are willing to take the extra time to make sure you're okay."
That is a lesson that Guy doesn't just preach. He's lived it.
As a college student, Guy was diagnosed with four learning difficulties (dyslexia, dyscalculia, ADHD and ADD). Instead of struggling in silence in the classroom, Guy sought out help, ultimately achieving a 3.5 GPA in college. Now, Guy makes it a priority to speak about his own learning difficulties to set an example for kids who are like him.
If a kid with learning difficulties can grow up to be a professional football player, learning a playbook and speaking in public on a weekly basis, they can accomplish their dreams too.
"Going through what I've been through in life, this is another testament of overcoming anything that gets thrown at you," Guy said at the virtual ceremony. "Anyone out there that has a hope or has a goal, go out there and try to achieve everything you put your mind to because nobody is going to tell you what you can and can't do. You're the only person that holds your life in your hands."
The Ron Burton Community Service Award has gone to players like Devin McCourty, Matthew Slater, Joe Cardona, Troy Brown, Jerod Mayo and more. For Guy, seeing his teammates be celebrated for their character was something that pushed him to do more.
"Every single year I've been here, you see everybody go up there and you hear what they have done in the community," Guy said. "You just think about, 'What more can I do?' Everybody gets inspired by the previous winners. It's inspired me to do a little bit more or in different avenues."
Burton left behind a legacy of love and compassion, and it lives on through his family and the Ron Burton Training Village. In everything that Guy does, his family, too, is at the forefront. His kids tag along to pack backpacks, and he said on the train that is his philanthropic efforts, his wife, Andrea, is the conductor.
"Andrea does so much to help these events out," he said. "We just gave away backpacks, and she was there with the three kids helping them packing the backpacks. I want it to be a generational thing. My dad passed it down to me that we always want to support the community and do the best we can to help out another human being because you never know what somebody might need. You never know what it might do for their future."