Gronk stands on the practice field Monday afternoon with 12-year-old Holden Miller. While Holden was invited to take part in a football clinic at Gillette Stadium to learn a thing or two from Tom Brady, it is Gronk who is learning something new -- his name in American Sign Language (ASL).
For hearing people, an ASL name can be assigned based on name, initials, personality traits or physical attributes, and as Holden, who was born deaf and has Cochlear implants decaled with his favorite player, lifted his hand above his head and threw it down, his inspiration for Gronk's sign is clear.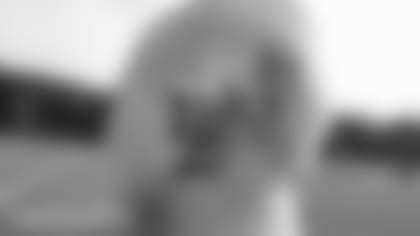 Gronk invited Holden to the clinic via video because of his "inspirational strength and resilience during a roller coaster of challenges in his life," according to a press release from Gronk Nation Youth Foundation. Holden was born with a large mass on his knee, destroying his joint and making physical activity painful, according to the release.
Sixteen surgeries later for masses that have grown in his stomach, Gronk knows Holden is a super fan in more ways than one.
The day at Gillette Stadium, which includes catching passes and scoring touchdowns from Tom Brady, chatting with Brian Hoyer and Danny Etling and finally meeting his hero, is one Holden won't soon forget.
"I was just so happy," Holden said. "It was amazing."
After Holden shares Gronk's sign, he is surprised to learn the Patriots use signs of their own. Brian explains that in games, players use signs to call plays. Danny took a few ASL classes in college and tests his memory.
"This is my favorite sign," Danny said, as he signs "football." Holden smiles.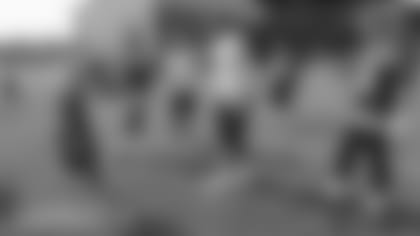 "It was neat to see them take the time and think about where he's coming from and make that connection with him and show that they're human too. So that's kind of neat," Kristin Miller, Holden's mother, said of those moments.
Throughout the afternoon, Kristin struggles to hold back tears. Though this is the first time her son has met Gronk, she said he has been connected to him as a player and as a person.
"It's amazing. It's a dream come true," she said. "You can't get better than this. Nothing will live up to this ever again."
For more pictures from Holden's day and the rest of the throwing clinic, check out the gallery below.
Patriots QB Tom Brady hosted a throwing clinic for special needs kids at Gillette Stadium on Monday, Aug. 27, 2018. Brady's teammates Rob Gronkowski, Brian Hoyer and Danny Etling also took part in the event, which was auctioned off at the Patriots premiere gala last year.