If a teammate drops the ball during practice or a game, it is decidedly not funny. When asked about a different kind of dropped pass on Tuesday night, however, Patriots players are quick to laugh at a teammate's expense.
Kyle Van Noy and his wife Marissa hosted their second annual celebrity waiter night to raise money for the Van Noy Valor Foundation, and it didn't take long for the Patriots to point fingers at who they thought would be the first to fumble a plate of dinner.
"I didn't drop anything last year so I'm hoping to go two-for-two," Kyle said. "I don't want to throw anybody under the bus but I think it's the [McCourty] twins."
"Kyle might be good for dropping something," James White said with a laugh.
The guys, however, proved to be seasoned pros when it came to pouring wine, serving salads and placing dinner plates down at each table. David Andrews even graduated to a three-plate stance, holding a soup and two salads with one resting on the inside of his elbow.
Kyle's teammates showed up big time for his cause. James, Devin McCourty, Jason McCourty, Matthew Slater, David Andrews, Duron Harmon, Eric Rowe, Derek Rivers, Elandon Roberts, Lawrence Guy, Brandon King, Geneo Grissom and more donned aprons and got to work.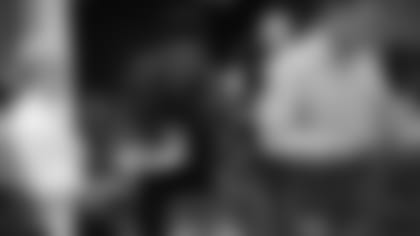 The proceeds from the waiter night will help fund the Van Noy Valor Foundation's Christmas tree giveaway in December, where Kyle and Marissa will give trees, coats, gifts and decorations to foster children in need. Kyle was adopted, as were Marissa's father and brother, so providing support to adopted children and those in foster care is something that means a great deal to both Van Noys.
Having his teammates' support for event and cause makes the night even more impactful.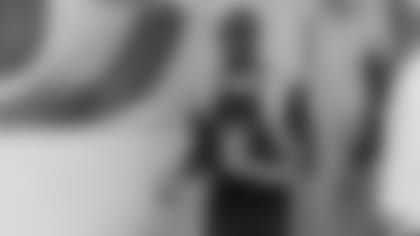 "I just think it's the culture here. We all support each other's causes and events. It's a beautiful thing because it shows how we are on the field as well as off the field. We try to be together."
"We have a lot of different guys that are involved with a lot of different charities. For us as teammates to come out and support them I think is really important," James said. "There are so many different things you can get involved with in the community and so many people that helped us get to where we are, so it's only right that we give back."
For the record, no plates were dropped.
To learn more about the Van Noy Valor Foundation, you can check out the website here.