It was an early morning for hundreds of Patriots fans in Rhode Island on Friday, Jan. 14 as they flocked to the Warwick to be among the first to get a Patriots Rhode Island License plate.
More than 900 people who had placed a preorder were invited to the Patriots Rhode Island License Plate Kickoff Event to redeem their plates. It was the first time the Patriots plates were made available to the public in Rhode Island.
"Rhode Island is such an important state to the Patriots organization and to my family, and today is proof of that," said New England Patriots Charitable Foundation President Joshua Kraft. "It took a long time to get these plates here, and through some great people and the Rhode Island legislature this day is a reality."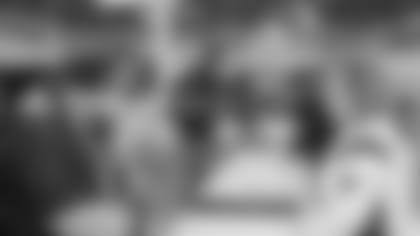 ]()Two-by-two, old license plates were turned over for brand new Patriots plates, which were met with smiles and even cheers. Those who attended were invited to place new orders and learn more about specialty low-number plates being auctioned at www.proteamauctions.com.
"I'm excited, I got them as a gift for my mother-in-law for her birthday, and it's great that I can finally get them, especially with the playoffs this weekend, now we're ready to win," said Ron Babineau who picked up his plate at the event. "I already have [Patriots] stickers on my windows, so it's great to put my plates on my car and show everyone my team."[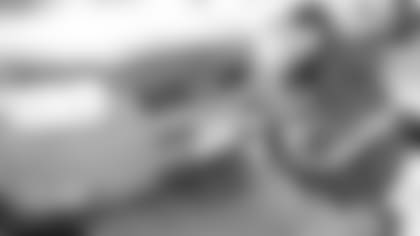 The celebrations continued at noon, when fans were invited to a special presentation ceremony. Patriots Hall of Famers Andre Tippett and John Hannah were on hand as well as Kraft, Senator David Bates, Chair of the Rhode Island Democratic Party Edwin Pacheco and other special guests. On behalf of the New England Patriots Charitable Foundation, Kraft and Tippett presented three local Rhode Island charities with the first donations as a result of the charitable license plate program. The Da Vinci Center for Community Progress, Women's Resource Center and Meals on Wheels of Rhode Island each received a donation of $2,500.
"I would like to thank Mr. Kraft and the New England Patriots," said John DeLuca, Executive Director of the Da Vinci Center. "Besides the monetary value that this check represents and the assistance with programs for youngsters, it also represents [support] from a very classy organization and we appreciate it so much."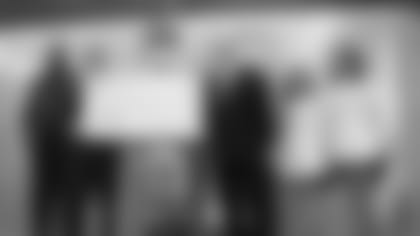 ]()Following the three donations to local charities, Kraft announced a special donation from James Carr of H. Carr and Sons to the New England Patriots Charitable Foundation in the amount of $35,000. In thanks for the donation, Kraft and Tippett presented Carr with the specialty low-number NE-12 Rhode Island license plate.
"We are very proud to be New Englanders, we are a New England company, I am a native of Rhode Island and I'm proud to be a Patriot," said Carr.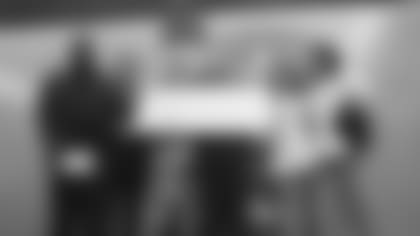 ]()Plates cost $41.50, and for every plate purchased, $21.50 goes to the Rhode Island general fund and $20 goes directly to the New England Patriots Charitable Foundation, earmarked for Rhode Island charities. Low-number Rhode Island license plates are made available through online auctions at www.proteamauctions.com. Patriots license plates are also available in Massachusetts, to place an order for Massachusetts or Rhode Island plates, visit patriots.com/community.