Photograph by Nicole Lanoue.
When a bride walks down the aisle, there are usually lots of oohs and ahhs over her wedding day look: the dress, hair, makeup. But in the case of Raychel Brides, it was all about the shoes; when she tied the knot with her husband Tyler last year, the Patriots' Flying Elvis logo on her sparkling, one-of-a-kind footwear caught everyone's attention.
"I just loved the idea of the shoes," said Raychel, who explained that she had first seen a pair of Patriots-embellished heels while browsing Pinterest, as so many brides-to-be do today.
The heels, though, couldn't be found anywhere, so Raychel settled for the next best option – or perhaps an even better one. She had a pair of her own shoes transformed into a true Patriots style statement that impressed not only her groom, but also their wedding guests.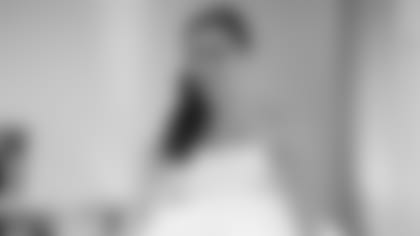 Photograph by Nicole Lanoue.
"You couldn't really see them [under the dress], but as we walked around to every single table, my husband made me show everyone," she said. All throughout the night people were snapping photos of her fancy footwear.
Tyler also paid tribute to their favorite team by wearing Patriots cufflinks and, rather than going the traditional route, placed Raychel's garter around a football and tossed it into the crowd that way.
Still, Raychel and Tyler aren't the only happily ever after in Patriots Nation. Just a few months ago, another couple united by their love of football – or perhaps, despite it – said 'I do.'
Long-time Patriots fan Katie Hultman wed Joakim Strand – who is from Sweden but counts himself as a Vikings fan – after the pair met in London in 2012.
Both had traveled to watch the Patriots take on the Rams at Wembley Stadium, Katie with her sister Kristina, and Joakim with a group of friends who are Patriots fans. As luck would have it, the night before the game, both ended up at the Famous 3 Kings sports bar in West Kensington and the rest was history. Less than two years later, Katie and Joakim exchanged vows and, like Raychel and Tyler Brides, did so with a football twist.
Guests signed a ball rather than a book, and the bride and groom took photos with custom Patriots jerseys. And despite the wedding taking place just a few towns over from Foxborough, Joakim did manage to get in a small tribute to the Vikings with his cufflinks, showing that he and Katie maintain their good-natured rivalry even now that they're man and wife.
Last month, the two traveled to Minnesota to watch their teams face off – "It was the first time we had to test our relationship," Joakim joked – but were all smiles when friends surprised them with a message of congratulations on the big screen.
Meanwhile, elsewhere in the stadium, the next Patriots-Vikings wedding was in the works.
As the two-minute warning approached, Minnesota native and long-time New England fan Dakota Sorlie got down on one knee to propose to his girlfriend, Madeline Stevens. Surrounded by a sea of purple (and wearing her own Vikings jersey), Madeline said 'yes!' She had never imagined that her and Dakota's first NFL game together would be quite so memorable.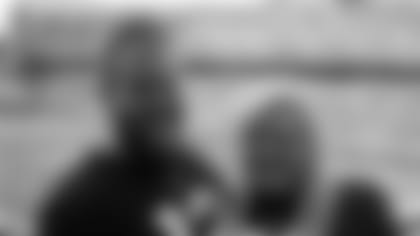 "We were both so extremely excited to go," she recalled. "Hotels were booked weeks and weeks in advance, shirts were bought and plans were made. Apparently Dakota was making his own plans in the background."
While the two haven't set a date just yet, one thing has already been decided; just like Raychel and Tyler and Katie and Joakim, the teams that helped bring Dakota and Madeline together will definitely be on display on their big day.