Students at Michael J. Perkins School in Boston roared as Malcolm Mitchell walked into their reading rally on Thursday – armed with a smile, a Super Bowl ring and his children's book, "The Magician's Hat."
In many ways, it is no different from the dozens of reading rallies Malcolm and his Read with Malcolm Foundation have hosted across the region since being drafted in 2016, but it is different.
This is his first reading event in New England since Malcolm announced his retirement from football last week at age 25.
The decision to walk away from football, the game he has played since he was 10, was a difficult one, he said.
"I just evaluated my self-worth off the field, and for a long time, it never surpassed what I could do on the field. It just didn't," Malcolm said. "Then I think, even being here and doing stuff in the community, it started to shift. My self-worth and what I think I can deliver creatively, inspirationally and from a foundation standpoint like today, began to surpass – not monetarily by any means – but it started to surpass the legacy of what I could accomplish as a football player dealing with the injuries that I had."
The promising young wide receiver out of University of Georgia made an immediate impact for the Patriots in 2016. He had four touchdowns and 401 yards in his rookie season. In Super Bowl LI, Malcolm came up with five catches in the momentous second half comeback – four for first downs.
But knee injuries plagued him. He sat out the 2017 season and Super Bowl LII, and he was eventually released before the 2018 season. Despite playing just one year on the Gillette Stadium field, that 2016 season and Super Bowl LI are a heck of a way to start a career.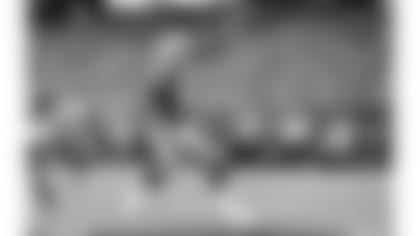 "Lucky. Fortunate. If you want to be spiritual, I'll say blessed. Think about it. I haven't played a football game since then. That was 2017. I haven't played a football game since 2017. That's the last game I played. I know it's very Peyton Manning of me to say, 'Man, what a way for me to go out.' I was lucky because after that I never played a football game again," Malcolm said. "I barely practiced after that. Whatever higher power, whatever force, however you want to phrase it, whatever it is, gave me enough time to accomplish something that millions of people hope to and never will. I have that, and I'm very thankful for it because that's something that regardless of what happens to me next, it won't go away. I will be a part of the 2017 Super Bowl champion New England Patriots."
It forged a special place for him in Patriots lore and with fans, and despite what seemed to a hopeful young career in the NFL, injuries prevented Malcolm from taking the field after the Super Bowl LI confetti rained down.
"I feel strongly about the Patriots fans. I love New England. I love the fans. I love everything about it. The thing that hurts most is that it was just so unfortunate, and it was out of everyone's control," he said. "It was out of my control. It was out of coach's control, ownership, the community. It was just the way it was supposed to be. Unfortunately, I think it's not the way everyone wanted it to be. It's definitely not what I wanted."
Malcolm's past is ingrained with his days as a Patriot, and his future is wide open. He is working on his second children's book as part of a book deal with Scholastic, pursuing fashion design, actively working with kids and schools to promote reading and photography.
He hopes to continue working with and speaking to kids, driving home that they can be whoever they want to be, and he is a walking example of that.
And yet, the transition to a future without football will be a new kind of challenge. Up to this point, more of Malcolm's days have been anchored by football than those that haven't, but there is adventure in that.
Regardless of where Malcolm goes next, he will continue to walk forward knowing who he is.
"You know, I'm not 100 percent sure where I'll end up in life. With football it's easy to see into the future and build an idea of where you want to end up," he said. "With that gone, it's been a little hazy to see where I'll end up, but one thing I hope people in New England know is that I made sure I went out a Patriot."