Like many young football players around the country, Ridge Docekal, wants to be like Tom Brady when he grows up. So on Tuesday morning, the 12-year-old was all smiles as he got to see his hero up close and personal as a spectator at Super Bowl XLIX Media Day.
Ridge spent the entire hour of the Patriots session watching intently as the Patriots quarterback answered questions from the media, every once in a while holding up a cardboard sign that on one side read, "Can anyone help me meet Tom Brady?" The other side displayed a faux permission slip stating the boy's reason for missing school: "To get Tom Brady's autograph!"
Media Day is a long-standing tradition that takes place annually during Super Bowl week, allowing members of the press no-holds-barred access to the players, who face questions both serious and silly. The event first opened to the public in Indianapolis in 2012, the last time the Patriots were in the Super Bowl.
Ridge attended Media Day with his dad, Richard, who said he "couldn't resist" the chance to take his son to the event, even if it meant skipping school.
"The stars aligned for us to be here," Richard said, explaining that it was a "once-in-a-lifetime opportunity" to see their favorite team in their hometown for the Super Bowl.
"We couldn't get tickets to the game so it's the next best thing," he added. "It's a blast."
Richard and Ridge weren't the only father-son duo in the stands of the U.S. Airways Center on Tuesday. Phoenix native Rob Miele also allowed his son, Alex, to take the day off from school for the event.
"We got a Super Bowl several years ago, but you never know when you're going to get another one, so [I thought] it'd be a great experience for my son to be here and just be part of what's going on."
Alex, 11, thought it was "cool" that fans could listen to all the main player interviews through radio earpieces, although his was fixed on one in particular: Rob Gronkowski.
"We're Cardinals fans, but I went to U. of A [the University of Arizona]," dad Rob explained. "Gronkowski is a U.of A grad so we're big fans of his."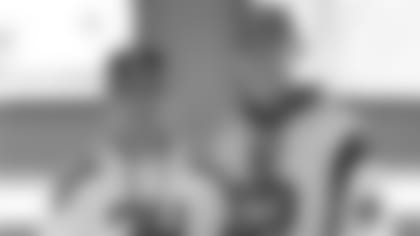 With his connection to the area, Gronk was a big attraction for many spectators at the Patriots session, including Mesa, A.Z.,-born twin sisters Jill and Jan Nguyen, also University of Arizona graduates. The two weren't shy about their allegiance either, as they donned No. 87 jerseys, gushed about their favorite player and held up a sign honoring him.
"We want to tell Gronk to throw them out of the club," they said, excitedly.
Although the day brought many families together, not all were united in their love of the Patriots. Jose Borja, 20, is a big Patriots fan who was excited to see Tom Brady and Rob Gronkowski; meanwhile, his brother Dylan, 16, supports the Seahawks and idolizes Marshawn Lynch.
"It's a friendly rivalry," Jose explained.
"That's what he thinks," Dylan quickly retorted, with a laugh.
Despite differing opinions on which team will take home the Vince Lombardi trophy on Sunday, the two had no problem agreeing that Media Day was a great experience for football fans.
"The atmosphere, all the players, the reporters, hall-of-famers," Jose said. "It's just fun to be here."
For more of the fan experience at Super Bowl XLIX, check back to Patriots Lifestyle each day and follow me on Twitter @brianapalma. *