Southern style was on full display at last weekend's home opener.
Members of the Memphis Patriots Fan Club traveled to see their favorite team take on the Raiders and get the full game day experience at Gillette Stadium, all while making a real fan fashion statement; Hardcore Montana, Cameron Hill, Maria Pryor and Naysha Scott were decked out from head to toe in their own custom-made Patriots gear.
"We started making our own stuff because they don't sell Patriots gear in Memphis," said Fan Club President Hardcore Montana, as he showed off his one-of-a kind blue leather vest emblazoned with the team logo and fan club name. Cameron wore a similar vest in red, while Maria accessorized with handmade red-white-and-blue earrings, and Naysha sported a TB12 jersey she had bedazzled herself.
For these long-distance fans, having the chance to browse through all the official gear at the ProShop was a real treat. As Hardcore Montana explained, though, their personalized style caught the eye of the local crowd on game day, sparking conversation and resulting in a few good photo ops.   
"People love it," he emphasized.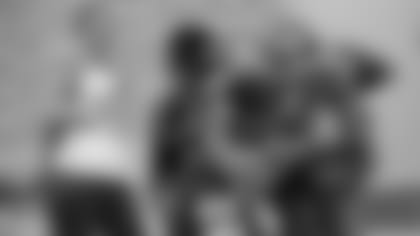 Although it was the foursome's first time at Gillette Stadium, the Memphis Patriots Fan Club has been around since September 2011, when Hardcore Montana decided to set up a Facebook group to try to connect fans in the area.
"It started with about seven people and every day a few people who were Patriots fans saw the page," he recalled. "Before you knew it, we had 200 members."
The club has been going strong ever since. Members meet to watch games together and keep each other up-to-date on the latest Patriots news. They attend a couple road games each year too, and were excited to arrange this season's gathering in Foxborough. Coupled with the Patriots win over the Raiders, the experience was both a dream come true and a fitting way for the group to celebrate their club's third birthday.
Hardcore Montana, Cameron, Maria and Naysha all agreed that, like the away games, the best part of the day was simply being around other Patriots fans. '
"They just make it," Maria said. "They're just good people."
"They come out in droves in other states, even in the south," Hardcore Montana chimed in. "There's more of them there sometimes than the home team and that's amazing to me. I like being around that. Even if you hang out at the bar, it's just full of Patriots fans."