As practice ended Thursday afternoon, more than a dozen Patriots players made their way over to greet some special guests, and as they went down the line, signing autographs and taking selfies, each fan diligently thanked the Patriots.
But the response from every Patriots player -- from Gronk to Matthew Slater -- was the same: No, thank you.
With members of all five branches of the military present, Patriots players didn't hesitate to meet them. Gronk, Matthew, Devin McCourty, Jason McCourty, Joe Cardona, Dwayne Allen, Deatrich Wise, David Andrews and more greeted the servicemen and women from the Army, Navy, Marines, Air Force and Coast Guard. Robert Kraft and Bill Belichick even made a stop at the Patriots Foundation tent.
"They're the real heroes of our country. They protect and serve us in order for us to be able to do what we love to do – and that's the play the game of football," Gronk said. "They're obviously big fans, and it's cool to give back to them, give them some autographs and pictures because they're big fans of us too."
To say they're big fans is an understatement. Navy Lieutenant Lisa Costello, who serves as nurse, was ecstatic as she met Patriot after Patriot alongside her fellow servicemen and women.
"I'm a huge Patriots fan. I grew up watching them with my dad," she said. "I'm shaking right now."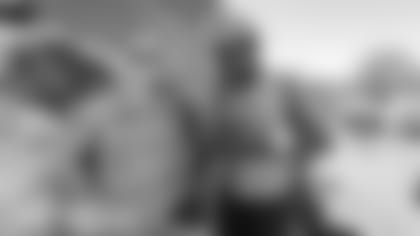 The day was especially sweet for those in the Navy, as Lieutenant Junior Grade and long snapper Joe Cardona stopped and posed for a picture with the group.
To see him chasing both his dream of playing in the NFL as well as serving his country, Lt. Costello said, was inspiring.
"There's so much Navy pride, Navy love. We're all one family, and we have so many different capacities that we work in every day. Even when we take off our uniforms, it's still there. It still represents Navy," she said. "To see your counterpart, you feel like you're succeeding together. Everyone's doing amazing, and to see Joe have this opportunity and to represent our people, it just makes it so much better. And when it's your home team, it's even better."
The Patriots players seemed to enjoy themselves too. Dwayne signed a helmet and, at the insistence of its owner, tried it on for size. Gronk took on silly poses for photos. Another stepped up on a cement block to get close to Trent Brown's height for a photo.
And Gronk said it was a special moment for him and his teammates, as well.
"It makes our day too. You can see what they've been through," Gronk said. "It's awesome to meet people like that and put smiles on each other's faces."
Check out more photos in a gallery below.
The New England Patriots welcomed members of the military to training camp at Gillette Stadium on Thursday, Aug. 2, 2018. The service men and women met Patriots owner Robert Kraft, Head coach Bill Belichick and several players, including Rob Gronkowski, Devin McCourty, Chris Hogan, Deatrich Wise, Matthew Slater and Trent Brown.