Panthers Head Coach John Fox said at his Monday afternoon press conference that running back Stephen Davis has continued to progress in his recovery from an injured quad muscle that he suffered on a 64-yard run against the St. Louis Rams on January 10. Davis, who played two weeks ago against the Eagles with special contraption designed by trainer Ryan Vermillion to help him fight through the muscle injury, practiced on Monday and should have no limitations against New England.
"Stephen Davis will be full speed," Fox said. "He practiced today. He is about as full strength as I have seen him."
Davis set Panthers franchise records with 318 rushes for 1,1444 yards (4.5 avg.) in his first season in Carolina in 2003. Despite missing time with the injury, Davis has carried the ball 51 times for 266 yards (5.2 avg.) and one touchdown this postseason.
Carolina has two members of its football family that are serving as inspiration for the team's Super Bowl run. Linebacker Mark Fields missed the entire season after being diagnosed with Hodgkin's disease in training camp, while linebackers coach Sam Mills is battling cancer in his small intestine. Despite fighting their own personal battles this season, both men have remained part of the Panthers team in any way they can.
"I think they have been a huge inspiration for all of us in the organization really, not just the football team," Fox said. "I anticipate Mark Fields, Lord willing, will be back at full strength next year. Sam is on our coaching staff. He coaches our linebackers and he'll be at the game on Sunday."
Fields, a guy who stared 15 games for Carolina a year ago and registered 127 tackles and 7.5 sacks, has expressed to his teammates how important this game should be to them.
]()
            "We actually had a meeting the night before the NFC Championship game and he spoke to the team," linebacker Dan Morgan said. "You could tell he really wanted to be a part of it and he is a part of it. He's always there with us out there on the field even though he's not physically out there. But he just kind of said, 'Go out there and get it. You might never have this opportunity again. Take it. Go out there and just take it.'"  

Carolina guard Kevin Donnalley is making a sort of homecoming this week as the 13-year veteran played six seasons in Houston with the Oilers before the team moved to Tennessee.
"I am real happy for Houston," Donnalley said of the city's growth and development in recent years. "Being here for six years, it's real nice to see all brand new venues. Sports are just going tremendous right now for them and I am happy."
He is also amazed at the size of Reliant Stadium and how it dwarfs its predecessor and former home of the Oilers and Astros, the Houston Astrodome.
"Every time I drive by it it shocks me how small the Astrodome looks next to Reliant," Donnalley said. "It used to seem so much bigger. When you drive in there and see the Astrodome and now when you go in there and see it next to the new stadium it doesn't even come close. That is what's kind of weird about it because it always seemed so big to me. It was one of the coolest things in the world, the first domed stadium, and now it's just kind of sitting there next to this new, retractable roof stadium that is just the best in the league right now."
Just as they have been in recent road playoff games with the Eagles and the Rams, the Panthers enter Super Bowl XXXVIII as the game's underdog. And much like the Patriots did two years ago against the heavily favored, dynasty-in-the-making Rams, Carolina is using the underdog status as a motivation and pressure reliever.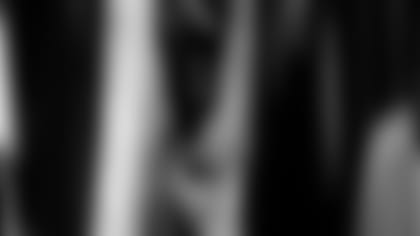 ]()
            "We've been that way this whole time, so why change it now," defensive end **Mike Rucker** said. "We kind of like it that way. We have no pressure. We are free. Our minds are not cluttered. All the analysts pick us to lose, so all you can do is go out there and play your heart out."  

"We were kind of up against some of those kinds of odds all through these playoffs," Fox said. "But our guys pretty much take the approach that we are going to control our room and what we do. We've had that approach all through the playoffs and I don't anticipate that changing. The perception on the outside I really can't affect. But I know that the perception on the inside, our guys feel like they belong and we'll give it our best."
Fox said his staff had put in about 75 percent of Carolina's game plan last week in Charlotte, but left the final 25 percent for this week in Houston to keep the players "interested and focused" as they lead up to game time on Sunday. … Carolina offensive players enjoy listening to the speeches and motivational talks of offensive coordinator Dan Henning, but that doesn't mean they always know what the 25-year NFL veteran coach is talking about. "He's got to have a thesaurus," wide receiver Muhsin Muhammad said, "because he comes up with these words that we all sit there and say, 'What did he say?'" … Fox said he and his staff used Monday's workouts to get the players acclimated to their new practice surroundings at the University of Houston. "We did basically what we call a 10/10/10 workout. We worked all three phases. We got them out there and got them used to the new environment. We basically kind of reviewed what we put in all last week and got the trip out of system.