Kyle and Marissa Van Noy's annual "A Very Van Noy Christmas" is meant to be a celebration, where local foster families arrive to festive music, pick out toys, decorations, a brand new winter jacket and a Christmas tree, but when 154 families came to Gillette Stadium on Dec. 7, they walked away with more than holiday supplies.
For Mary Beth, her husband John and their 11-year-old foster son, it was much more than they could have imagined. After her foster son got a hug, fist bump and autograph from Kyle, Mary Beth's eyes filled with tears in an overwhelming moment of appreciation and realization. She and her husband are first-time foster parents, and in that moment, something became clear: they were not alone.
"I think that I'm realizing as a foster parent how many families are out there that I had no idea. I don't think we even realized, and I don't think he realizes that he's not alone, that there are this many people," she said. "For him to see he's not alone, to see how many people are in foster care and with a foster family means a lot to him. That means a lot to us."
When Kyle and Marissa started their Van Noy Valor Foundation to help foster families and families who have been through the adoption process, that was part of the plan. Not only would they provide them with unique experiences or help ease financial burdens, the Van Noys wanted to remind these families in the foster care system that they are supported.
"I think that's kind of the message," Kyle said. "I want to continue to spread that nobody is alone. Everybody's loved, and what better place to do it than Gillette during the holidays?"
That message came through loud and clear on Saturday to the families from Wonderfund of Massachusetts, a nonprofit that works with the Department of Children and Families to help empower kids and teens in the foster care system. Not only were the Van Noys there to greet families and give away surprise after surprise, they were joined by Gov. Charlie Baker, First Lady and Vice Chair of Wonderfund Lauren Baker, Jason McCourty, Deatrich Wise Jr., Elandon Roberts and Calvin Munson.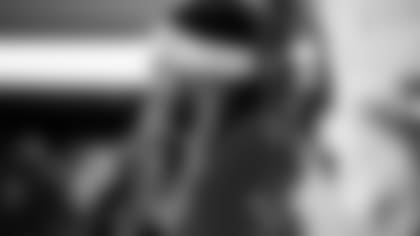 For the Bakers, the work Kyle and Marissa have done has been encouraging and impactful.
"From the moment the Van Noys moved to Massachusetts, they have been engaging the foster care community in an incredibly meaningful and personal way," she said. "This holiday things is incredible, but it's only one piece of the amazing work that the Van Noys do throughout the year for foster kids. The example they set and the generosity they provide, it is unmatched. Every year it gets better. Their relationship with these families gets deeper, and it's so meaningful."
Gov. Baker added that having an NFL player shine a light on the foster care system is invaluable.
"One of the things Lauren and I talk about all the time is that it's hard to beat it if you can't see it," Gov. Baker said. "One of the great things about this is Kyle basically says to foster kids and foster families, 'You can go anywhere. You can be anybody. Don't let anybody pretend for a minute that you can't.' Everybody wants to think they're special. I think a lot of the kids that end up in the child welfare system don't always get to feel that way. This is just a big statement by the Van Noy family about how special, really special, they think kids and families in the foster care system are."
The roots for the Van Noys run deep in the world of adoption and foster care. Kyle was fostered and adopted as a baby, and Marissa's brother and father were both adopted. As new parents themselves, Kyle he said he not only wants to set an example for his son, he wants to let kids in similar situations know they are seen and they are loved.
"We just want to raise my kids right and hopefully be a good mentor to other kids and show them that they're not alone," Kyle said. "We have personal experience with it. We just want to just show love, that's it. Spread love."