As an Olympic figure skater, Marissa Castelli spends a lot of time away from her home in Rhode Island, but there's one thing that keeps her connected: Patriots football.
Now based in Montreal, where she's training with her new skating partner, Marissa loves cheering on her hometown team no matter where in the world she is.
"It's my bring-me-back-to-Boston feeling," explained Marissa, who made the trip to Foxborough for the Patriots-Jets game last week. "Every Sunday or Monday or Thursday night game, I'm watching, whether I'm Skyping my brother or going to a bar by myself or calling a friend and saying, 'Hey, I'll bring pizza over. Can I come and watch the game?'"
Marissa even follows some simple Patriots game-day rituals despite not being superstitious about her own skating competitions.
"I always have to wear a Patriots shirt, whether I sleep in it or I'm wearing it that day," she said. "Nothing too crazy. I haven't gone off the deep end yet."
She also said she's being more careful about the company she keeps these days, because the team lost whenever she watched with skating partner Mervin Tran.
"I told him he's not invited anymore," she joked.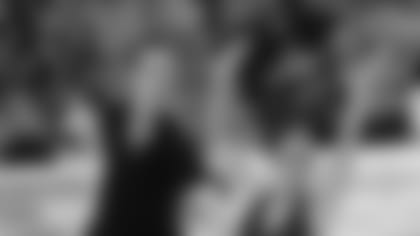 Marissa admits that her passion for the Patriots is a fairly new development – her childhood was totally consumed by figure skating, she explained – but now that she's into it, she's all in. Not only does she make sure to catch all the games, but she also devotes time to another part of the fan experience: fantasy football.
"I picked all the Patriots," she said, laughing. "I'm such a hometown girl. I have Gronk. I have Edelman. I have Tom Brady. I have the Patriots special teams."
In recent weeks, though, Marissa has gone from fantasy to reality, meeting favorite players like Stevan Ridley and Rob Gronkowski in person at the Matt Light Celebrity Shoot-Out on October 7. The latter, she judged, could have a successful career in figure skating if he ever decided to trade in his cleats for skates.
"I feel like Gronk could throw me pretty far," she quipped. "I'm 5 feet tall, but I'm fearless, so it would be cool to be lifted by a 6-foot-6-inch man."
All joking aside, Marissa said she enjoyed having the opportunity to speak with fellow athletes and then watch them compete in person at last week's game.
"It's just amazing to be at another [sports] venue and be part of the crowd cheering on other athletes," she said, enthusiastically. "I'm so honored to be at Gillette Stadium and support the team, and I hope people do the same for figure skating."